NEWS
With the help of superb goalkeeping, U-20 Japan Women's National Team heads into final with the least goals scored against at the FIFA U-20 Women's World Cup France 2018
23 August 2018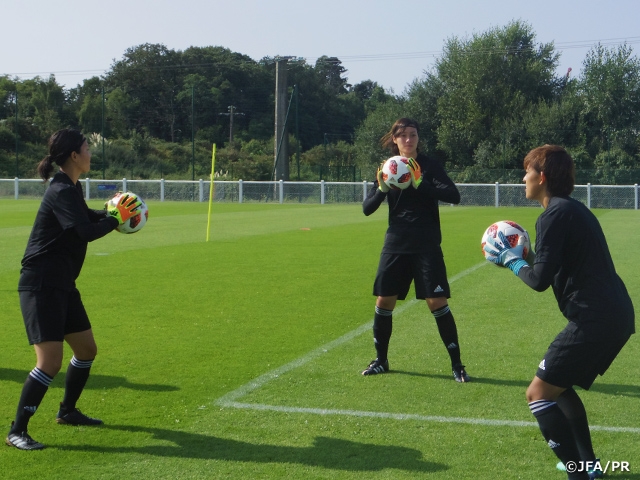 On Wednesday 22 August, two days ahead of the final against the U-20 Spain Women's National Team at the FIFA U-20 Women's World Cup France 2018, the U-20 Japan Women's National Team held a two-part training session.
Reflecting on their semi-final match against England, Coach IKEDA Futoshi mentioned about the key factors of the match, "We managed to score the opening goal in the early minutes of the match and kept our composure in defence to sustain the lead." The team has only allowed two goals throughout the tournament, and they are tied with France, who lost to Spain in the semi-finals, for the least goals scored against. Without a doubt, their offensive efforts have been superb, but their deep run in the tournament wouldn't have been made possible without their solid defence.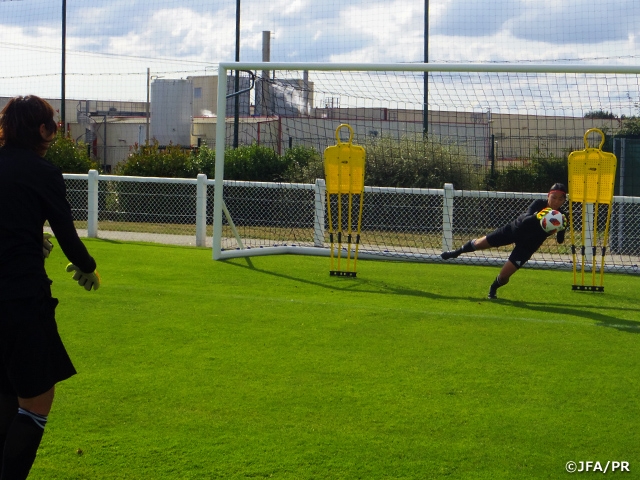 With SUZUKI Aguri, STAMBAUGH Hannah, and FUKUTA Mai, the team consists with three goalkeepers, who are the back bone of the defence. The competition for this position is intense, as only one of the three can start in the match. However, as Stambaugh likes to call themselves as the "Keeper family," under the lead of their goalkeeper coach, NISHIIRI Toshihiro, the three players have improved themselves through their daily trainings by supporting and encouraging each other. They all got to know each other at the National Training Centre, while Suzuki and Fukuta took part in the "Super Girls Project" (currently known as the Girls GK Camp) which was a project to find and develop the future goalkeeper of the Nadeshiko Japan. They have known and pushed each other from their days in junior high school to the present time. Suzuki described their relationship, "The goalkeeper is a tough position, because only one can play in the match. But that is why our relationship, a relationship where we can push each other to heighten ourselves, is so important." In order for the team to showcase a solid performance in defence, the chemistry among the goalkeepers seems to be essential.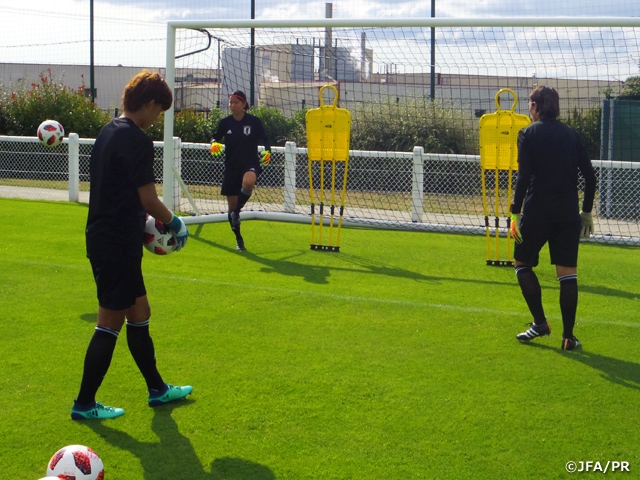 On the other hand, Spain, who Japan will face in the final, also has a great player in their goal, as their goalkeeper Catalina Coll has stopped a penalty kick in the semi-final match against France and was named as the player of the match award. The performances of the goalkeepers are another aspect to keep an eye on for the final.
The final of the FIFA U-20 Women's World Cup France 2018 between Japan and Spain will take place on Friday 24 August with a kick-off time of 19:30 local time (26:30 Japan time).
Players' Comments
GK #1 SUZUKI Aguri (Mynavi VEGALTA SENDAI LADIES)
We are all in different situations, but we all understand our roles and have been able to train each day to heighten ourselves. Our job is to keep a clean sheet, and that does not change regardless of who plays on the pitch, so we will all give our best until the end. The fact that we have conceded very few goals have contributed to our deep run in the tournament. Including the goalkeepers, our defence line has managed to display a solid performance thus far, so we hope to continue on that and keep a clean sheet at the final as well.
GK #18 STAMBAUGH Hannah (INAC KOBE LEONESSA)
Suzuki and Fukuta has always given me positive vibes, and because of them, I have been able to devote myself into the tough training sessions. I am so grateful for the fact we have been able to conduct our daily trainings as the keeper family. Throughout the competition, we have struggled to deal against the overwhelming power and speed of our opponents, in which we don't normally see in Japan, but we have been able to cope against them with our pass works and hard work, which are the strong points of Japan. We would like to keep a clean sheet at the final and win the title.
GK #21 FUKUTA Mai (NITTAIDAI FIELDS YOKOHAMA)
It was when we were in third grade of junior high school where we first met at the National Training Centre. I still remember my first encounter with Stambaugh, where she gave me tips on how to train my core body. Spain is the only team we have lost in this tournament, so we hope to earn a win against them and win the tournament.
Schedule
FIFA U-20 Women's World Cup France 2018
Sun. 5 August
AM/PM
Training
PM
Official press-confrence
Mon. 6 August
1-0

1st Match of Group League vs U-20 USA
@Stade Guy-Piriou
Tue. 7 - Wed. 8 August
AM/PM
Training
Thu. 9 August
0-1
2nd Match of Group League vs U-20 Spain
@Stade Guy-Piriou
Fri. 10 - Sun. 12 August
AM/PM
Training
Mon. 13 August
6-0
3rd Match of Group League vs U-20 Paraguay
@Stade de la Rabine
Tue. 14 - Thu. 16 August
AM/PM
Training
Fri. 17 August
3-1
Quarter-final vs U-20 Germany
@Stade de la Rabine
Sat. 18 - Sun. 19 August
AM/PM
Training
Mon. 20 August
2-0

Semi-final vs U-20 England
@Stade de la Rabine
Tue. 21 - Thu. 23 August
AM/PM
Training
Fri. 24 August
19:30
(8/25, 2:30)
Final vs U-20 Spain
@Stade de la Rabine
*Local Time, Japan time indicated within the parentheses
*The schedule is subject to change due to the team condition, the weather, etc.
FIFA U-20 Women's World Cup France 2018
Tournament Dates: Sun. 5 August - Sat. 24 August 2018
Live broadcasting for all of the Japanese matches scheduled on Fuji Television NEXT
Information on live broadcast(Japanese website)
Tournament Information