NEWS
U-19 Japan Futsal National Team short-listed squad hold second day of the training camp
30 November 2016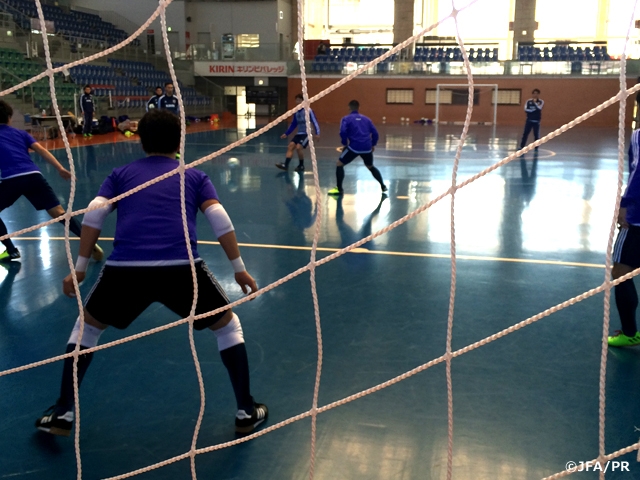 The U-19 Japan Futsal National Team short-listed squad had two-a-day training sessions in the morning and in the afternoon on their second day of the training camp on Tuesday 29 November.
Since the squad members usually play for different teams, this is an important opportunity for them to play together in this training camp. Coach SUZUKI Ryuji spent 2 hours each in the morning and afternoon sessions and instructed the team in a game-format practice. They focused on building a better understanding of the team tactics.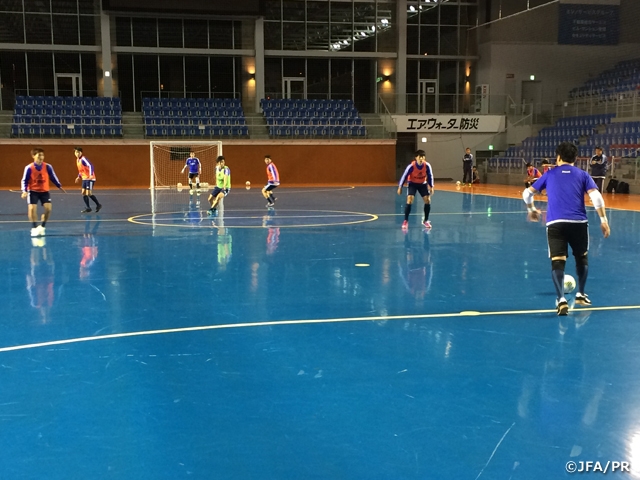 This is their third meeting this month, and the communication amongst the players has improved significantly. Throughout the training sessions, they raised their voices and coached each other on the court. Day 2 of the training camp was very productive, just like the first day.
Tomorrow, it will be the last day of the camp. To check the level of their understanding of the team's tactics, they will play a training match against NAGOYA OCEANS SATELLITE.
Players' Comments
INANO Shin (BARDRAL URAYASU SEGUNDO)
This time, we are focusing on building a better understanding of the team's concept. As a goalkeeper, I am also paying attention to raising my voice from the back and coach my teammates. In the training match tomorrow, I want to give them correct instructions, while having a good understanding of each player's individual characteristics.
SHIMIZU Kazuya (FUGADOR SUMIDA)
The sessions we had in the morning and the afternoon were very difficult and covered a lot of different grounds. Each time I play for this team, I am getting to understand my teammates' strengths better. As a result, we are coordinating our plays better also, and I feel we are having a very fruitful training every day. For the AFC U-20 Futsal Championship next year, we have limited opportunities to play together, but we will continue to work hard and become a strong team.
MATSUOKA Rimu (F.C. Tokyo U-18)
I am grateful that I was called up for this training camp of the national team. In addition to what we practiced last time, this time we are adding more offensive tactics to the list of team strategies. Training was not easy at all. However, I want to learn as many things as possible before wrapping-up the camp. In the practice game tomorrow, I want to play well and display my achievements in the training sessions.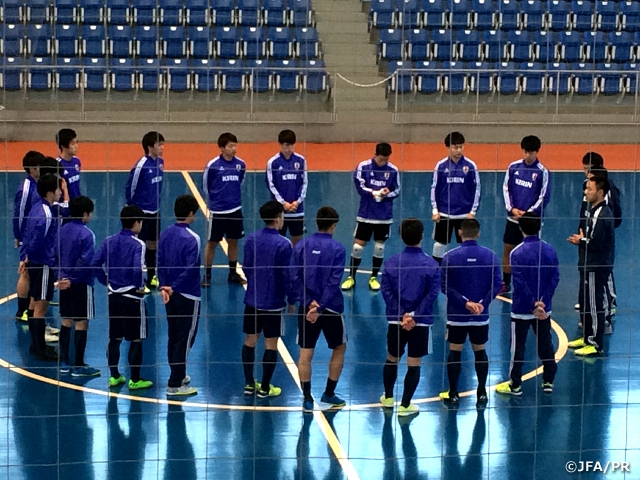 Schedule
| | | |
| --- | --- | --- |
| Mon. 28 November | PM | Training (TEVA OCEAN ARENA) |
| Tue. 29 November | AM/PM | Training (TEVA OCEAN ARENA) |
| Wed. 30 November | AM/PM | Training (TEVA OCEAN ARENA) |
*The schedule is subject to change due to the team condition, the weather, etc.