NEWS
U-19 Japan futsal squad play training match on final day
17 November 2016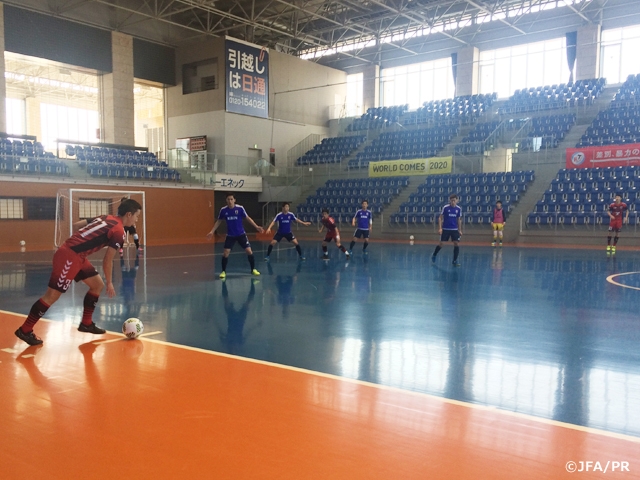 Training Match vs NAGOYA OCEANS SATELLITE
2016-11-16 (Wed.) - 13:30 Playing Time: 40min. (20min.×2)
Tevaoceanarena (Nagoya/Aichi)
U-19 Japan Futsal National Team 0-3 (0-1, 0-2) NAGOYA OCEANS SATELLITE
Scores
17' Goal against (NAGOYA OCEANS SATELLITE)
39' Goal against (NAGOYA OCEANS SATELLITE)
40' Goal against (NAGOYA OCEANS SATELLITE)
Starting Five
GK: YAMADA Masataka
FP: UEMATSU Koto, NITTA Hayate, YAMADA Jiei, SHIMIZU Kazuya
Substututes
GK: IWANAGA Taiki, INANO Shin
FP: NII Takahito, ITO Keita, HIGUCHI Takeshi, DABO Salubajunior, OKADA Shokei, ISHIDA Kentaro, NAKAMURA Mitsuru, MATSUBARA Tomohiro, KAWABE Kango, SAITO Hyuga, OKABE Naoki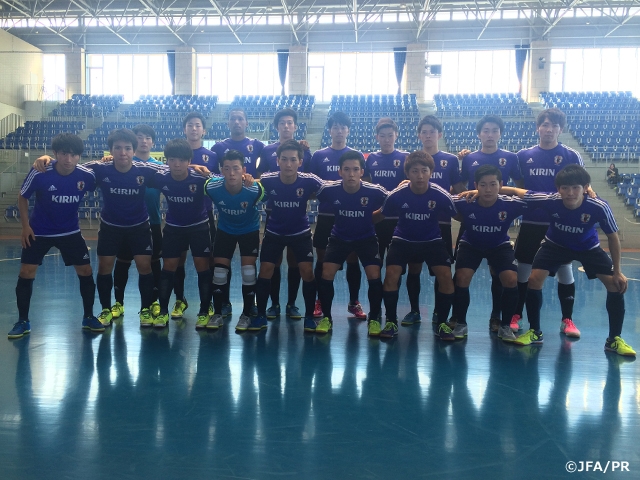 Match Report
The U-19 Japan Futsal National Team short-listed squad wrapped up their training camp in Nagoya on 16 November.
The team practiced for about an hour and half working on their team strategies and set pieces in the morning toward their exhibition game against NAGOYA OCEANS SATELLITE. Coach SUZUKI Ryuji worked on getting his players understood the team strategies.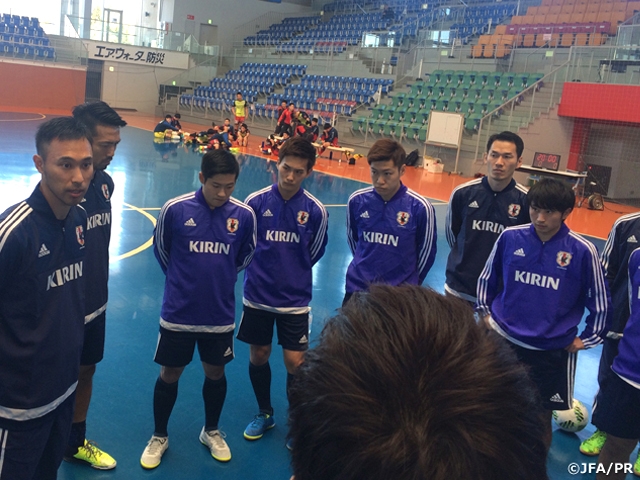 In the exhibition match in the afternoon, the Japan team wound up losing 0-3, yet the players didn't back away from the elder players and repeatedly attacked against them, but weren't able to capitalize on those occasion for scores.
The U-19 Japan Futsal National Team have just begun training together for a short period of time, but the young players are looking to make further growths toward next year's AFC U-20 Futsal Championship.
Coach's and Players' Comments
SUZUKI Ryuji, Coach
Toward next year's AFC U-20 Futsal Championship, we've found players from vast range of talent pool in the U-19 generation and challenged to capitalize on their potential, and have held our training camps with the objectives of development of the players and team. We called up six new players this time. Also, we have made it clear that this is a project that leads to the A team. We have done with what we worked in our previous camp deeper, played an exhibition as a group and though some of our players were on this team for the first time, all our players indicated that they have made development in these two camps. We are going to keep developing our group toward the AFC U-20 Futsal Championship.
NII Takahito (SHRIKER OSAKA SATELLITE)
I got to learn so many things through this training camp. I was able to experience atmosphere and the mind-set of each player, which were things I cannot feel at my club. I had pressure that I had to display my own strengths in the short time, and I was a little rattled as I had to memorize the team concepts, but I think I was able to understand the defence that this team is trying to play. It's a little disappointing that I wasn't able to try dribbling, which is one of my strengths. But throughout the two days, it's been valuable time for me and I was able to experience precious time. I would like to keep displaying myself when I go back to my club so I will be called up again for the next camp.
SAITO Hyuga (Teikyo Nagaoka High School)
This was my first camp to participate in and we worked mainly on our defence. I had hard times getting used to some of the team's concepts as I was here for the first time. But I think it gave me good experience, absorbing so many things. Hopefully, I get to understand what I am asked to do and execute them more. I would like to sort out what I was able to do and what I wasn't able to do in these two days, and improve myself. And I want to do my best to be selected on the team for next year's AFC U-20 Futsal Championship.
OKABE Naoki (FOOTBOZE FUTSAL U-18)
In our game against Nagoya Oceans Satellite, I had a few scoring chances but wasn't able to connect one. Defensively, I was conscious of pressing in opponents' area and how to defend when we are outnumbered that we worked on in yesterday's practice. Given limited opportunities, if we have more players who can execute exactly what our coach asks us to do, we would be a stronger group. So I genuinely thought in these two days that it would be very important that each one of us pays attention to that.
Schedule
Tue. 15 November
PM
Training
Wed. 16 November
AM
0-3
Training
Training Match vs NAGOYA OCEANS SATELLITE
*Schedule is subject to change due to team condition, weather, or any other unforseeable circumstances