NEWS
U-23 Japan National Team preparing for Saudi Arabia match
19 January 2016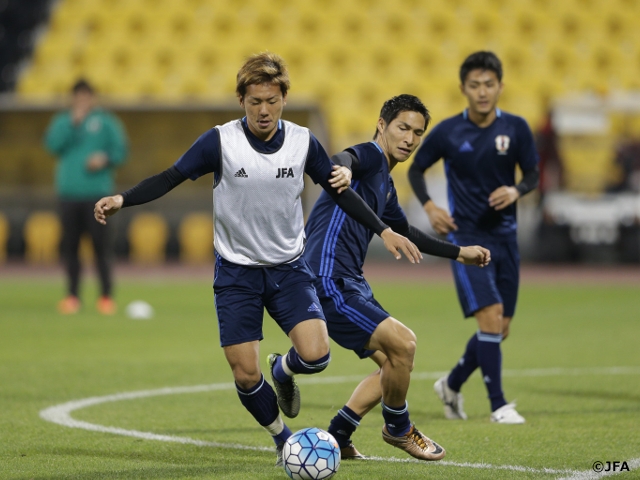 Starting from 5:35 p.m. local time (11:35 p.m. Japan Time) on 18 January, U-23 Japan National Team, who are currently at the AFC U-23 Championship Qatar 2016 (Rio de Janeiro Olympics Asian Qualifiers Final Round), had an official practice at Suhaim Bin Hamad Stadium, the venue for next match against Saudi Arabia.
Since each player's total playing time varies after finishing the past two matches that took place only with two days in between, the day's practice was adjusted to their current physical conditions. Coach TEGURAMORI Makoto had SUZUKI Musashi separately stay at hotel resting due to the hip joint injury he suffered in the Thailand match on 16. In addition, MUROYA Sei, who injured his left leg in the same match, did not join the team practice and instead focused on light running workout.
ENDO Wataru and IWANAMI Takuya also left the rest of the squad after they finished the warm-up 7-on-2 passing drill, because those two players were on the pitch for the entire two straight matches. Endo and Iwanami changed their shoes from cleats to running shoes to engage in lighter jogs and stretching before calling it the day.
Other field players moved on to another passing drill with the squad divided into two 8-man groups. The trademark drill of this team incorporates vertical passes that can be a starting point of attacks and combination work between multiple players. After that, the offensive tactics to build up from centre-backs all the way to finishes were reviewed as well.
As coach Teguramori instructed on ball movement, the squad exhibited a variety of formations to break down the opposing defence. Their individual creativity helped the flow of the offence be even smoother and quicker. In the specific drill to work on how to finish off crosses from the sides, strikers such as KUBO Yuya and midfielders including NAKAJIMA Shoya were seen striking fierce shots taking advantage of feeds from MATSUBARA Ken, YAMANAKA Ryosuke, KAMEKAWA Masashi and other full-backs.
Between the drills, coach Teguramori and conditioning coach HAYAKAWA Naoki kept discussing the optimum intensity for each drill and each player. They certainly plan in detail how much each player needs to play and practise based on the team objective of "winning the tournament by winning all six matches" according to Teguramori. There was no change in their point-by-point preparation even after they clinched the top spot in the group stage. The productive training session ended in 50 minutes.
The third fixture for Japan's young national team in the group stage is against Saudi Arabia to be kicked off at 4:30 p.m. today (10:30 p.m. Japan Time). The overall depth of the squad should be on full display for the third straight victory.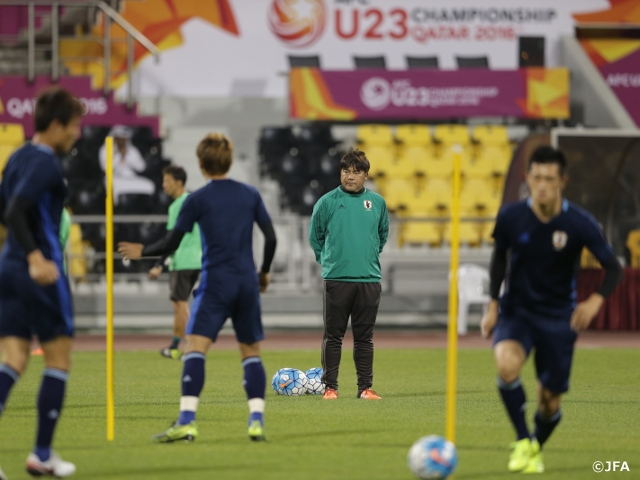 Coach and Players' Comments
TEGURAMORI Makoto, Coach
The strongest point of Saudi Arabia is something that we can call their instinctive plays. It is the way they attack simply toward goal. They do not mind making the flow of the match wide open, and also they don't hesitate to play physical. We are required to deal with those aspects. They will try to do everything they can to advance to the knockout stage, but Japan can improve ourselves even further by successfully dealing with them and defeating them. We are expecting to change the line-up from the second match and also the system from the one for the last two matches. With those changes we may be able to confuse the opponents we face in the knockout stage, but that will be truly relevant after we beat Saudi Arabia. Our top spot has been already secured, but even so we can't afford to lose.
DF #2 MATSUBARA Ken (Albirex Niigata)
Coach Teguramori said before the first match that he wanted me to focus on bringing up my conditioning and targeting at the third match. Since the training camp in November last year, he has cared about my conditioning so attentively. My conditioning has got better for sure. So I want to show my strengths such as feeding crosses and outrunning opponents in the third match. Middle Eastern countries tend to have their wingers so wide that I want to try to intercept their side-changes. As I keep paying attention to the opposing attackers who stay in our end, I want to make sure who is going to check me when I go up to join attacks. I think I can break down the opponents that way.
FW #11 KUBO Yuya (Berner Sport Club Young Boys/Switzerland)
In practice, everyone was very vocal and we had fun practising. I think that proves our good team chemistry. The match against Saudi Arabia is going to be like a simulation for the knockout stage (quarter-final) matches against other Middle Eastern countries. And we already have some idea of how it is going to be, because we played a practice match against Syria before the tournament. Based on that experience, we focus more on how we play rather than how our opponents play. For us to win, we have to score goals. As a forward, I want to score as many goals as possible.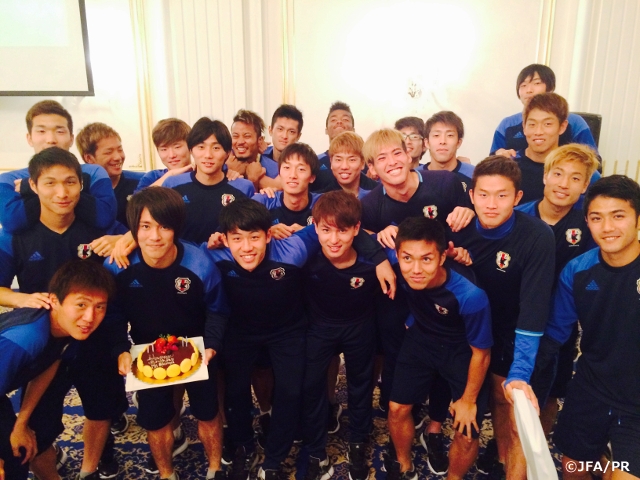 JFA-TV (Japanese version only)
Interview - MATSUBARA Ken (Albirex Niigata)

Interview - NAKAJIMA Shoya (F.C. Tokyo)

Interview - IDEGUCHI Yosuke (Gamba Osaka)
Schedule
AFC U-23 Championship Qatar 2016
Wed. 13 January
1-0
Group Stage 1st Match vs U-23 DPR Korea
(@Grand Hamad Stadium)
Thu. 14 January

AM

Training

Fri. 15 January

PM

Training

Sat. 16 January
4-0
Group Stage 2nd Match vs U-23 Thailand
(@Grand Hamad Stadium)
Sun. 17 January

AM

Training

Mon. 18 January

17:45

Official training (@Suhaim Bin Hamad Stadium)

Tue. 19 January

16:30

Group Stage 3rd Match vs U-23 Saudi Arabia
(@Suhaim Bin Hamad Stadium)
Wed. 20 January

AM

Training

Thu. 21 January

TBC

Official training (@tbd)

Fri. 22 January
16:30

19:30
Knock-out stage Quarter-Finals (If Japan top the Group)
(@Abdullah Bin Khalifa Stadium)
Knock-out stage Quarter-Finals (If Japan 2nd the Group)
(@Jassim Bin Hamad Stadium)
Sat. 23 January

AM

Training

Sun. 24 January

PM

Training

Mon. 25 January

PM

Training

Tue. 26 January
16:30

19:30
Knock-out stage Semi-Finals (If Japan top the Group)
(@Abdullah Bin Khalifa Stadium)
Knock-out stage Semi-Finals (If Japan 2nd the Group)
(@Jassim Bin Hamad Stadium)
Wed. 27 January

AM

Training

Thu. 28 January

PM

Training

Fri. 29 January

17:45

Knock-out stage 3rd/4th-Place Playoff
(@Jassim Bin Hamad Stadium)
Sat. 30 January

17:45

Knock-out stage Final
(@Abdullah Bin Khalifa Stadium)
*Local Time
AFC U-23 Championship Qatar 2016 (Rio de Janeiro Olympics Asian Qualifiers Final)
Group Stage 3rd Match
Tue. 19 January - 22:30 (Japan Time)
Qatar/Grand Hamad Stadium
U-23 Saudi Arabia National Team vs U-23 Japan National Team
Live broadcasting across Japan by tv asahi Group from 22:25
More information