NEWS
U-23 Japan National Team squad go through training under warm sunshine
15 January 2016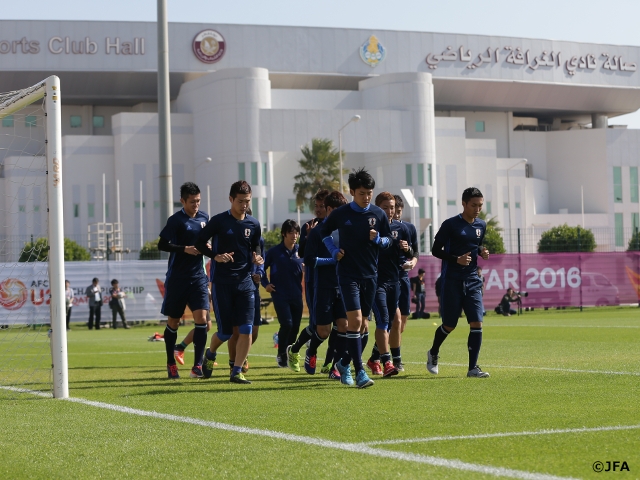 U-23 Japan National Team, who are competing in the AFC U-23 Championship Qatar 2016 (Rio de Janeiro Olympics Asian Qualifiers Final), practiced from 10:30 a.m. (4:30 p.m. in Japan time) on 14 January.
A warm sunshine welcomed the Japanese players, who earned a win against DPR Korea on the previous day. At the beginning of the practice, they made a circle around coach TEGURAMORI Makoto and they were then divided into two groups.
The 11 starting players of the game ran for about 20 minutes putting on training shoes. They showed relaxed facial expressions, trying to focus on recovery with sweat on their foreheads.
Meanwhile, 12 other members, including three that came on as substitutes in the DPR Korea game, warmed their bodies up with ball feeling and passing and controlling menus. After that, goalkeepers SUGIMOTO Daichi and NIEKAWA Ayumi went through catching and shot stopping menus under goalkeeper coach SATO Yohei, while the 10 field players worked on 5-on-2 and 5-on-3 passing works and a combination menu in which they connected passes from the defensive midfielders to side halves and the forward wrapped up with shots.
Then, they moved to 5-on-5s, with the goalkeepers involved. They put up severe battles trying to get the ball, and the 11 starting squad members who had finished their running stared at them do it with serious looks from aside.
They wrapped the practice up with a penalty shootout practice. "We are going to have to get our football attacking with the entire team back," Teguramori told his players after the game on the 13th. They players understood the coach's intention and worked on getting the knack to play collective offence.
Aside from the practice, goalkeeper KUSHIBIKI Masatoshi, who started in the previous day, worked on catching, shot stopping and dealing with crosses after running.
Between practice menus using the ball, they worked on instantaneous dashing under conditioning coach HAYAKAWA Naoki and went through high-intensity practice for about two hours. While the team proceeded with good tempo, they displayed their enthusiastic attitudes.
The team will have another practice in the afternoon of the 15th, one day before their second-leg Group B game against Thailand.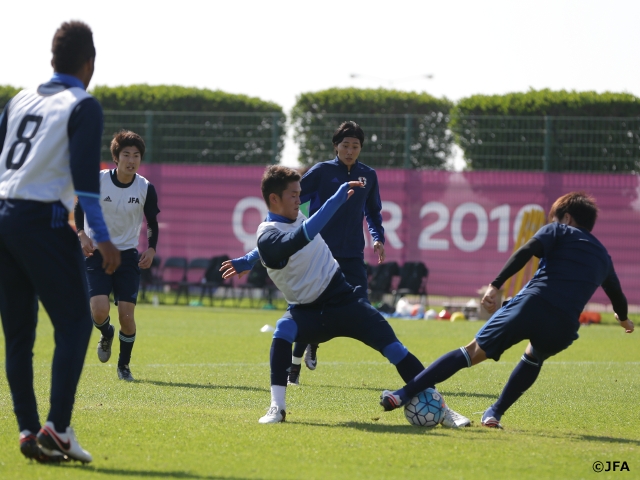 Players' Comments
MF #18 MINAMINO Takumi (Salzburg/Austria)
We couldn't be happier to earn the three points in the first leg. As for my personal play, I felt how difficult it was to play in a first game. Yet I don't have any negative feelings at all. After we went back to the hotel, we conversed like, "the distances between us were too far" and "Our offensive players should have played a little back to receive the ball and bring it forward." I think that our next game against Thailand will be another difficult match, but we will prepare ourselves well enough. The game day will be my own birthday, but I will get in it as I always do.
FW #11 KUBO Yuya (Berner Sport Club Young Boys/Switzerland)
In our first-leg game against DPR Korea, I wanted to take more shots and didn't create as many chances as I wanted to. Because most of our passes were long ones and I couldn't receive them much, but I still had to get myself involved in the offence more. As the team, too, we had some stiffness. But we still managed to win the three points and it was very meaningful. In our next game against Thailand, we will just focus on winning it rather than dwelling our minds on their traits and things like that. If we can play our ball, we will have a result we want naturally.
FW #16 ASANO Takuma (Sanfrecce Hiroshima)
It was a big plus for our team that we have earned the first-game win. I would like to step in the pitch playing no matter what game, and I was warming up thinking that I wanted to get in as quickly as possible in the first leg. I would like to explode my frustration that I didn't play in the DPR Korea game in our next game. I believe that Thailand will come against us desperately, but it won't be a problem if we display more power. I want to attack opponents' carelessness with high concentrations always, and hope to convince myself that I showcased my game when the tournament is over.
JFA-TV (Japanese version only)
Interview - IWANAMI Takuya (Vissel Kobe)

Interview - IDEGUCHI Yosuke (Gamba Osaka)

Interview - YAMANAKA Ryosuke (Kashiwa Reysol)
Interview - HARAKAWA Riki (Kawasaki Frontale)
Schedule
AFC U-23 Championship Qatar 2016
Wed. 13 January
1-0
Group Stage 1st Match vs U-23 DPR Korea
(@Grand Hamad Stadium)
Thu. 14 January

AM

Training

Fri. 15 January

PM

Training

Sat. 16 January

16:30

Group Stage 2nd Match vs U-23 Thailand
(@Grand Hamad Stadium)
Sun. 17 January

AM

Training

Mon. 18 January

17:45

Official training (@Suhaim Bin Hamad Stadium)

Tue. 19 January

16:30

Group Stage 3rd Match vs U-23 Saudi Arabia
(@Suhaim Bin Hamad Stadium)
Wed. 20 January

AM

Training

Thu. 21 January

TBC

Official training (@tbd)

Fri. 22 January
16:30

19:30
Knock-out stage Quarter-Finals (If Japan top the Group)
(@Abdullah Bin Khalifa Stadium)
Knock-out stage Quarter-Finals (If Japan 2nd the Group)
(@Jassim Bin Hamad Stadium)
Sat. 23 January

AM

Training

Sun. 24 January

PM

Training

Mon. 25 January

PM

Training

Tue. 26 January
16:30

19:30
Knock-out stage Semi-Finals (If Japan top the Group)
(@Abdullah Bin Khalifa Stadium)
Knock-out stage Semi-Finals (If Japan 2nd the Group)
(@Jassim Bin Hamad Stadium)
Wed. 27 January

AM

Training

Thu. 28 January

PM

Training

Fri. 29 January

17:45

Knock-out stage 3rd/4th-Place Playoff
(@Jassim Bin Hamad Stadium)
Sat. 30 January

17:45

Knock-out stage Final
(@Abdullah Bin Khalifa Stadium)
*Local Time