NEWS
U-23 Japan National Team squad tune up for Thailand game with tension and focus
16 January 2016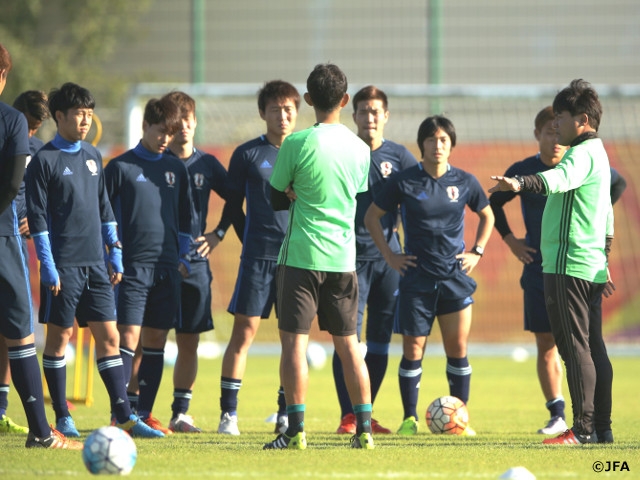 U-23 Japan National Team, who are currently competing in the AFC U-23 Championship Qatar 2016 (Rio de Janeiro Olympics Asian Qualifiers Final), practiced from 3 p.m. (9 p.m. in Japan time) on 15 January.
They were blessed with a fine weather this day, even more so than in the previous day, in Doha. While a severe sunshine was poured into the pitch, they made their final tuneup for their second-leg game in Group B against Thailand, which would be played on the 16th.
For the first 30minutes, they worked on running and physical training as two players formed a team using the ball under conditioning coach HAYAKAWA Naoki. After that, the players were assembled in a half court and checked their formations from the build-ups and finishes as they do in actual games.
Between plays, coach TEGURAMORI Makoto gave them detailed instructions and they were listening to him with serious looks. Also, there were scenes that the players were talking between themselves and it displayed that they developed their tension and concentrations toward the Thailand game.
The session was close to the media and public after the point. "We checked our set plays, with the defensive formations of Thailand, in the first 15 minutes," Teguramori revealed. The team went through other detailed checkpoints.
With a win over Thailand on the 16th, Japan will clinch at least the second place or better in the group to advance to the knockout stage. But captain ENDO Wataru said of the entire team's mentality, saying, "we are just focusing on winning in the Thailand game." While the team showed no negligence and cockiness, they wrapped up their practice, which ended up lasting for just over an hour and 15 minutes.
The Thailand game will kick off at 4:30 p.m. (10:30 p.m. in Japan time) on the 16th.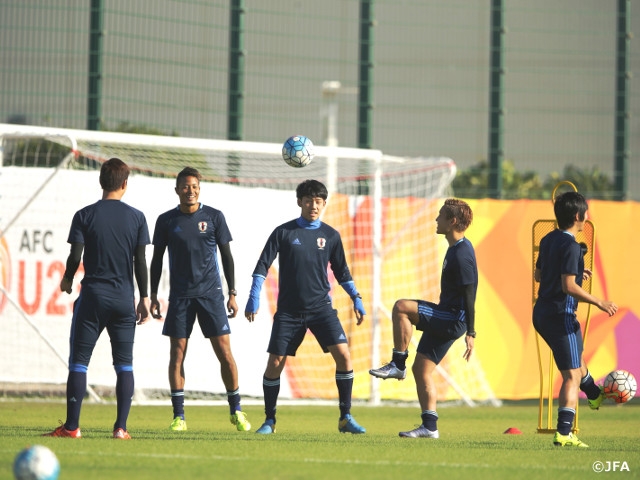 Coach and Players' Comments
TEGURAMORI Makoto, Coach
Thailand, whom we will play against on the 16th, showed a tough-minded game against Saudi Arabia and drew. Against us, I'm sure they will come with even more stronger heart, so we are going to have to be careful about their strengths, and have to play with stronger will to win. If we beat Thailand, we will clinch the second place or above in the group, but what we set our goal is the first place. We have little international experience, so we need to grow playing games. Every game matters, so I'm telling our players, "let's go all-out in all the games we play and win them. Otherwise, we are not going to reach the goal we've set."
DF #15 KAMEKAWA Masashi (Avispa Fukuoka)
I didn't get to play in the DPR Korean game, but I'm confident that I came in this tournament with a 100 percent of preparation. Not just me, but no matter who plays from this team, we can play the same football game. Coach Teguramori has built this team like that. Even the players who don't start are thinking of what they can do to the team. The 11 starting players will be determined by the coach, so no matter when I get to play, I want to give everything I have and keep preparing myself at 100 percent.
MF #21 YAJIMA Shinya (Fagiano Okayama)
We had some difficult time early on in our first-leg game, and struggled to change the momentum easily. Even when I received the ball, there were times that I only saw the opponents around me. I think that the second-leg game will be another tough game for us, but after playing the first-leg game, there are things we can correct. At Fagiano Okayama, where I play at, we are asked a lot on the defensive side of ball. We are required to challenge the ball holder, cover our teammates, and speed. Such part, I think I made growths last season, so hopefully I can show them on this team, too.
FW #20 ONAIWU Ado (JEF United Chiba)
In our first-leg game, I felt strong mind of our team even before the game started, so I thought we entered the game in good fashion. We had some time that we were pushed back by them, but I think we were playing tenaciously with heart before our own goal. Once I get to play in a game, I want to put up plays that will contribute to the win. During practices, I've been able to play well, including our collective plays. When I compete for the ball in a play that seems two players have equal chance to get it, if I win it, I think it gives our team to have more time to attack.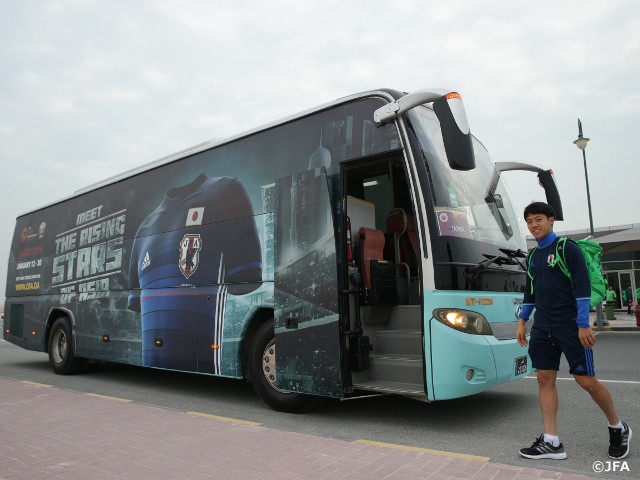 JFA-TV (Japanese version only)
Interview - ONAIWU Ado (JEF United Chiba)

Interview - SUZUKI Musashi (Albirex Niigata)

Interview - OHSHIMA Ryota (Kawasaki Frontale)
Interview - MINAMINO Takumi (Salzburg/Austria)
Schedule
AFC U-23 Championship Qatar 2016
Wed. 13 January
1-0
Group Stage 1st Match vs U-23 DPR Korea
(@Grand Hamad Stadium)
Thu. 14 January

AM

Training

Fri. 15 January

PM

Training

Sat. 16 January

16:30

Group Stage 2nd Match vs U-23 Thailand
(@Grand Hamad Stadium)
Sun. 17 January

AM

Training

Mon. 18 January

17:45

Official training (@Suhaim Bin Hamad Stadium)

Tue. 19 January

16:30

Group Stage 3rd Match vs U-23 Saudi Arabia
(@Suhaim Bin Hamad Stadium)
Wed. 20 January

AM

Training

Thu. 21 January

TBC

Official training (@tbd)

Fri. 22 January
16:30

19:30
Knock-out stage Quarter-Finals (If Japan top the Group)
(@Abdullah Bin Khalifa Stadium)
Knock-out stage Quarter-Finals (If Japan 2nd the Group)
(@Jassim Bin Hamad Stadium)
Sat. 23 January

AM

Training

Sun. 24 January

PM

Training

Mon. 25 January

PM

Training

Tue. 26 January
16:30

19:30
Knock-out stage Semi-Finals (If Japan top the Group)
(@Abdullah Bin Khalifa Stadium)
Knock-out stage Semi-Finals (If Japan 2nd the Group)
(@Jassim Bin Hamad Stadium)
Wed. 27 January

AM

Training

Thu. 28 January

PM

Training

Fri. 29 January

17:45

Knock-out stage 3rd/4th-Place Playoff
(@Jassim Bin Hamad Stadium)
Sat. 30 January

17:45

Knock-out stage Final
(@Abdullah Bin Khalifa Stadium)
*Local Time
AFC U-23 Championship Qatar 2016 (Rio de Janeiro Olympics Asian Qualifiers Final)
Group Stage 2nd Match
Sat. 16 January - 22:30 (Japan Time)
Qatar/Grand Hamad Stadium
U-23 Japan National Team vs U-23 Thailand National Team
Live broadcasting across Japan by tv asahi Group from 22:20
More information