NEWS
Japan take loss to Spain in VI World Women's Futsal Championship Guatemala 2015
26 November 2015
Group League 2nd Match vs Spain Women's Futsal National Team
2015-11-25 (Wed.) - 15:00 Playing Time 20min.×2
Domo Polideportivo 13 (Guatemala City, Guatemala)
Japan Women's Futsal National Team 2-5 (1-2, 1-3) Spain Women's Futsal National Team
Scores
2' Goal against (Spain Women's Futsal National Team)
5' Goal against (Spain Women's Futsal National Team)
7' SAKURADA Miku (Japan Women's Futsal National Team)
22' NAKAJIMA Shiori (Japan Women's Futsal National Team)
26' Goal against (Spain Women's Futsal National Team)
36' Goal against (Spain Women's Futsal National Team)
40' Goal against (Spain Women's Futsal National Team)
Line-ups
GK: YAMAMOTO Ayaka
FP: SAKATA Mutsumi, HIGASHIYAMA Maiko, SAKURADA Miku, KITAGAWA Kana
Substitutes
GK: YAMASHITA Miyuki
FP: HOTTA Eriko, KATO Saori, AMISHIRO Anna, SEKINADA Minako, KICHIBAYASHI Chikage, TAKAO Akari, NAKAJIMA Shiori, FUJITA Mio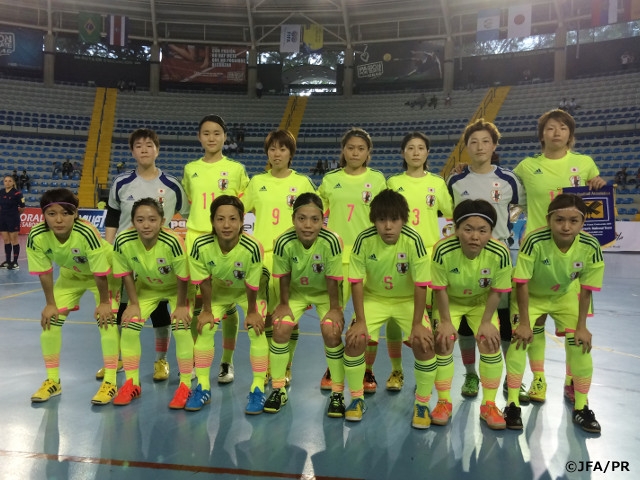 Match Report
Japan Women's Futsal National Team took on the Spain Women's Futsal National Team in their second game of the VI World Women's Futsal Championship Guatemala 2015. Both teams had taken a loss in their tournament openers, and they came in the game with a must-win mindset.
Japan, for the second game in a row, wasn't sharp at the beginning and allowed a goal just two minutes into the game.
Japan struggled to play in the way they wanted to play and gave up another goal to Spain on 5th minute. After that, Japan finally got some rhythm passing the ball and SAKUARADA Miku, who intercepted the ball in front of the Spanish goal, netted one to cut the deficit to one. Spain attempted to attack on Japan afterward, but Japan exhibited physical plays around goalkeeper YAMAMOTO Ayaka. The game entered halftime with the 2-1 score.
Trailing by one goal, Japan equaled the game when the Spanish goalkeeper deflected a shot fired by SAKATA Mutsumi and NAKAJIMA Shiori puts it in.
But Spain came through afterward and Japan ended up losing 5-2 in their second contest in the tourney.
Japan will take on Russia in their third game. The two squared off against each other in last year's 5th edition of the same championship.
Players' Comments
YAMAMOTO Ayaka (SWH Ladies Futsal Club)
We didn't play well early again and allowed our opponents to have a pace. But we gradually bounced back and played almost equally against such a strong team like Spain until the midway through the second half. We ended up losing in the end, but we still learned a lot. But we kept giving up goals in almost identical ways and we would like correct on that in actual games going forward. We've lost two in a row, but our team is still in high spirits. So we would like to become one and earn three points in tomorrow's game.
AMISHIRO Anna (SWH Ladies Futsal Club)
This is my first global tournament for me. I'd been excited about playing against the world's best teams, so it's been frustrating that we've taken two consecutive losses, but we've realized that we can play on par against opponents such as Spain and Guatemala and it's given us confidence, while we've found our issues. We would like to make adjustments on the issues we've seen in these last two games and prepare for tomorrow's game against Russia.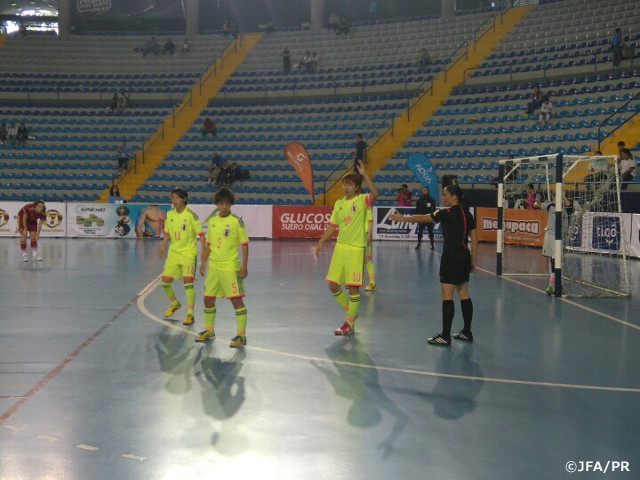 Schedule
VI World Women's Futsal Championship Guatemala 2015
Tue. 24 November
1-2
vs Guatemala (Group Stage)
Wed. 25 November
2-5
vs Spain (Group Stage)
Thu. 26 November
15:00
vs Russia (Group Stage)
Fri. 27 November
17:30/20:00
Group Stage3/4: Place Playoff
Sat. 28 November
16:00/18:30
Group Stage1/2: Semi Final
Sun. 29 November
16:00/18:30
3rd-Place Playoff/Final
*Local Time
*The schedule is subject to change due to the team condtion, the weather, etc.
VI World Women's Futsal Championship Guatemala 2015
GroupA: Brazil, Portugal, Iran, Costa Rica
GroupB: Spain, Russia, Japan, Guatemala
Venue: Domo Polideportivo Zona 13, Guatemala City, Guatemala