NEWS
Japan Women's Futsal National Team start training prior to VI World Women's Futsal Championship Guatemala 2015
19 November 2015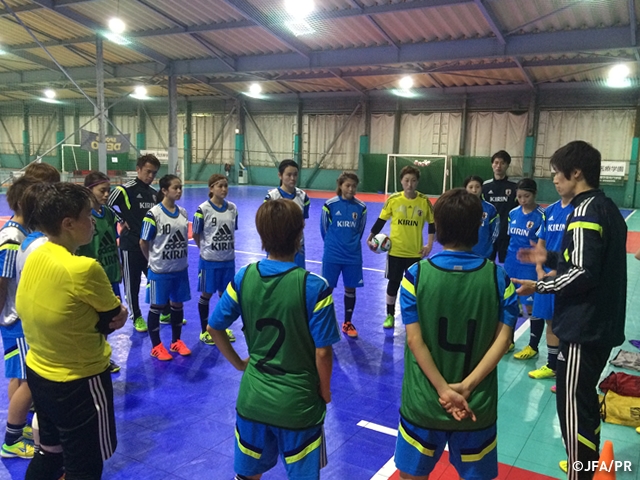 Japan Women's Futsal National Team started their three-day training in Japan in preparation for the "VI World Women's Futsal Championship Guatemala 2015", which is to be held from Tuesday 24 November.
The team held a meeting prior to the training session, and the coach ARIHARA Masaaki shared the current status of the team in the championship, their aims as well as the team's concept.
The team includes 12 players, who took the team to second place in the "1st AFC Women's Futsal Championship Malaysia 2015" in September, with the addition of two newcomers. Japan will play in group B, meeting the host country Guatemala on Tuesday 24, Spain on Wednesday 25, and Russia on Thursday 26 November.
The players held a two-hour training session, mainly focusing on passing the ball around and checking the defence after some warm-ups.
They attended another meeting after the session to discuss about their tactics in detail.
In order to get themselves ready enough within the limited time before the first match of the championship, the team will have two practice sessions tomorrow, one in the morning and one in the afternoon.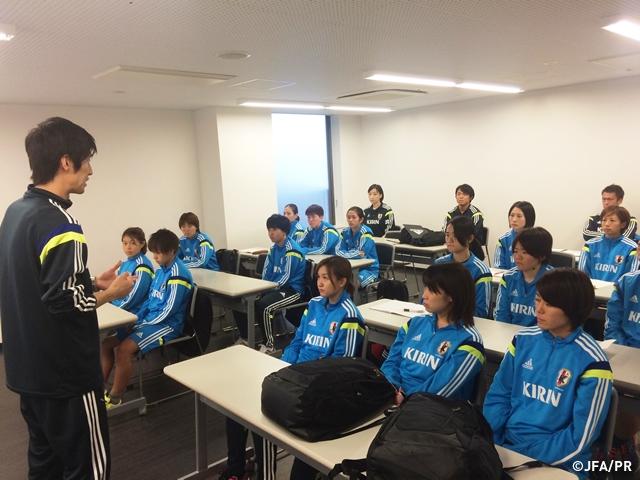 Players' Comments
SAKATA Mutsumi (SWH Ladies Futsal Club)
Although we started to practice together today, most of the players were in the team for the "1st AFC Women's Futsal Championship Malaysia 2015" in September. So we could communicate with each other very well and hold a practice session in a good atmosphere. We only have a limited time before the championship in Guatemala, but we, including the newcomers, would like to prepare ourselves as a team, getting into good physical condition before the opening match on 24 November.
NAKAJIMA Shiori (Burela Pescados Ruben/Spain)
As I usually play in Spain, it's nice to play with my teammates from the Japan National Team for the first time in a while. I also look forward to playing against the Spain Women's Futsal National Team in the second game. I will meet several of my club teammates in Spain as my opponent there. I'd like to aim to get through the group stage.
TAKAO Akari (Maruoka RUCK Ladies)
It's been almost two weeks since the nationwide championship. I felt frustrated that we ended in second place, but we learned a lot. I'd like to enjoy playing with my teammates, against whom I had played in that championship. I'd like to enjoy my first international tournament and contribute to the team with my performances.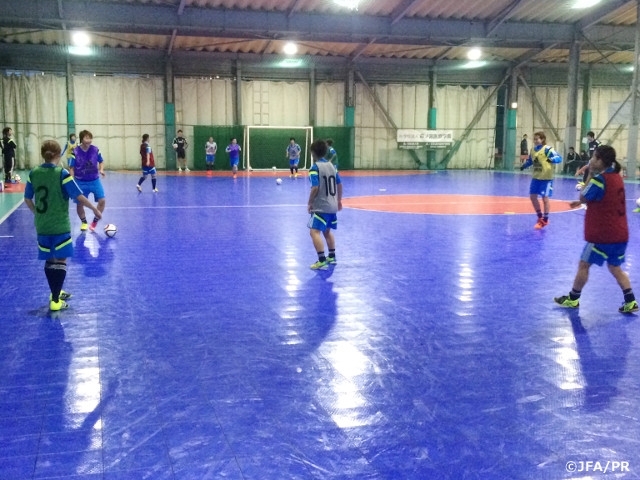 Schedule
Wed. 18 November
PM
Training
Thu. 19 November
AM/PM
Training
Fri. 20 November
AM
14:30
Training
Training Match
Sat. 21 November
AM/PM
Training
Sun. 22 November
AM/PM
Training
Mon. 23 November
PM
Official Training
VI World Women's Futsal Championship Guatemala 2015
Tue. 24 November
20:00
vs Guatemala (Group Stage)
Wed. 25 November
15:00
vs Spain (Group Stage)
Thu. 26 November
15:00
vs Russia (Group Stage)
Fri. 27 November
17:30/20:00
Group Stage3/4: Place Playoff
Sat. 28 November
16:00/18:30
Group Stage1/2: Semi Final
Sun. 29 November
16:00/18:30
3rd-Place Playoff/Final
*Local Time
*The schedule is subject to change due to the team condtion, the weather, etc.
VI World Women's Futsal Championship Guatemala 2015
GroupA: Brazil, Portugal, Iran, Costa Rica
GroupB: Spain, Russia, Japan, Guatemala
Venue: Domo Polideportivo Zona 13, Guatemala City, Guatemala