NEWS
Japan squad arrive in Guatemala for VI World Women's Futsal Championship Guatemala 2015
24 November 2015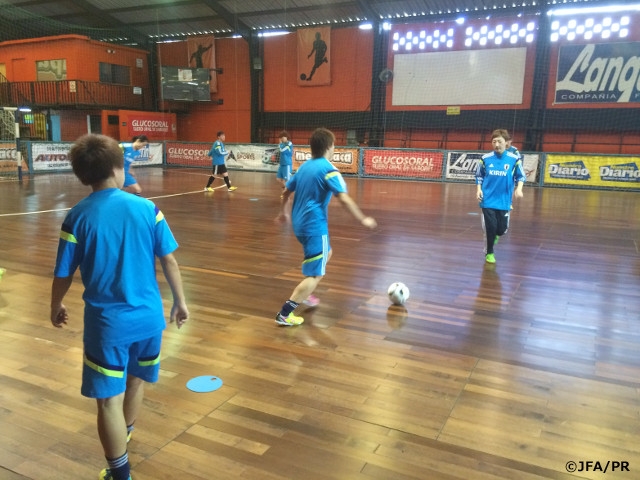 Sat. 21 November
Japan Women's Futsal National Team, who have departed from Osaka to compete in the VI World Women's Futsal Championship Guatemala 2015, flew through Los Angeles and arrived in Guatemala after an overall 30-hour trip on 20 November. The team landed there in the morning and had a training in the afternoon to ease their stiff bodies.
The team practiced at Domo Polideportivo Zona 13, which will be the tournament venue. Because they had it right after their arrival, they went through light menus. They seemed to be relaxed yet trained with the image of playing in the actual tourney at the 7,500-capacity arena.
Sun. 22 November
On the second day in Guatemala, the Japanese had two practice sessions in the morning and in the afternoon. In the morning session, they emphasized on 4-on-2 passing practice and shooting from corner kicks and kick-ins, and then in the afternoon, they checked their set plays and played a short intrasquad game toward the end.
Guatemala City, the host city, is place at 1,500-meter high, plus there's a time gap of 15 hours with Japan, so it gave the players a little tough times to breathe and the jet lag. But nevertheless, they would still proceed their preparation for their first match against the Guatemala national team, which would be played two days later.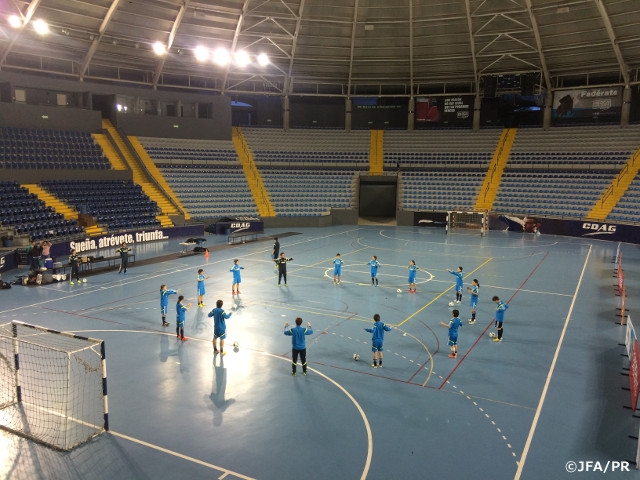 Players' Comments
KICHIBAYASHI Chikage (VEEX TOKYO Ladies)
The long trip made me a little tired, yet we discussed with our teammates about what we should do eliminate our issues among others, so I'd say we used the trip time effectively. Since this place is located at a high altitude, it was a little tough for us in our training on the day we arrived here. But I think that our bodies have gotten used to it gradually. The venue for this tournament is the place that I've seen repeatedly and that was the venue for the FIFA Futsal World Cup 2000, so I feel great to be able to play such a wonderful place like this.
FUJITA Mio (Fuchu Ahletic FC Purimeira/Tokyo International University)
For me, this is my first trip overseas, so everything I do feel fresh. It will be a good experience for me to play after a long flight and play in totally circumstances that are different from Japan. Our first game is approaching, but I would like to keep working in our training and get in the first game, capitalizing on what we've done in our training in our domestic training camps.
HIGASHIYAMA Maiko (Bardral Urayasu Las Bonitas)
This is my first time to be competing in the Women's Futsal World Tournament. I'm so excited about the opportunity now. In the tourney, I would like to do the best I can for the team so we can play in the way we would like it to. I hope others will say that I've made growths since I played in the AFC Women's Futsal Championship in September, and I would like to play being aware of the outcomes.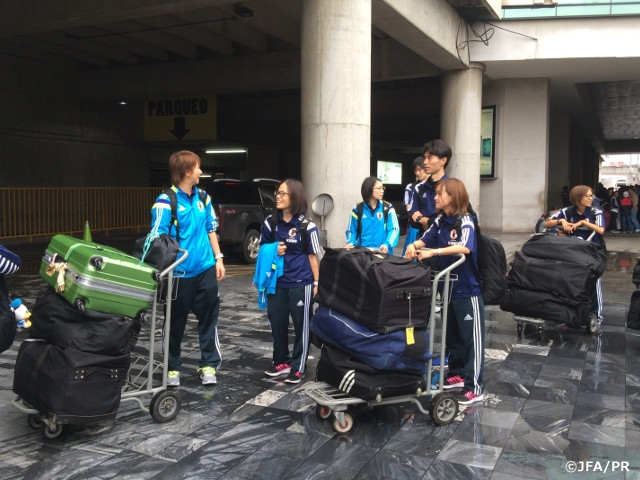 Schedule
Wed. 18 November
PM
Training
Thu. 19 November
AM/PM
Training
Fri. 20 November
AM
14:30
Training
Training Match
Sat. 21 November
AM/PM
Training
Sun. 22 November
AM/PM
Training
Mon. 23 November
PM
Official Training
VI World Women's Futsal Championship Guatemala 2015
Tue. 24 November
20:00
vs Guatemala (Group Stage)
Wed. 25 November
15:00
vs Spain (Group Stage)
Thu. 26 November
15:00
vs Russia (Group Stage)
Fri. 27 November
17:30/20:00
Group Stage3/4: Place Playoff
Sat. 28 November
16:00/18:30
Group Stage1/2: Semi Final
Sun. 29 November
16:00/18:30
3rd-Place Playoff/Final
*Local Time
*The schedule is subject to change due to the team condtion, the weather, etc.
VI World Women's Futsal Championship Guatemala 2015
GroupA: Brazil, Portugal, Iran, Costa Rica
GroupB: Spain, Russia, Japan, Guatemala
Venue: Domo Polideportivo Zona 13, Guatemala City, Guatemala