NEWS
Japan Women's Futsal National Team play against men in practice matches for VI World Women's Futsal Championship Guatemala 2015
21 November 2015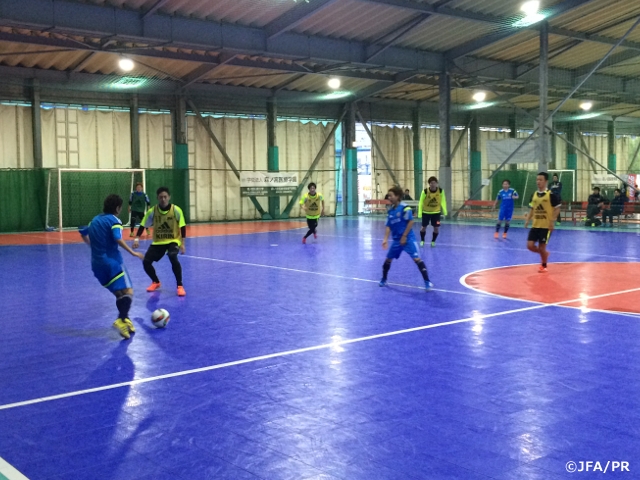 Thu. 19 November
The second day of the camp had one training session each in the morning and afternoon.
The morning session was spared for more of tactical training while in the afternoon they brought the players of Falangito Nara, a men's team belonging Nara Prefectural Futsal League, for the joint session including a practice match. In the scrimmage, Japan's coach ARIHARA Masaaki occasionally stopped plays for detailed instruction. Reviewing power-plays and other match simulations, the training was well targeted at real matches to be played in the upcoming tournament.
Fri. 20 November
The practice was also two-a-day on the third day. After going through orthodox regimen in the morning, the women's squad had another guest team in the afternoon, which were Doshisha University Futsal Club. Undertaking practice matches against male players two days in a row, they seem to be prepared for playing against the world's elite countries. Now that they have wrapped up the three-day camp in Japan, the team head for Guatemala, the host nation of the IV Women's World Futsal Tournament.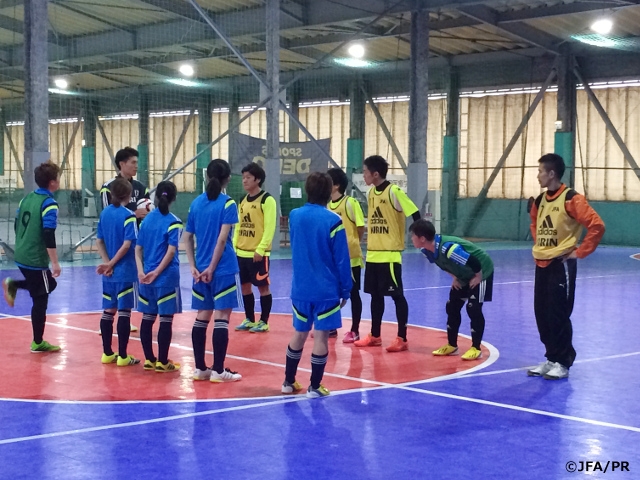 Players' Comments
HOTTA Eriko (SAICOLO)
By playing against men who are bigger and faster than us we could see how much we can play after all the work we have done and what we are still lacking. It turned out to be a good experience. We will work on what we are lacking in our future training.
SAKURADA Miku (LEOGRASTA)
I got selected to the national women's futsal team for the first time, and I have been having very productive training. The team chemistry is very good, so I want to communicate with the girls around me more and want to blend in as soon as possible. Playing against international players in Guatemala will also be my first-time experience, so I am looking forward to it very much. We have only limited number of days before the first match, but I want to keep taking good workout and get ready for the first match in a good condition.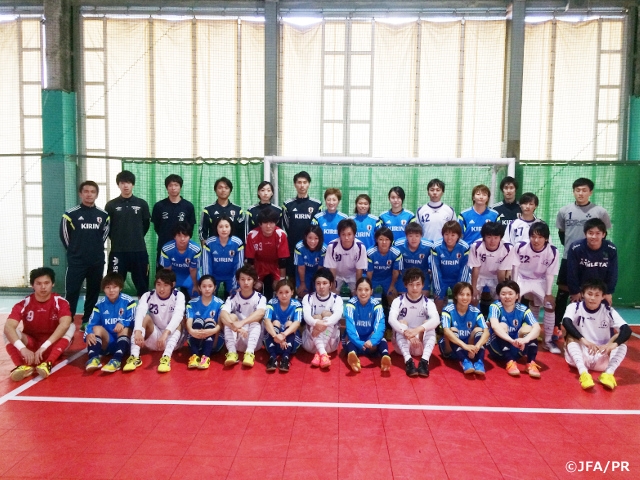 Schedule
Wed. 18 November
PM
Training
Thu. 19 November
AM/PM
Training
Fri. 20 November
AM
14:30
Training
Training Match
Sat. 21 November
AM/PM
Training
Sun. 22 November
AM/PM
Training
Mon. 23 November
PM
Official Training
VI World Women's Futsal Championship Guatemala 2015
Tue. 24 November
20:00
vs Guatemala (Group Stage)
Wed. 25 November
15:00
vs Spain (Group Stage)
Thu. 26 November
15:00
vs Russia (Group Stage)
Fri. 27 November
17:30/20:00
Group Stage3/4: Place Playoff
Sat. 28 November
16:00/18:30
Group Stage1/2: Semi Final
Sun. 29 November
16:00/18:30
3rd-Place Playoff/Final
*Local Time
*The schedule is subject to change due to the team condtion, the weather, etc.
VI World Women's Futsal Championship Guatemala 2015
GroupA: Brazil, Portugal, Iran, Costa Rica
GroupB: Spain, Russia, Japan, Guatemala
Venue: Domo Polideportivo Zona 13, Guatemala City, Guatemala