NEWS
Japan Futsal Women's National Team short-listed squad training camp in Kanagawa: DAY 3
24 December 2016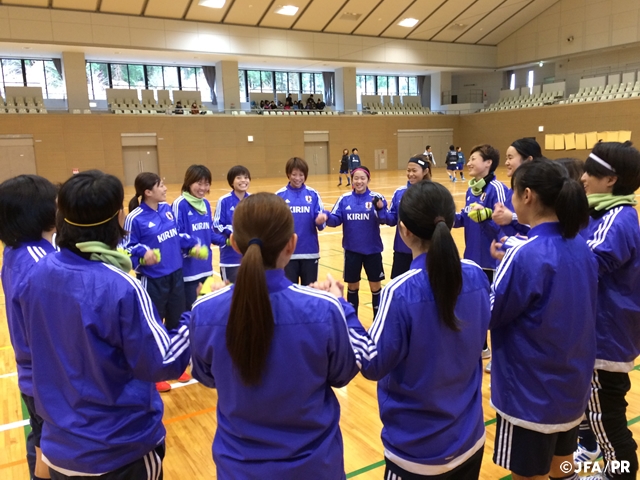 The Japan Futsal Women's National Team short-listed squad held their third day of training camp in Hakone, Kanagawa prefecture. This is their last day of practice which included a training match against the Shizuoka Women's Futsal Selection Team. Before heading to the match venue, the team had a meeting to review their tactics. Coach ITO Masanori said to the players prior to the match: "it is important that you focus on winning, but don't forget to enjoy futsal also."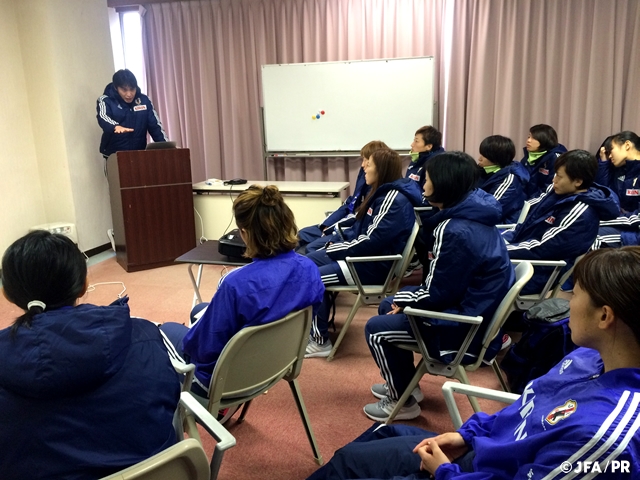 The training match consisted of three 30-minute periods. Although Japan could not break through the opponents' defence in the first period, they scored early with a goal by KITAGAWA Kana in the second. Playing with much better tempo, the national squad added their second from SEKINADA Minako right after the opener. Furthermore, the team's youngest player, YAMAKAWA Rikako, stretched the lead by putting one into the net.
Entering the 3rd period, Japan conceded a goal after 5 minutes but their tactics which they worked on throughout this camp functioned well and they tallied three goals in a short span of time. KICHIBAYASHI Chikage, TAKAO Akari and TANAKA Chihiro all contributed to the scoring of the Japanese side. Towards the end, the national team conceded another goal but they ended the match 6-2.
The Japan Futsal Women's National Team short-listed squad wrapped up this year's activities with a win and finished positively.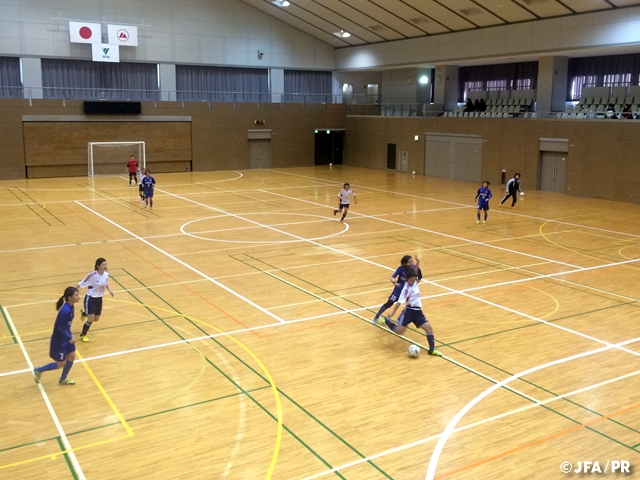 Players' Comments
ICHIHARA Reika(Futsal Clube UNIAO Ladies)
I have been called up to the national-team camp since the previous one, and I appreciate that I can concentrate on practising futsal in such a good environment. Today we had another training match. All of us played very aggressively, focusing on winning. We communicated well amongst each other and made adjustments when necessary. We entered the match positively. The national-team camp has just ended. Personally I still have a lot more to learn, so I will continue to work hard in my club team to become a better player.
MATSUO Eriko(TapaZida)
In our last day of the camp we had a training match. Before going to the venue, we had a meeting to review the team tactics. Going through the issues found in the previous training match held on the first day, we could deepen our mutual understanding which enabled us to coordinate well in both offence and defence. We also focused on winning and got united as well. This is a precious experience for me. I will keep working hard to attain positive results for my club team, and I hope I will be called up again.
TANAKA Haruka (Fukui Maruoka Ruck)
This is my first time to join the national-team camp, and I had a wonderful experience working on things which I haven't done it before. In the first day I was nervous and worried, and I wasn't able to perform as normally I do. In the training match today, the team were well united to contest the match. I will continue to work hard and improve my play in order to be re-selected to the national squad again. I feel grateful to every one who supported this training camp.
Schedule
| | | |
| --- | --- | --- |
| Wed. 21 December | PM | Training/Training Match |
| Thu. 22 December | AM/PM | Training |
| Fri. 23 December | AM | Training Match |
*The schedule is subject to change due to the team condition, the weather, etc.