NEWS
Japan Women's Futsal National Team short-listed squad enter first day of training camp in Kanagawa
22 December 2016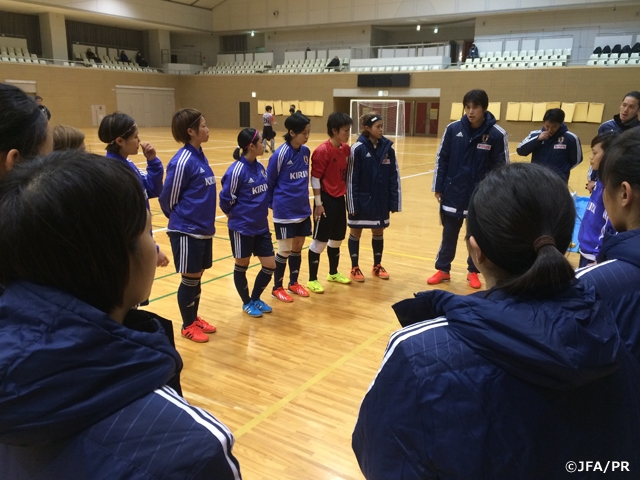 Japan Women's Futsal National Team short-listed squad began their second training camp of this month on 21 December in Hakone, Kanagawa Prefecture, where they held the first camp. The team substituted five players for the latest camp.
During a meeting that was held at the beginning of the camp, coach ITO Masanori told his players the purpose of the training camp, what they look to achieve and their tactics. After that, they got out onto the field and repeatedly worked on their tactics that they shared during the meeting, playing in 1-on-1 and 3-on-3 formations.
At 19:00, they played three 30-minute games against P.S.T.C.LONDRINA, who they competed during their previous training camp. The Japan women's team struggled to get the opponents off balance. They were repeatedly overwhelmed by them and allowed three goals in the first period, two in the second and gave up another two in the third. But the Japan team finally got their pace and SAKURADA Miku scored two goals before they finished the contest 2-8.
In the midst of the practice game, Japan Futsal National Team's coach Bruno GARCIA came to observe it. At the dinner time, he told the players the importance of them being called up for the camp and responsibility they shall feel.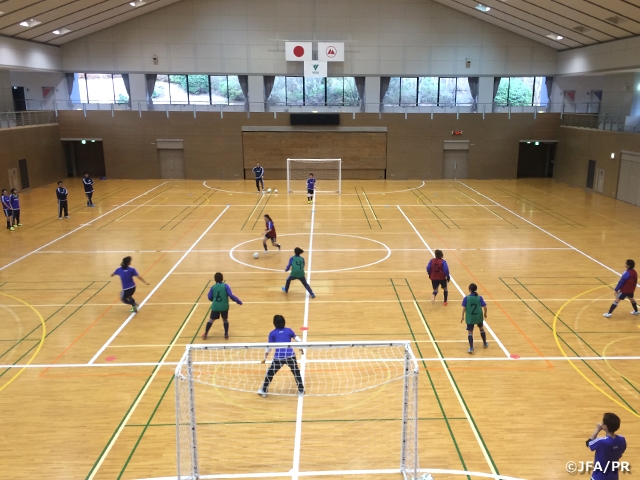 Coach and Players' Comments
ITO Masanori, Coach
Because this is the second training camp for us, we came in it with a theme of checking our tactics and concepts that we have worked on since the previous one and sharing them between ourselves. On the first day we had two practice sessions, and at night we played exhibitions against P.S.T.C.LONDRINA, which consisted of players of high school and junior high school seniors. We came up short, but we entered the third game having making adjustments from the first two games and put up a close game in the third one, which was good. But in order to compete at the international level, we are expected to play against opponents who are physically better. That is why we need to work as the whole team to make up the gaps that we did not make up in these exhibitions, thinking of how we can do so.
We are looking at compete on par at the global stage and capturing the title at the 2017 AFC Women's Futsal Championship. We appreciate the club officials of our players, people from the facilities, national team staff and everyone else who all support to let us have these wonderful training camps. Also, we made some roster changes from our previous camp in order to foster some competitions between the players. There are no reserved seats at the national team. Whether it's the players who were called up for this second camp or the players that did not get called up this time, all of them are participating in the competitions inside the team. We as the entire Japanese women's futsal circle would like to achieve the goal of winning the 2017 AFC Women's Futsal Championship.
FUJITA Yasuka (arco-iris KOBE)
We had practices and exhibitions today. In the exhibitions, we played paying attention to what we did during the practices, such as attacking around our pivo and defence at higher locations. Though it was late on a weekday, P.S.T.C.LONDRINA played the exhibitions with us and we appreciate it. We made some player changed from our previous camp, but we would like to take communication well and do our best in a good mood.
TAKEMURA Junko (Fugador Sumida Ladies)
I was able to get in this training camp this time and was inspired from the first day to play along with teammates who have high abilities. We only have three days in it, so I would like to keep my focus every single second and absorb as many things as possible. First off I would like to enjoy the moments being myself.
TAKAO Akari (Fukui Maruoka Ruck)
We practiced well in a very good mood from the first day. And we again played exhibitions from the first day of the camp like we did in our previous one. It's frustrating that we couldn't win. But we were able to communicate with our teammates better and improve our issues through every game. For another exhibition that we'll play on the final day, I want to be more particular about winning.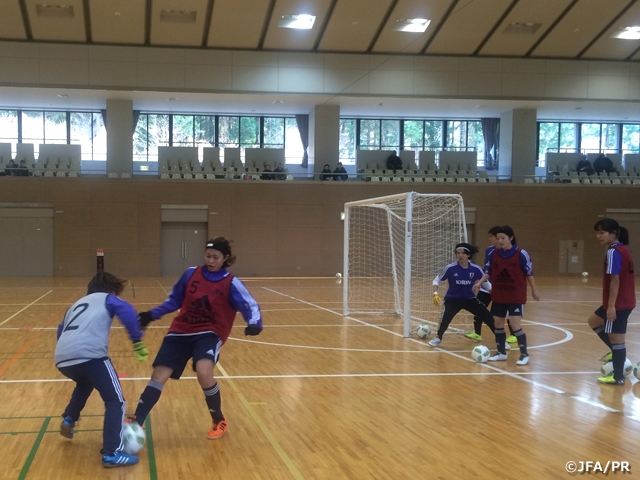 Schedule
| | | |
| --- | --- | --- |
| Wed. 21 December | PM | Training/Training Match |
| Thu. 22 December | AM/PM | Training |
| Fri. 23 December | AM | Training Match |
*The schedule is subject to change due to the team condition, the weather, etc.