NEWS
Japan futsal squad have two-a-day practice sessions in second day of training camp
21 December 2016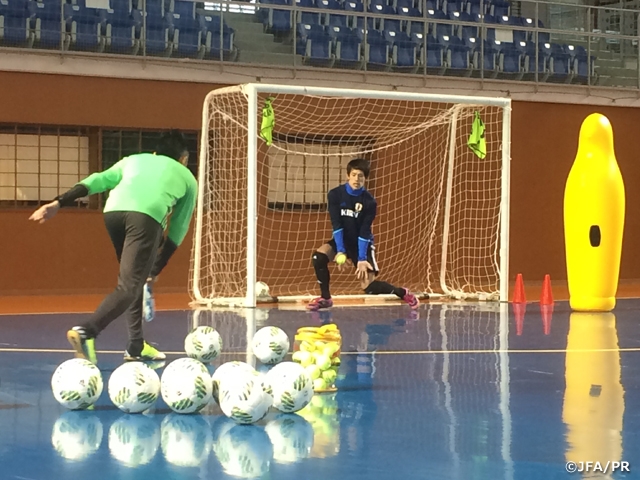 The Japan National Futsal Team short-listed squad had two-a-day practice sessions in the morning and afternoon on Tuesday 20 December.
In the morning session, they started with shooting exercises and then checked their positioning on the court. In the afternoon, the goalkeepers trained separately with GK coach UCHIYAMA Keitaro prior to the team practice. They worked on developing their reaction speed while they focused on throwing swiftly to initiate attacks.
In the practice with the whole team, it became an occasion for the players to display what they have done in the previous training sessions, including a pair of camps under coach Bruno GARCIA in October and December. The teams were divided into offence and defence and worked on power plays. Coach Bruno occasionally interrupted their plays to give detailed instructions on how the team should defend when they are outnumbered by the opponents.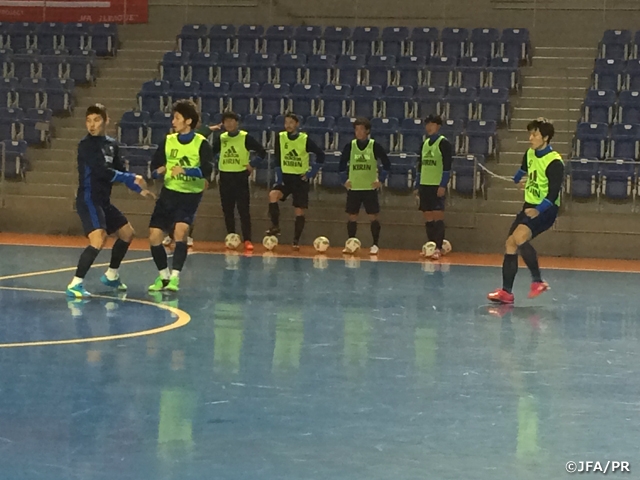 Coach Bruno stayed vocal throughout the two-hour training session. Every one listened attentively and looked focused trying to live up to the coach's expectations.
Meanwhile, the team celebrated KATO Minami's 24th birthday at dinner.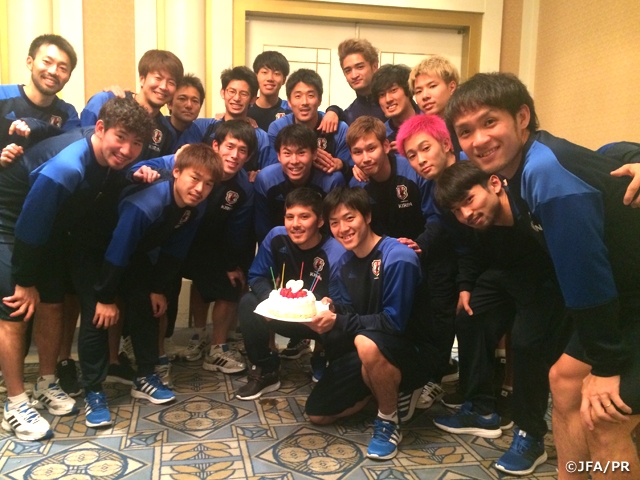 Players' Comments
YAZAWA Daimu (VOSCUORE SENDAI)
We finished the second day of the training camp, and I think I now have a better understanding of coach Bruno's concept. Personally, by practising in this high-level environment, I found so many issues that I will have to work on. After this camp, I need to prove that I am a better footballer by displaying the achievements going through the national-level training.
YAGI Kiyoto (NAGOYA OCEANS)
This is my first training camp with the national team, and I am keeping a high-level of concentration while taking nothing for granted. I've had some difficulty understanding the team tactics and adjusting to the position in which I do not normally play at my club, but the important thing here is that I will become a better player going through this camp. Tomorrow will be the last day of the camp, and I would like to display my strength while deepening my understanding of coach's tactics.
KATO Minami (SHRIKER OSAKA)
Since last week, I've been called up to the training camp of the national team. At times, I had plays where I couldn't execute them as well as I imagined, but I believe I still managed to have an intense work-out during game-format training. Tomorrow will be our final practice this year, and I want to keep my focus and work on it. Also, I was quite happy to have my birthday during this national-team camp.
Schedule
| | | |
| --- | --- | --- |
| Mon. 12 December | PM | Training |
| Tue. 13 December | AM/PM | Training |
| Wed. 14 December | AM | Training |
*The schedule is subject to change due to the team condition, the weather, etc.