NEWS
Japan futsal squad begin final training camp of year in Nagoya
20 December 2016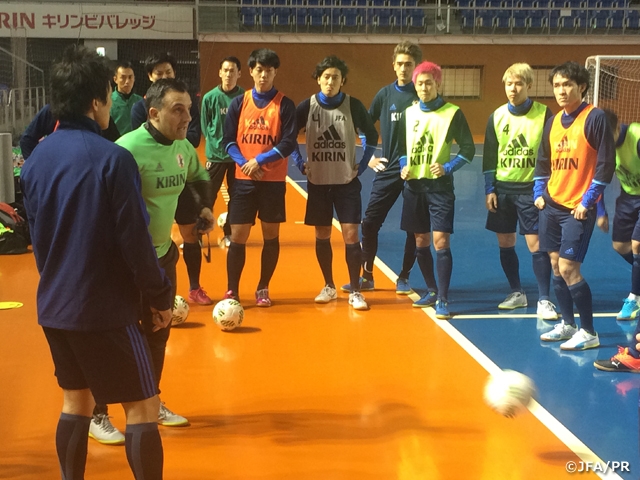 The Japan National Futsal Team short-listed squad began their final training camp in Nagoya of Aichi Prefecture on Monday 19 December.
The training camp was held for the second week in a row. This time, YAGI Kiyoto, HASHIMOTO Masaya and YAZAWA Daimu were called up to the national team for the first time, while MAEDONCHI Matias Herman made his first appearance in the squad since Bruno GARCIA took over as the coach. A total of 19 players attended the Nagoya camp.
Reflecting on their previous training camp using video footage in their meeting before practice, Bruno encouraged his players, "we made some great accomplishments in the camp last week. Thanks to all of you who worked hard while paying attention to team tactics, we had a very fruitful training. Let's keep it up."
Because most of the squad members had F League games on the previous day, the team adjusted their training to cope with their fatigue. In the short two-hour practice, they worked on their positioning, the movements when using 3-1 and 4-0 systems and set plays.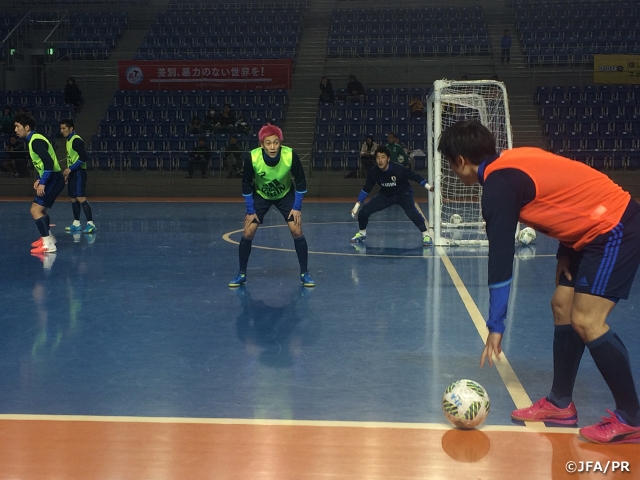 Players' Comments
KATO Ryuma (BARDRAL URAYASU)
Our final training camp of the year has just begun. We worked on our offensive systems, and overall it was a productive one. We also checked our set plays in game-format practice, but the timing was off at times. I felt the need to make better communication amongst the players. We will work hard to make this better in the remaining days of the camp.
WATANABE Tomoaki (FUCHU ATHLETIC F.C.)
We are holding a training camp for the second week in a row, so we need to deepen our understanding of the team concept, while improving the accuracy of each plays. It would be ideal if I can move spontaneously, but still I need to think beforehand. In the remaining three training sessions, we are going to keep our focus and, hopefully, improve as a team in the end.
MAEDONCHI Matias Hernan (NAGOYA OCEANS)
I have been called up for the first time since coach Bruno took over, so it's not been easy for me to get used to the team's new tactics. However, I'm grateful to be a part of this national squad and I will keep my focus and work hard every day. Furthermore, I am looking to work on things flexibly, while keeping a high intensity level. I certainly want to display my strength and make a good impression to the coach. In addition, I want to capitalise on the things I learned during this camp to attain better results for my club team. I will give my best and keep up my hard work, so that I will not regret for not trying it.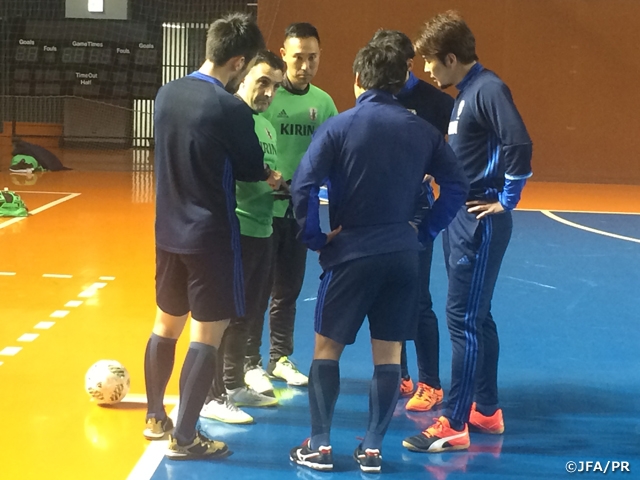 Schedule
| | | |
| --- | --- | --- |
| Mon. 12 December | PM | Training |
| Tue. 13 December | AM/PM | Training |
| Wed. 14 December | AM | Training |
*The schedule is subject to change due to the team condition, the weather, etc.