NEWS
Japan Beach Soccer National Team: Comeback win against powerhouse Switzerland in practice match
25 April 2017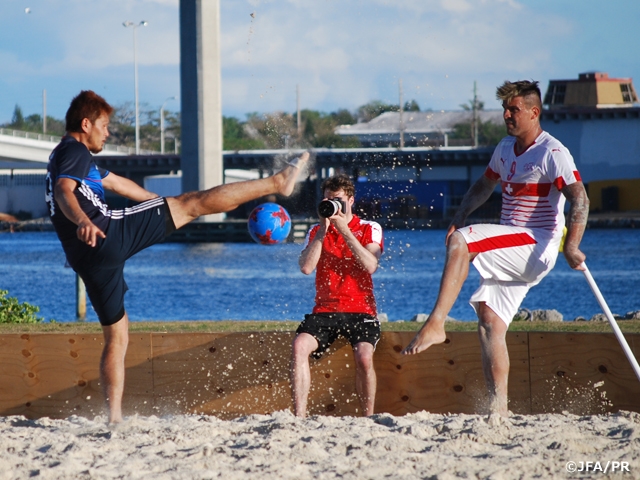 Training Match vs Switzerland Beach Soccer National Team
24 April 2017 (Mon.) 17:30 Kick-off Playing Time 45min.(15min. × 3)
Paradise Beach(Nassau, Bahamas)
Japan Beach Soccer National Team 3-1(1st 1-1, 2nd 1-0, 3rd 1-0)Switzerland Beach Soccer National Team
Scores
6' goal against(Switzerland Beach Soccer National Team)
8' MOREIRA Ozu(Japan Beach Soccer National Team)
19' MOREIRA Ozu(Japan Beach Soccer National Team)
32' AKAGUMA Takuya(Japan Beach Soccer National Team)
Starting Line-ups
GK:TERUKINA Shingo
FP:MOREIRA Ozu, TABATA Teruki, OBA Takaaki, GOTO Takasuke
Substitutions
GK:KAWAI Yusuke
FP:SUZUKI Masato, IINO Tomoyuki, HARAGUCHI Shotaro, KOMAKI Masayuki, AKAGUMA Takuya, YAMAUCHI Shusei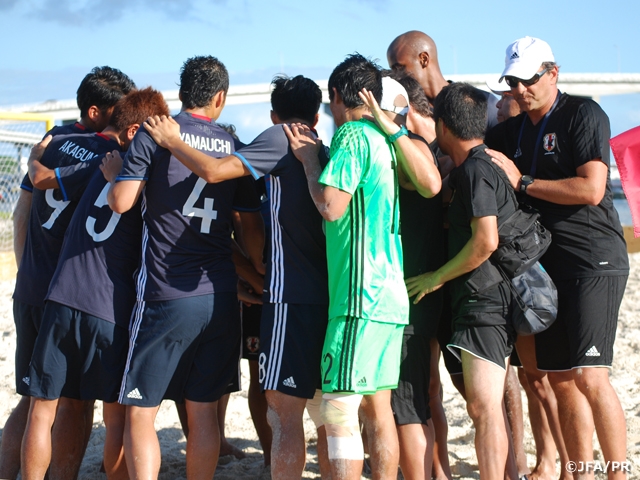 Match Report
Currently holding a training camp in the Bahamas, Japan Beach Soccer National Team faced off against Switzerland in their last practice match prior to the coming World Cup at 17:30 local time on Monday 24 April.
Being one of top national teams in Europe, Switzerland took the early initiative and created numerous chances, while the Japanese side, once saved by the goalpost, defended tenaciously, and the joint team effort kept the opponents from scoring until the 6th minute, when the European counterparts netted a fine goal through an excellent combination play. However, it only took two minutes for Japan to find an equaliser, as MOREIRA Ozu put his overhead shot to the back of the net. The match entered the first break with a 1-1 tie.
Entering the second period, the Japanese team continued to put pressure on the opponents, and their high work-rate defence did not allow Switzerland to create decisive chances. Then, in the 19th minute, MOREIRA Ozu put his side ahead by directly scoring off a free kick. In the remainder of the period, both teams failed to change the scoreline, and Japan took a 2-1 lead at the second break.
The game favoured Japan in the opening minutes of the third period, as AKAGUMA Takuya changed the direction of a long throw from goalkeeper TERUKINA Shingo right in front of the goal to net the third for the Japanese team. Towards the end of the match, Switzerland had few scoring chances, but Japan defended composedly and evaded the challenges of the threatening European side to post a 3-1 comeback win, giving them the positive momentum and confidence for the upcoming World Cup.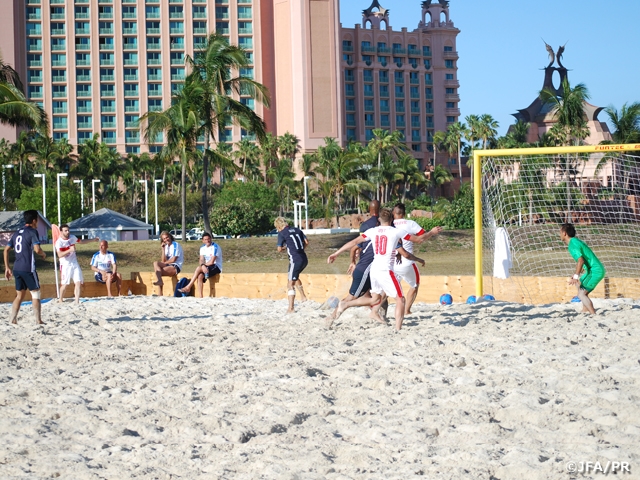 Players' Comments
FP #7 TABATA Teruki (Veertien Mie BS)
We had the final training match prior to the World Cup against Switzerland. We didn't perform well, as we couldn't display what we had been practising or intending to achieve. However, we waited patiently for opportunities to score and capitalised on those chances. This, I view as one of the positive takeaways for the team. Furthermore, the match does not always proceed as expected as we face the opponents who are trying to execute their side of the game. It is thus important to reduce our errors and read the situations accordingly as well.
Schedule
Mon. 10 April
PM
Training
Tue. 11 April
AM/PM
Training
Wed. 12 April
AM/PM
Training
Thu. 13 April
AM/PM
Training
Fri. 14 April
AM/PM
Training
Sat. 15 April
9-3
International Friendly Match 1st
vs Germany (Nishihara Kirakira Beach)
Sun. 16 April
5-3
International Friendly Match 2nd
vs Germany (Nishihara Kirakira Beach)
Tue. 18 April
TBC
Training
Wed. 19 April
TBC
Training
Thu. 20 April
TBC
Training
Fri. 21 April
10-4
Training Match vs Bahamas
Sat. 22 April
TBC
Training
Sun. 23 April
TBC
Training
Mon. 24 April
3-1
Training Match vs Switzerland
Tue. 25 April
TBC
Training
Wed. 26 April
TBC
Training
FIFA Beach Soccer World Cup Bahamas 2017
Thu. 27 April
TBC
Training
Fri. 28 April
15:30
Group Stage 1st
vs Poland (National Beach Soccer Arena)
Sat. 29 April
TBC
Training
Sun. 30 April
15:30
Group Stage 2nd
vs Tahiti (National Beach Soccer Arena)
Mon. 1 May
TBC
Training
Tue. 2 May
18:30
Group Stage 3rd
vs Brazil (National Beach Soccer Arena)
Wed. 3 May
TBC
Training
Thu. 4 May
TBC
Quater Final
Fri. 5 May
TBC
Training
Sat. 6 May
TBC
Semi Final
Sun. 7 May
TBC
Final
*Local Time
*The schedule may be subject to change due to the team condition, the weather, etc.
FIFA Beach Soccer World Cup Bahamas 2017
27 April 2017 (Thu.) ~ 7 May 2017 (Sun.)
Tournament Information