NEWS
Japan Women's National Squad finish four-day training camp
09 December 2016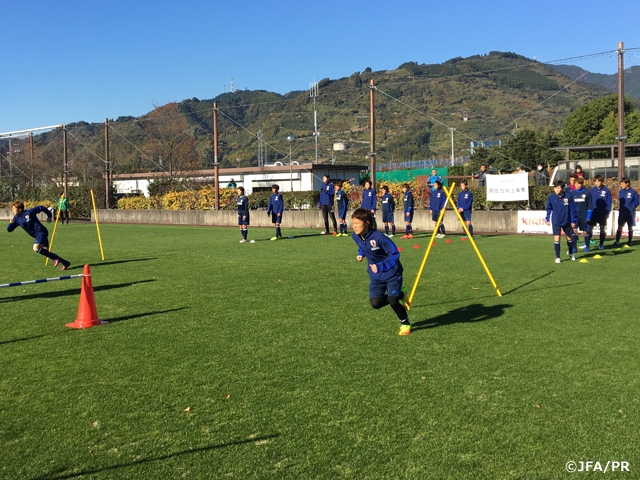 The Japan Women's National Squad held the last practice session of their four-day training camp on Thursday 8 December. In a meeting prior to the session, the team reviewed the previous day's training match, and coach TAKAKURA Asako told the players: 'although the opponent was tough, we could have done something more. Let's improve our technique and judgment, while reducing careless mistakes. '
The players started with physical training under clear skies in the warm sunshine. They worked on possession and a six-on-six with goalkeepers to finish their four-day training camp.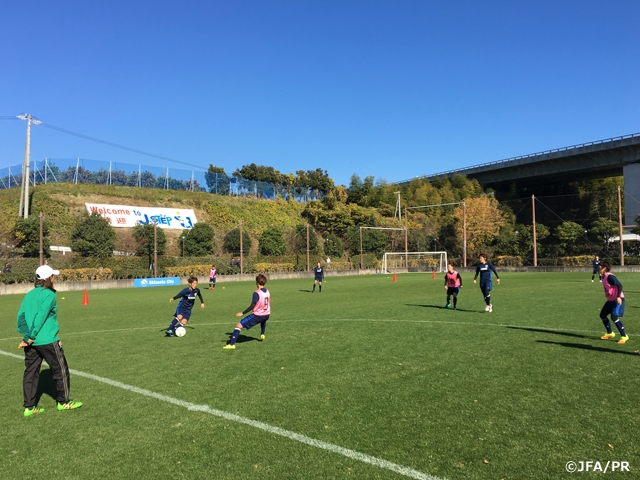 Although all the activities of the Japan Women's National Squad in 2016 are over, most of the participating players are to take part in the quarter-finals of the Empress's Cup on Saturday 17 December. They are expected to improve themselves even more by playing to be the best in 2016 before re-joining the national team next year.
Coach's and Players' Comments
TAKAKURA Asako, Coach
During this training camp, especially in yesterday's practice game, we found more tasks to work on. We'd like to raise our standard and require a higher level from the players. It's just the beginning. I told the players that I'd expect them, including the younger ones, to be aware of their responsibilities and to express their strong desire on the ground to play for the national team or win in international competition. Although I've always been telling the players, I hope that they will improve on the physical aspects as well as accuracy and control of passing before the next camp. I expect them to work hard in training.
DF SAMESHIMA Aya (INAC KOBE LEONESSA)
Although I didn't have a clue in the previous training camp in September, I prepared myself well this time, understanding our tactics. One of our tasks in this training camp was to work on attack and defence in the penalty area. We can improve even more with individual skills, judgement in front of goal, and determination to face forward. I'd like to continue to practice long-distance shots back in my club.
MF NAOMOTO Hikaru (Urawa Red Diamonds Ladies)
I believe that coach TAKAKURA expects us to have refined judgement and accurate techniques. During yesterday's training game, I learned to play while thinking carefully and looking round. I'd like to improve the speed and accuracy of my judgment when required. As I realised the importance of combinations with other players throughout this training camp, I'd like to speed up my decision-making, so that I can contribute with my strength, which is attack. I hope that I'll perform well to display my style in the Empress's Cup in order to join the national team again.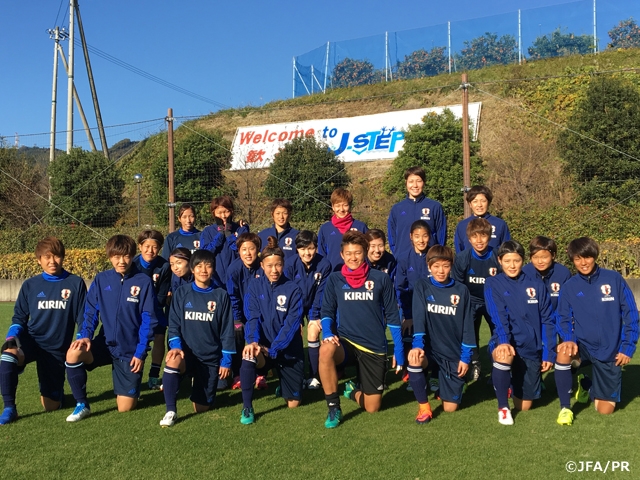 Schedule
Mon. 5 December
PM
Training
Tue. 6 December
AM/PM
Training
Wed. 7 December
AM
0-12
Training
Shizuoka Gakuen High School (Men)
Thu. 8 December
AM
Training
*The schedule is subject to change due to the team condition, the weather, etc.