NEWS
Nadeshiko Japan defeat England, move on to World Cup final
02 July 2015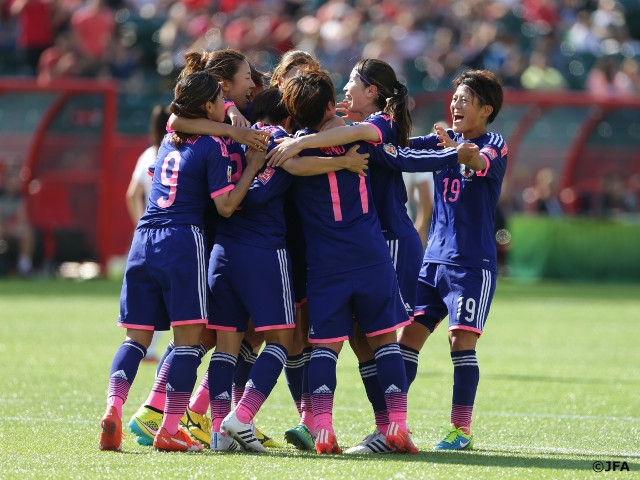 On 1 July, Nadeshiko Japan faced England at Commonwealth Stadium in Edmonton for the semi-final of the FIFA Women's World Cup Canada 2015. The Japanese squad, playing to defend their title, defeated England 2-1 with the opponents' own goal in the additional time to advance to the final match two years in a row.
As England were the only country Japan recorded a loss to in the last World Cup in Germany in 2011, this time's match again became a very tough battle. Right after the kick-off England started feeding long balls to the front to attack behind Japan's back line while Japan kept denying it to start their passing offence.
Moments after the 20-minute mark, Japan had midfielder MIYAMA Aya (Okayama Yunogo Belle) send the ball to midfielder UTSUGI Rumi (Montpellier HSC), who attempted a shot. A minute later, Miyama herself threatened England with a free-kick, but it did not reach the goal, either.
It was in the 31st minute that the scoring saw an action. Defender ARIYOSHI Saori (Nippon TV Beleza), the-Player-of-the-match-to-be, sneaked behind the opposing defenders to meet a long feed from the back line. Then at the edge of the penalty box, she was taken down by an England defender, which awarded Japan with a penalty kick. Miyama composedly converted it into the left side of the goal for a lead.
England, however, gradually started pushing back Japan by targeting the ball to Jill Scott and Toni Duggan. In the 39th minute, another penalty kick was awarded, this time to England, when defender Steph Houghton fell down to the ground. Midfielder Fara Williams did not miss the opportunity to equalise the match.
In the second half, although Japan wanted the early initiative, England did not loosen their defence against Japan's forwards OGIMI Yuki (VFL Wolfsburg) and OHNO Shinobu (INAC Kobe), who struggled to do their job facing forward. Japan also failed to pick up the second ball repeatedly, which helped the momentum shift to England. Japan barely kept defending their goal with poise and focus.
As England subbed in Ellen White in the 60th minute, their offence surge did not stop. In the 62nd, Duggan's right volley hit the cross bar and White also fired an impressive shot attempt, which was deflected by Japan's goalkeeper KAIHORI Ayumi (INAC Kobe) with a punch. In the 70th minute, forward IWABUCHI Mana (FC Bayern Munich) replaced Ono and started creating an attacking rhythm for Japan with her aggressive penetrations.

While England then began slowing down a little, they still managed to threaten Japan with a long-range shot hitting the bar.
As everyone started expecting the time to be up, the audience began chanting "Nippon!" Moments after that, the deadlock was broken two minutes into the three-minute additional time.
Midfielder KAWASUMI Nahomi (INAC Kobe) received the ball on the right flank and sent a cross to Ogimi, who was rushing up in the middle. England's Laura Bassett attempted to clear it away, but instead it hit the cross bar before going into the goal. The stunning own goal brought Japan the win in the last minute.
Match detail (Japanese version only)
The final match will take place on 5 July (6 July Japan time) in Vancouver, where Nadeshiko Japan will take on the United States. It was another tournament-final rematch after those two countries met in the last World Cup in Germany in 2011 and the London Olympics in 2011 for both championships.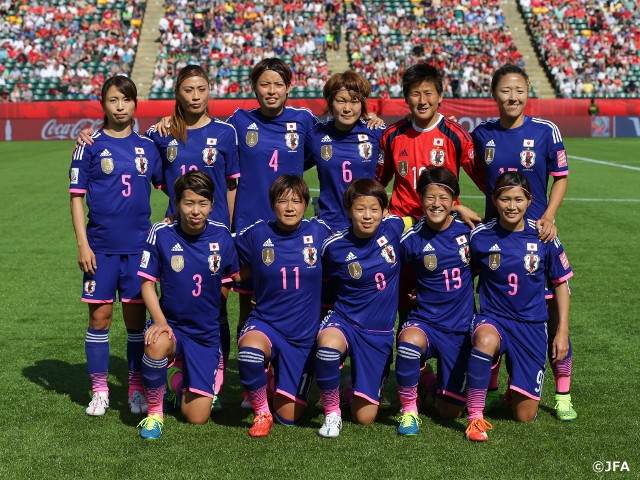 Head Coach and Palyers' Comments
SASAKI Norio, Head Coach (Nadeshiko Japan/Japan Women's National Team)
It turned out to be a tough match today. We expected that we would be able to play more of our style of football, but they had a good momentum going and kept sticking to their simple style of football. We had a hard time to change the course of the match. What got us the win was our players' strong will to move on to the final. We knew it would be possible to bring ANDO Kozue (1.FFC Frankfurt) back to Vancouver if we moved on to the final.
That fact gave us extra energy. Speaking of the own goal, we created a good situation by a counter-attack. If she hadn't touched the ball, Ogimi would have been there. So it was a situation where we had a chance to score anyway. Reaching the final was our ultimate goal, so I think our players did a very good job. In the final, I want our players to enjoy playing without worrying about things.
DF #19 ARIYOSHI Saori (Nippon TV Beleza)
The moment when the goal was scored, I was so emotional. It was so difficult to move the ball around in the way we wanted, so what I kept in mind was not to lose the ball badly and to keep communicating with each other because they had an ability to score a goal just with one shot. The final against the United States will be a tough battle, but we will keep the ball moving just as we always do, and we want to win it.
MF #9 KAWASUI Nahomi (INAC Kobe)
On the own goal, we had two players at good positions in the middle for my cross. So I thought if I sent an early cross to the space between the back line and the goalkeeper, it would be either a corner kick after their touch or our ball in the middle, or just maybe I thought something like that would happen. In the final, we will have another opportunity to be the world champions. So we will do good preparations to make sure we win the match.
MF #8 MIYAMA Aya (Okayama Yunogo Belle)
We knew their number 8 would be a focal point of their offence, so Utsugi and I together tried to eliminate it. I think that went well. Everyone on this team makes such a remarkable effort every day without showing it on her face just as if it is nothing to her. So I don't think it's a surprise for us to get here. We see each other's efforts day in and day out, so we can trust our teammates, and that's the best strength of this team.
Mark SAMPSON, Head Coach (England Women's National Team)
What a tough one to take. The team are devastated with this result, but we did everything we could. We executed our game plan. We made Japan play how we wanted them to. We created scoring opportunities, we made plays in their end and I believe our possession was not bad. The penalty kick was out of our small mistake. (On the own goal) A foul wasn't called and the play kept going, then 10 seconds later, it got scored. We showed we were capable of playing against the world champions. I am proud of my team.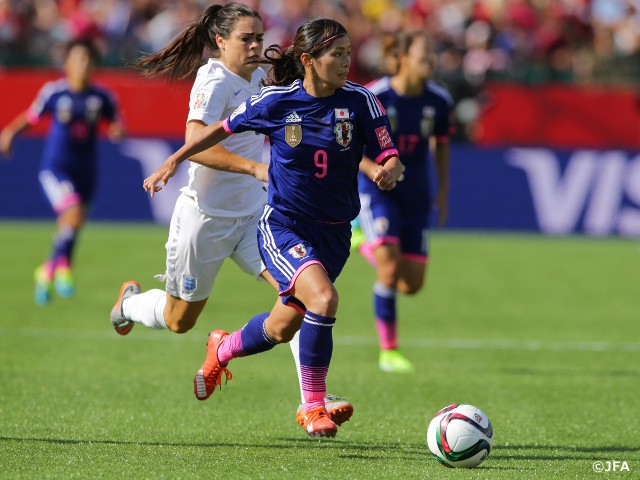 FIFA Women's World Cup Canada 2015
Final
Nadeshiko Japan (Japan Women's National Team) vs U.S.A. Women's National Team
Mon. 6 July - 8:00 (Japan Time)