NEWS
Japan boss Sasaki confident of players' strong mentality ahead of the Australia clash in FIFA Women's World Cup
27 June 2015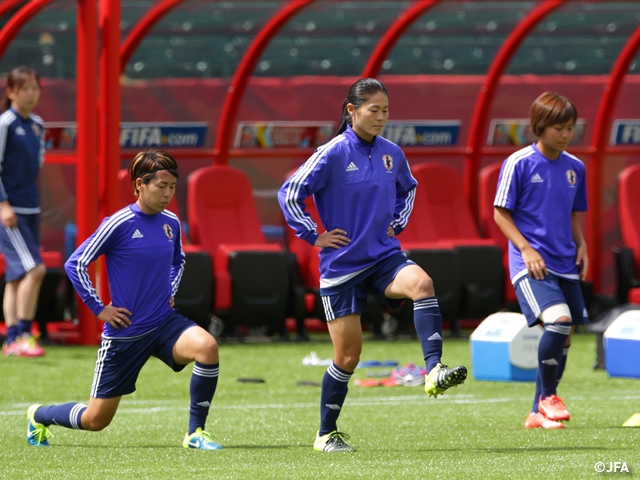 An official press conference was held on 26 June ahead of the FIFA Women's World Cup Canada 2015 quarter final between Japan and Australia to be played on the next day (28 June Japan time), Nadeshiko Japan's bench boss SASAKI Norio expectantly spoke of his confidence and trust for the players' strong mentality.
All four matches Japan have played so far started in the early evening or later, but the next contest against Australia is scheduled to be kicked off at 2 p.m.. Not only the midday heat being one of the concerns, but also Australia have been well-battletested in this tournament as their past opponents were the United States, Nigeria and Sweden in one of the toughest groups in the tournament and Brazil that they defeated in the first round of the knockout stage.
Sasaki said "The weather condition is the same for the opponents. Our focus and will to win decide the outcome."
The two matches between these two countries held in the AFC Women's Asian Cup Vietnam 2014 year earlier finished in Japan's favour, one win and one draw for the country. Australia, however, have added several young players to their squad for this tournament. Sasaki's analysis for the opponents are "they are aggressive both offensively and defensively, capable of keep running throughout the match, well-coached, and increasingly stable. In the match against Brazil, their game plan against Brazil's individual skills was great."
But "our players have strong enough mentality to win it out even in a tough situation" added Sasaki on their ability to adjust to the opponents.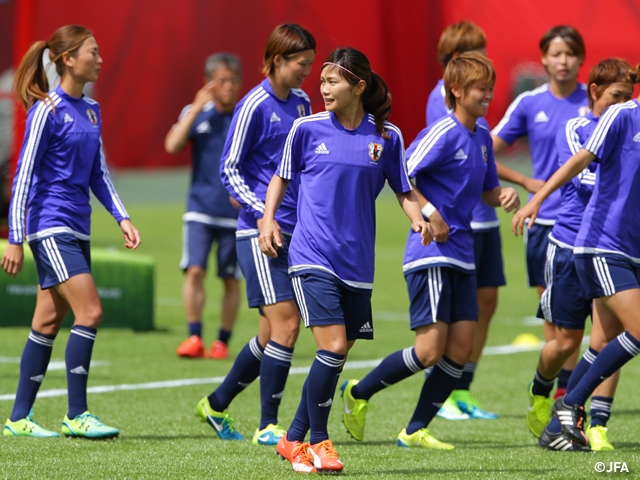 The afternoon saw the Japanese squad take on the final tune-up for the Australia clash under beautiful blue sky and strong sunshine at Commonwealth Stadium, where the match will take place.
During the first 15 minutes, which was the only part being open to media, the players went through fitness workout with balls and passing drills while they tried to make sure how the pitch felt.
After the training session, midfielder MIYAMA Aya (Okayama Yunogo Belle) said "(The pitch) works well for us. You can say that strong motivation is there on the both sides. We don't worry about too much side details, and we focus on the one match ahead of us and think only about how to win that match."
Defender KUMAGAI Saki spoke of the caution they have against the opponents, saying "They will come out aggressibly and they have good momentum. In every match, they never lose their poise until the end, so that's something we need to be careful of. We make sure to do what we are supposed to do and every one fulfills her assigned role."
Also IWABUCHI Mana (FC Bayern Munich), who got onto the pitch halfway in Japan's knockout stage first round match against the Netherlands, enthusiastically says "You can do so many things even coming off the bench. I will do my own preparation for the match."
At the other venues, two quarter-finals were already played. In Montreal, Germany, ranked first in the FIFA ranking, defeated France, third in the ranking, on 5-4 penalties after tying with one goal each in the regulation and the additional period. Germany booked their first final four berth in the past two tournaments. In Ottawa, FIFA's second-ranked country, the United States edged 16th-ranked China 1-0 and advanced to the semi-final seven World Cups in a row. Those two countries will go head to head in the semi-final on 30 June.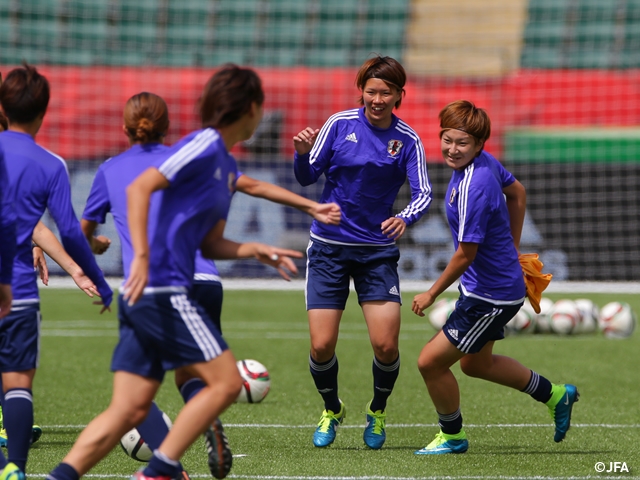 Head Coaches' Comments
SASAKI Norio, Head Coach (Nadeshiko Japan/Japan Women's National Team)
We have prepared ourselves fairly well for the match tomorrow. The weather condition is the same for the opponents, and neither team has a great advantage, either. What comes down to is our focus. Our will to win and our will to advance decide the outcome. We know what Australia do well and don't and vice versa. It will be good if we can score early, but we need to be ready for a case when it doesn't happen that way. We want to finish it in 90 or 120 minutes, play tenaciously and advance to next. I am confident coming into the match, and our players have strong enough mentality to win it out even in a tough situation.
Alen STAJCIC, Head Coach (Australia Women's National Team)
We have had two more days for preparation than Japan have. We have rested well and did the best preparation in this tournament. I think we are the fittest team right now in the tournament. It's great that we have come this far, but we want to keep going as well. Japan have played all four matches against countries who came to the World Cup for the first time, but it will be different tomorrow. We have capable attackers, and we have stamina and dangerous set pieces. I know their skill level and passing ability are excellent, but we have experience to play against them and we think we are able to deal with them.
FIFA Women's World Cup Canada 2015
Quarter-Final
Nadeshiko Japan (Japan Women's National Team) vs Australia Women's National Team
Sun. 28 June - 5:00 (Japan Time)