NEWS
Nadeshiko Japan battle it out, edge Switzerland 1-0 - Group Stage Match 1
09 June 2015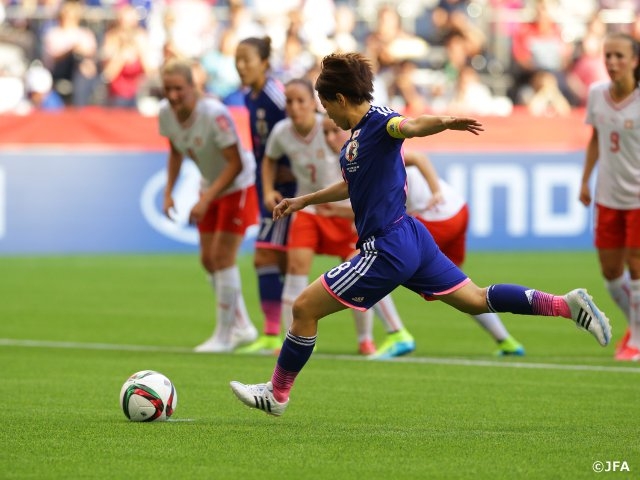 Nadeshiko Japan had their first match of the group stage on Monday 8 June at the FIFA Women's World Cup Canada 2015 as they faced the Switzerland national women's team at BC Place Stadium in Vancouver.
The match kicked off at 7 p.m. (local time), and 25,942 fans welcomed the players onto the pitch with cheers and applause.
Japan got off to a bit cautious start in the first half. As they were careful of opposing attacks by playing straightforwardly against Switzerland, they gradually took the initiative. In the 8th minute, IWASHIMIZU Azusa at the far side met MIYAMA Aya's corner kick, but her header went wide.
In the 12th minute, Switzerland created a golden opportunity as No.10 Ramona Bachmann fired a shot, which was well saved by goalkeeper YAMANE Erina. In the 18th minute, OGIMI Yuki and ANDO Kozue rushed for ARIYOSHI Saori's right cross but missed the timing. Japan kept finding goal-scoring opportunities as Ando, in the 27th minute, running through to Ogimi's floated ball, was brought down by the opposing goalkeeper. It resulted in an opposing foul for Japan's penalty kick while Ando forced to be sent out due to injury.
Miyama took the spot kick and composedly put it into the left side of the net to open the scoring. Japan connected passes to look for a chance, but the first half ended without any additional goal. And in the second half, Japan struggled with an attacking surge of Switzerland aiming to come back from a goal down. There was a dangerous moment in the 55th minute as Japan allowed Ramona Bachmann to dribble through the defence. As Japan holding up and looking for their own chance to attack, SUGASAWA Yuika, subbed on for Ando, fired a shot, but it just hit off the right post. Although Japan continued to face tough challenges and allow Switzerland to attack, the squad defended together to the end to grab three points. Miyama was named Player of the Match.
In addition, by playing this match, Sawa earned her 200th international cap, and Miyama reached her 150th cap. Sawa said "Aya scored a goal with a penalty kick. That's what you've expected from her and she delivered it. That was my 200th cap and Aya's 150th cap as well. Achieving the feat together with her on the same match makes me very happy as a person and also as a football player looking at my whole career."
Match detail (Japanese version only)
Another Group C match between Cameroon and Ecuador started at 4 p.m. (local time) on the same day and Cameroon grabbed a 6-0 victory over the fellow Women's World Cup debutants.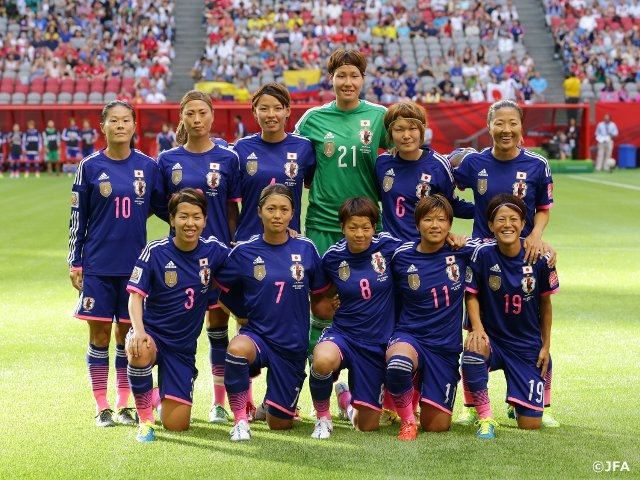 Head Coaches and Players' Comments
SASAKI Norio, Head Coach, Nadeshiko Japan (Japan Women's National Team)
It was good that we won three points. Switzerland didn't give us as much pressing, and even though we had some nervousness because it was the opening match, we moved the ball OK in the first half. Including the second half, if we had controlled the match more composedly, it would have been easier. The score was 1-0 and that partly made us rush a little too much. We couldn't move the ball enough to build up our offence. Switzerland was one goal behind and started attacking harder, and we were pushed back to our end. We are capable of moving the ball around better, but we lost balls because of some mental breakdown. I think that can be fixed rather soon.
MF #8 MIYAMA Aya (Okayama Yunogo Belle)
I think it helps our team that we were able to win three points even when it was a difficult opening match and we couldn't create our rhythm especially in the second half. Creating good offence from good defence is our style, so even if we get pushed back, we want to see how the opponents really are and we want to create our good offence from good defence.
The penalty kick was something we got out of our team effort of moving the ball and Ando's hard attacking, so I felt that I had to make it at all cost. The goalkeeper didn't move so I was confident to make it as long as I could put it at a good spot. I could calm myself down and shoot it. We were able to celebrate Sawa's 200th match as a team with a win at the first match of this World Cup. I am happy about that.
MF #10 SAWA Homare (INAC Kobe)
It was really good that we got a win, because it also boosts our momentum. The opponents were fast and skilled individually, so we thought we had to avoid allowing a goal no matter what. I think we could play tenaciously all together.
It's an honour to be able to play football in this atmosphere, and I was also happy to have many Japanese fans coming to support us. Winning as a team has higher priority than my individual achievement. So it just would make me a little happier if I could get involved in scoring. I just want to do 100% of what I can do for this team both offensively and defensively.
DF #19 ARIYOSHI Saori (Nippon TV Beleza)
In the first half, the opponents didn't come out so aggressively that we had open space especially on our right flank, which made it easier for me to go up. In the second half, we had some stretches when they pushed us back. Considering we were up 1-0, it was a little difficult to judge whether it was better to go up or stay back to minimize risks. As a team, we also couldn't move the ball very well and we had a big portion of the match backing down and being patient. Before the match I was thinking I would just be myself and play like I normally do if I would get a chance to play on the pitch. I wanted to show what I can do both offensively and defensively and I think I could play well without much hesitation.
Martina VOSS-TECKLENBURG, Head Coach (Switzerland Women's National Team)
We did all we could do. It took a little while for our players to start playing well, but as time went by, our performance got better. As a result, we didn't have good luck. We lost by a penalty kick, and it's very disappointing. I am proud of our performance and at the same time, we had to get one point at least in this kind of match.
We created as many chances as Japan did. We played very well, but we didn't take advantage of it to get a good result. But I think this match will help us in the second match and after. I am looking forward to next matches.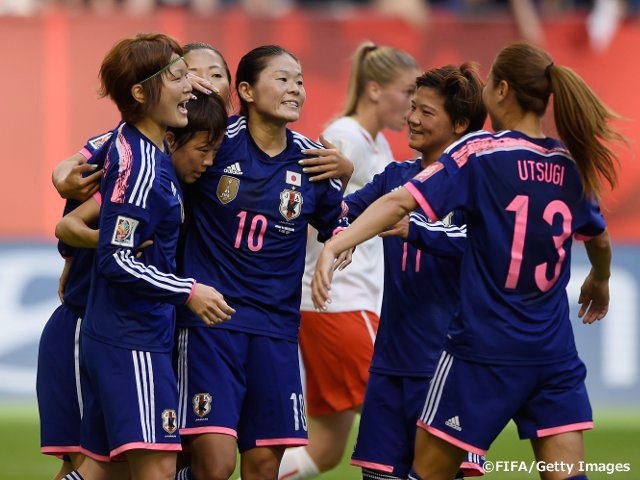 FIFA Women's World Cup Canada 2015