NEWS
Nadeshiko Japan announces squad for matches against Ukraine Women's National Team (6/10@Hiroshima) and Mexico Women's National Team (6/13@Tochigi)
02 June 2021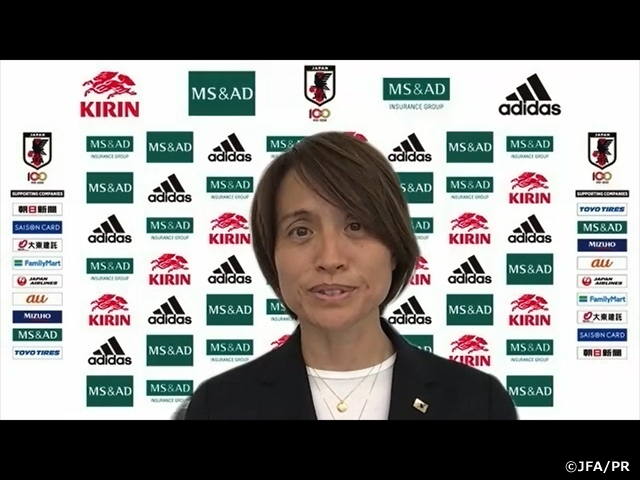 On Tuesday 1 June, coach TAKAKURA Asako of the Nadeshiko Japan (Japan Women's National Team) appeared in an online press conference to announce the squad for the international friendly match against Ukraine Women's National Team (Thursday 10 June at Edion Stadium Hiroshima), and the MS&AD CUP 2021 against Mexico Women's National Team (Sunday 13 June at Kanseki Stadium Tochigi).
To start off the press conference, coach Takakura mentioned that they are 50 days away from their first group stage match of the Tokyo Olympics against the Canada Women's National Team (Wednesday 21 July at Sapporo Dome), pointing out that they are in their final preparation phase.
The 23 player roster featured many of the players who participated in the training camp held at J-Village in mid-May, as SHIMIZU Risa (Nippon TV Tokyo Verdy Beleza), NAKAJIMA Emi (INAC Kobe Leonessa), and SUGASAWA Yuika (Mitsubishi Heavy Industries Urawa Reds Ladies) were among the players who were named into the squad.
With many players currently involved in the pre-season matches for the WE League, coach Takakura shared her optimism regarding the players' condition, "The players are working towards the Olympics, and you can tell that they are in great form right now."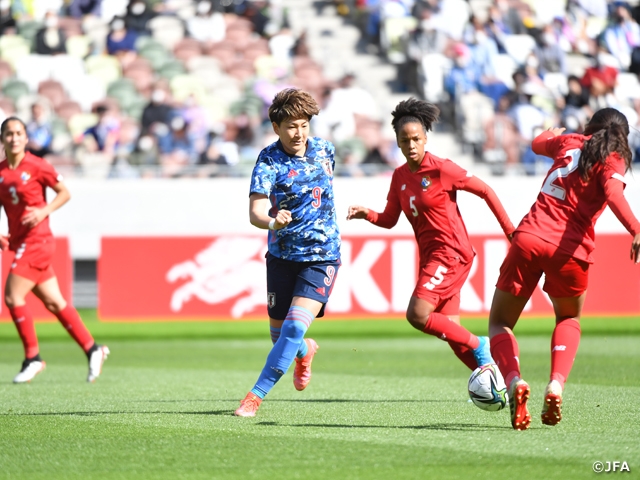 Seven players who are currently playing abroad were named into the squad, including KUMAGAI Saki (FC Bayern Munich/Germany), HASEGAWA Yui (AC Milan/Italy), and IWABUCHI Mana (Arsenal/England). While the coach shared her expectations towards the veteran players, she also mentioned, "No one is guaranteed with a spot. There were many players who aren't in this list that could have made the team. If they can make a case for themselves, I will not hesitate to name them into the squad (for the Olympics)." New faces such as KITAMURA Nanami (Nippon TV Tokyo Verdy Beleza) and KINOSHITA Momoka (Nippon TV Tokyo Verdy Beleza), who made their Nadeshiko Japan debut in the international friendly match played in April, also featured the squad, adding fuel to the competition to make the final roster for the Olympics.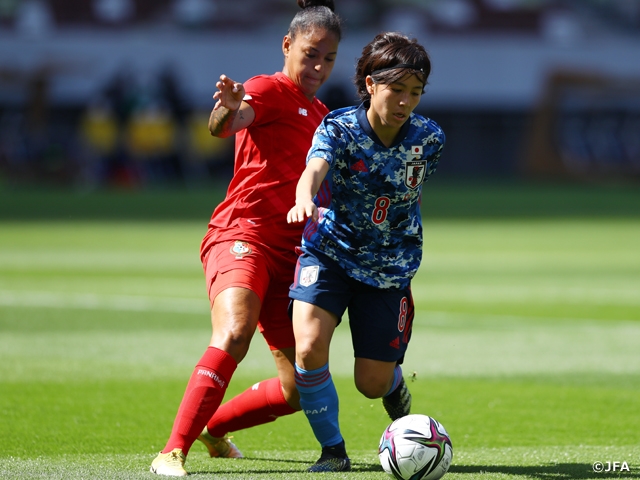 Ahead of the summer Olympics, the two matches will serve as crucial training opportunities for the Nadeshiko Japan. Ukraine is currently ranked 31st, while Mexico is ranked 28th in the FIFA ranking.
When asked about their opponents, coach Takakura mentioned, "In recent years, Ukraine has become a force to be reckoned with in Europe. They are capable of taking advantage of their physical strengths in defence. Mexico is a very organised team that consists of many players with great techniques, especially in tight spaces. Their women's team have earned great success in each category at the world stage. They are a well balanced team."
"In order to become the most radiant team at the Olympics, I am looking forward to finding out who will step up in these matches. We hope to showcase an improved version of Nadeshiko Japan to our fans."
The Nadeshiko Japan will face the Ukraine Women's National Team in an international friendly match on Thursday 10 June (15:15 kick-off) at Edion Stadium Hiroshima, and the Mexico Women's National Team in the MS&AD Cup 2021 on Sunday 13 June (14:00 kick-off) at Kanseki Stadium Tochigi.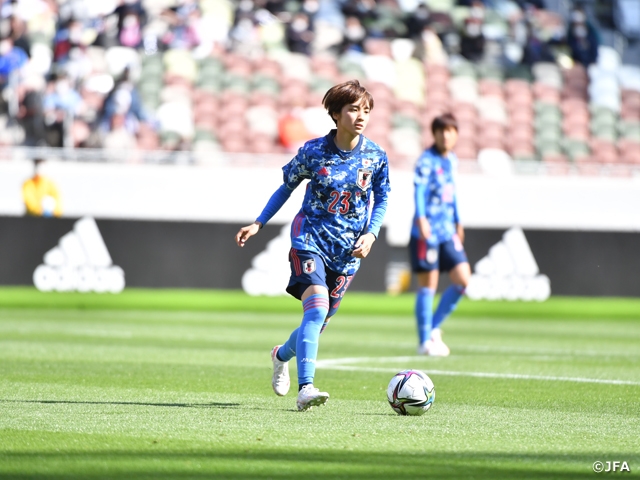 Comment
TAKAKURA Asako, Coach of Nadeshiko Japan (Japan Women's National Team)
Following our matches in April, we are truly grateful to be given the opportunity to play another pair of international matches. We also feel fortunate that we are getting the opportunity to prepare for the Tokyo Olympics under strict measures to prevent the spread of COVID-19. The matches will take place during the international match day for women's football, so we have called up seven players who are playing abroad. However, I am not necessarily set on making my decision to select the final 18 players for the Olympics from this squad. I will be selecting from a larger pool, taking in consideration of the performance at our training camps and making my decision based on whether or not the player can help us build a team that can compete at the world level. We need players who can reach their full potential at any given time, make runs for the team regardless of the situation, and showcase a strong heart for the team.