NEWS
Nadeshiko Japan in final to win their first AFC championship
25 May 2014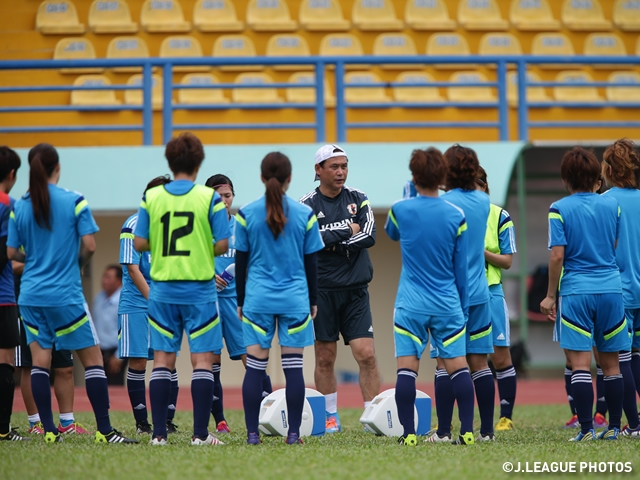 After ten days of matches, the final of the AFC Women's Asian Cup will be on 25 May 2014. Nadeshiko Japan held a training session in the morning in Ho Chi Minh City preparing for the final against Australia. They adjusted their playing combinations during passing practice. About 70 pupils from a local Japanese school paid a visit to encourage the players. Despite the heat, the children watched Nadeshiko Japan's practice closely, finishing with a commemorative photo altogether. Many Japanese and locals support the team, which is a boost for the players.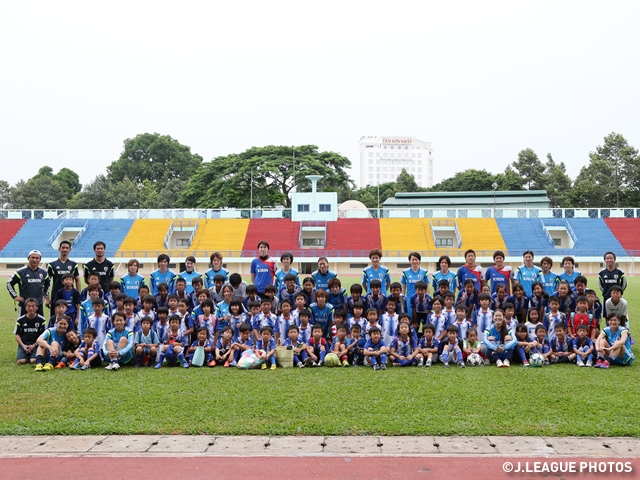 In the afternoon Sasaki, the coach, and Miyama as well as Australian players appeared at a press conference hosted by the Asian Football Confederation. Polkinghorne, the Australian captain, noted: 'Japan is world-class, but we do have many talented players in our team. The first game was evenly matched. And despite the pressure, we are in the best condition, and looking forward to the final.' Kick-off is at 20:15 local time. Nadeshiko Japan will pull together to win the championship.


Comments
MIYAMA Aya(Okayama Yunogo Belle)
We've been preparing for this final and I'm really pleased because Australia is a great team to have as an opponent in the final. Both of the teams know each other very well. So it's vital to play patiently and possibly cleverly. I know Australia are very strong on the attack, but we will watch for every single chance we can.
We won the Asian Games before, but we can't miss the opportunity to win the AFC Women's Asian Cup as well and become the best team in Asia, just like the Japan National Team. Although it wasn't easy to unite as a team because there were some new players, we'd like to show the supporters how far we've come in a short period.
KAWAMURA Yuri(Vegalta Sendai Ladies)
In the first half, Australia tend to come out strongly, so we need to prevent it by retaining possession of the ball. Our determination will overcome their strengths: height, power, and speed. I'm getting myself in shape with each game, enjoying the atmosphere everyday thanks to the experienced players. We can definitely take possession and counter-attack up front, keeping the ball as long as possible.
I will do my best to wreck Australian attacking chances.
KAWASUMI Nahomi(Seattle Reign FC)
I've got myself into good physical condition after recovering well yesterday. As we conceded a goal in the early stage of the opening match against Australia, we need to react carefully and concentrate on their build-up. We know they've got speed. So it's crucial that we disrupt their passing and mark key players in order to kill their speed. We will play as a team with confidence. We are yet to be the Asian champions but we will take our victory against China into this match and play together with great concentration to win.
SASAKI Norio, Head Coach
In the opening match, Australia counter-attacked from up front – a favourite tactic of theirs - and also played powerfully from the beginning. We won't repeat our mistakes. It's vital to think carefully about what we can do on the pitch, as Australia know our strong points very well. We've been preparing for winning the championship in this competition and the players have been doing a great job. We will face the final with a strong desire to win.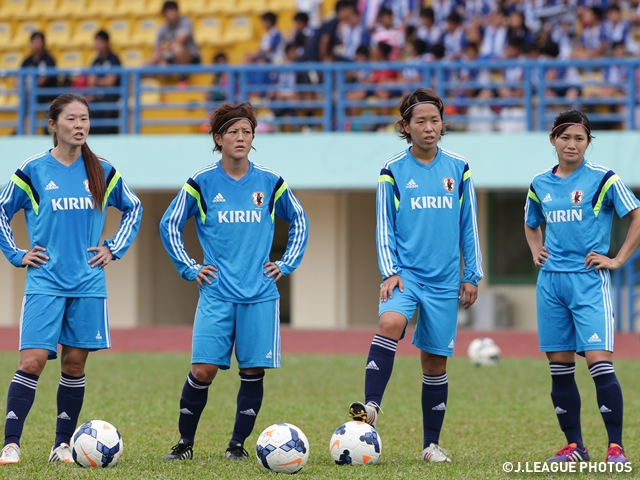 Schedule
Wed. 14 May
2 - 2
AFC Women's Asian Cup 2014 in Vietnam
vs. Australia Women's National Team
LIVE
TV Asahi Wed. 14 May 22:05 - 25:15
NHK-BS1 Wed. 14 May22:00 - 25:15
Fri. 16 May
4 - 0
AFC Women's Asian Cup 2014 in Vietnam
vs. Vietnam Women's National Team
(Thong Nhat Stadium)
LIVE
TV Asahi Fri. 16 May 22:05 - 25:15
NHK-BS1 Fri. 16 May 22:00 - 25:15
Sun. 18 May
7 - 0
AFC Women's Asian Cup 2014 in Vietnam
vs. Jordan Women's National Team
(Binh Duong Stadium)
LIVE
TV Asahi Sun. 18 May 21:00 - 23:12
NHK-BS1 Sun. 18 May21:00 - 23:15
Thu. 22 May
2 - 1
AFC Women's Asian Cup 2014 in Vietnam Semifinal
(Thong Nhat Stadium)
LIVE
TV Asahi Thu. 22 May 19:00 - 21:15
NHK-BS1 Thu. 22 May 19:00 - 21:15  
Sun. 25 May
20:15
AFC Women's Asian Cup 2014 in Vietnam
Third-place Match/Final
(Thong Nhat Stadium)
LIVE
TV Asahi Sun 25 May 22:00 ~ 0:15
NHK-BS1 Sun 25 May 21:55 ~ 0:50  
※All match time is local time.