NEWS
Nadeshiko Japan announces roster for the Tokyo Olympics
19 June 2021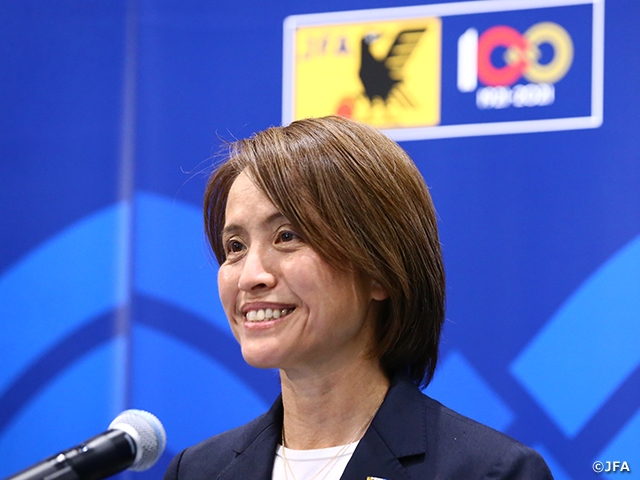 On Friday 18 June, JFA held an online press-conference to announce the 18 player-roster and four alternate players of the Nadeshiko Japan (Japan Women's National Team), who will participate in the Tokyo Olympics. With the roster spot being limited to 18 players, coach TAKAKURA Asako who had mentioned to "Select with all my heart," named the players one by one, along with their position and jersey number.
Nadeshiko Japan (Japan Women's National Team) Squad - Games of the XXXII Olympiad (Tokyo 2020)【7/21-8/6】, MS&AD CUP 2021【7/14@Kyoto】
At the press-conference, KUMAGAI Saki (FC Bayern Munich) was named as the team captain, while IWABUCHI Mana (Arsenal) was given the #10 jersey, as coach Takakura showed her trust towards the ace, "She is responsible of changing the team's momentum and I have high hopes for her." The two players will be entering their second Olympics following London 2012, while it will be the first for the rest of the team. However, the players are no stranger to the international stage, as 15 out of 18 players have participated in the FIFA Women's World Cup 2019™, including those who have experienced winning the World Cup at the U-17 and/or U-20 Women's World Cup. The roster also includes new faces such as SHIOKOSHI Yuzuho (Mitsubishi Heavy Industries Urawa Reds Ladies) and KITAMURA Nanami (Nippon TV Tokyo Verdy Beleza), who received their first call-up last October.
The alternate players include HIRAO Chika (Albirex Niigata Ladies) and MIYAKE Shiori (INAC Kobe Leonessa) who both have plenty of experience playing with the Nadeshiko Japan, HAYASHI Honoka (AIK Fotboll) who has shown great improvements since making her move to Sweden, and 18 year old KINOSHITA Momoka (Nippon TV Tokyo Verdy Beleza).
The 22 players will enter the Tokyo Olympics with hopes to repeat the inspirational feat that brought great excitement and joy to Japan in 2011.
JFA Women's Committee's Comment
IMAI Junko, Chairperson of JFA Women's Committee
First of all, I would like to thank all the people who are on the front line to fight the pandemic. Without your support, the national team would have not been able to carry out their activities. 10 years ago, the Nadeshiko Japan won the World Cup, which left a massive and positive impact to our society. By showcasing a strong performance at the Tokyo Olympics, through their tenacious and persistent efforts on the pitch, we hope to convey another positive message to the current Japanese society. Just as the team from 2011 inspired so many players at the time, we hope to deliver hope and courage to the young girls who are striving to become a football player one day and make the adults around them think that they want to support them more. With Japan's first ever professional women's football league, "WE League," scheduled to kick-off in September, we hope to create a positive momentum and make this a start to an even bigger wave for women's football in Japan. Ahead of the opening day of the Olympics, women's football competition will kick-off on 21 July. We will give our utmost efforts to bring momentum for the Japanese athletes competing at the Olympics, so we thank you for your support.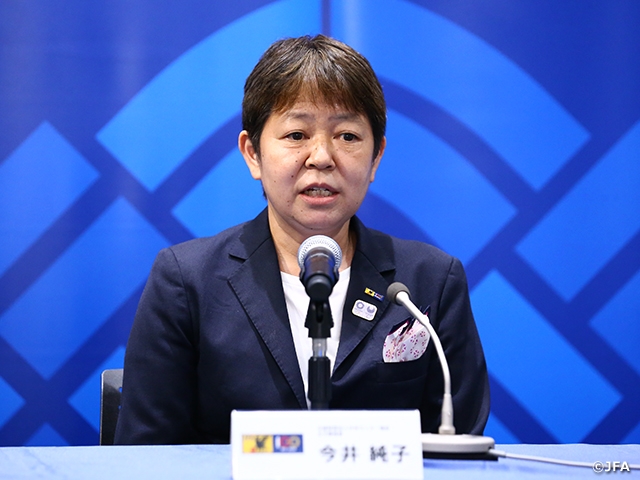 Coach's Comment
TAKAKURA Asako, Coach of Nadeshiko Japan (Japan Women's National Team)
We have called up many wonderful players over the past training camps and tours. To begin with, I would like to express my gratitude towards each club for allowing us to have their players and for their understanding. I am also sincerely grateful to all the players who took part in our activities and given their best efforts to raise the level of this team. I have paid close attention to the players' performances in our recent matches against Ukraine and Mexico. With the Tokyo Olympics just around the corner, I have looked at the players' current condition, both physically and mentally, while also taking their characteristics and strengths into consideration. I faced countless contradictions and dilemmas, but tried to prioritise what's best for the team, and selected the 18 players with all my heart. I struggled to make my final decision on the last few pieces, as it took me until this morning. I had to take an hour walk around my neighbourhood to make my decision. I have seen how hard each player has worked to get here, and I know they are all competent to play at the world stage. I made up my decision this morning and now I am fully committed towards the Tokyo Olympics. The level of women's football has grown at a rapid pace all around the world. We are seeing more and more teams taking advantage of their athleticism and physical strengths, but we must not forget how we competed at the world's highest stage in 2011, 2012, and 2015. We hope to reach the heights of our predecessors and give our best efforts to go beyond their feat, so please continue to believe in us and support us. Thank you.
Games of the XXXII Olympiad (Tokyo 2020)
Football competition: Wed. 21 July - Sat. 7 August 2021
MS&AD CUP 2021
Nadeshiko Japan vs TBC
Date: Wed. 14 July 2021
Venue: Sanga Stadium by KYOCERA (Kyoto)