NEWS
Nadeshiko Japan holds official training session ahead of match against Mexico in the MS&AD CUP 2021
13 June 2021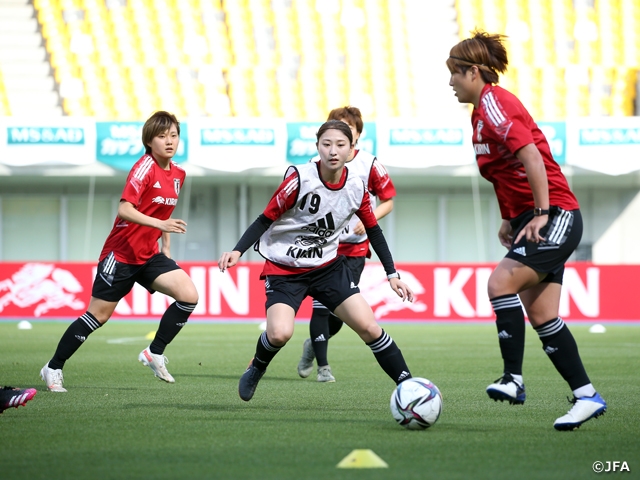 One day ahead of their match against the Mexico Women's National Team in the MS&AD CUP 2021, the Nadeshiko Japan (Japan Women's National Team) held an official training session at the match venue Kanseki Stadium Tochigi on Saturday 12 June.
The team started the session at 15:30, where the players were seen going through their warmup routines before conducting a ball possession drill. With restriction being applied to their ball touches, the players gradually picked up their intensity level and ball speed, showing great enthusiasm ahead of their match against Mexico.
The goalkeepers were seen going through their own drills, as they worked on their shot blocking and response against crosses. HIRAO Chika (Albirex Niigata Ladies), who joined the squad as a late call-up, was also seen breaking a sweat on her first day with the team.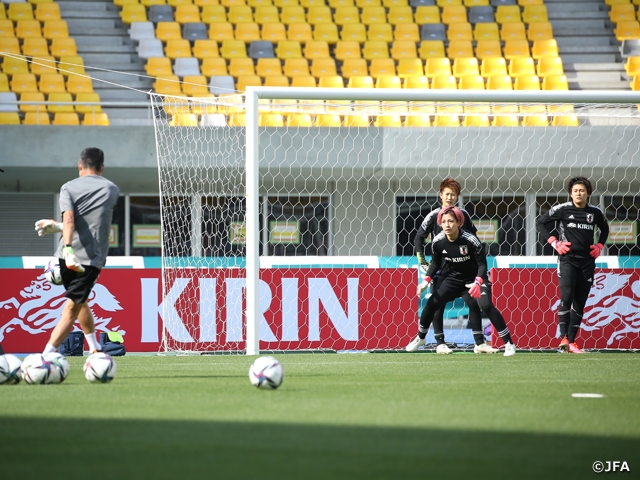 Coach TAKAKURA Asako mentioned on the day before, "We will be traveling and playing matches with a two-day rest at the Olympics as well." The coach added, "We need to analyse the match we just played while also preparing for our next match," as the team held a meeting to go over their match against Ukraine before lunch.
Following their training session, the team returned to their hotel and held a meeting after dinner. Scout reports were being shared by the technical staffs, as they discussed the opponent's strategies and player information.
Towards the end of the meeting, coach Takakura mentioned, "The fact that we are scoring goals shows that we are improving as a team." And continued by saying, "I am sure there are many opinions about our opponent, but there are plenty of things we can learn from them." The coach also warned the players, "Don't just think about the opponent in front of you. If we are striving to do the minimum to win our next match, we cannot compete at the Olympics, where we will be fighting as the host nation." Coach Takakura concluded the meeting by saying, "We need to give our best effort until the last second. Help your teammates if they are nervous or struggling. Don't forget that you are representing your country."
After the coaches and staffs left the meeting, the players stayed to watch their match footages. KUMAGAI Saki (FC Bayern Munich) and IWABUCHI Mana (Arsenal) were seen taking the initiative to hold discussions to prepare themselves for the upcoming match.
The Nadeshiko Japan and Mexico Women's National Team will play in the MS&AD CUP 2021 at Kanseki Stadium Tochigi on Sunday 13 June at 14:00.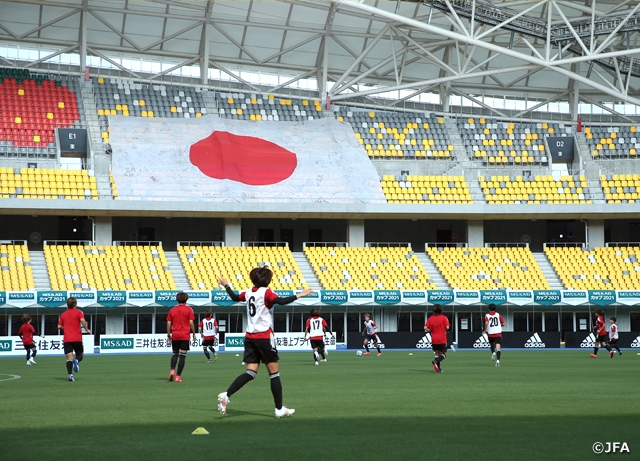 Coaches and Players' Comments
TAKAKURA Asako, Coach of Nadeshiko Japan (Japan Women's National Team)
Being able to face Mexico who plays vastly different from Ukraine gives us a wonderful experience. By sharing the team's concept with our players, we have been improving our defensive organisation and the build-ups for our offence. It does not matter who we face, we must focus on raising the quality of our plays and continue to challenge ourselves on the pitch. Every player has their own feeling towards the Olympics, and they are committed to give their best efforts regardless of the length of their playing time. The better the players play, the harder the decision will become to finalise the squad, but that is a trouble I am looking forward to having.
DF #3 DOKO Mayo (Nippon TV Tokyo Verdy Beleza)
My condition is improving, and I feel like I am well prepared for this match. It has been a while since I was called up for a match for the national team, and it is exciting to play with my club's teammates as members of the national team. I know this is our final opportunity to make a case for ourselves, but I will just try to remind myself to have fun and give my best effort to showcase an exciting performance for our fans. I pride myself on the quality of my passes, so I hope to showcase that in our build-up plays and long feeds, while also playing with high intensity to win each battle.
MF #13 KINOSHITA Momoka (Nippon TV Tokyo Verdy Beleza)
When I entered the match against Panama as a substitute, I played a little too passively even though the team was dominating the ball possession, so that is an aspect I must improve on. Compared to the time when I first got called up to the team, I have gotten used to the play speed here, but we are expecting an even higher intensity level in our match against Mexico tomorrow. Mexico is a very athletic team, so we hope to showcase our combination plays while also mixing in the long balls to breakdown their defence.
FW #12 ENDO Jun (Nippon TV Tokyo Verdy Beleza)
It was great that we were able to win 8-0 against Ukraine, and I am also glad that I was able to assist a goal within the limited time I was given on the pitch. I wish I can play more minutes and contribute to the team's victory. In that scene where I assisted the goal, I heard Momi-san (MOMIKI Yuka) calling for the ball, so I delivered the cross towards her, which she converted. As much as I want to score goals myself, I will try to assist the goals of my teammates by delivering high quality crosses and try to make it into the final roster for the Olympics.
Monica VERGARA, Coach of Mexico Women's National Team
First of all, I would like to thank everyone for their warm hospitality. Because of the wonderful culture and kind people of Japan, we have been able to feel like we are at home. I have connections with Japan since I was young, as I have played in both countries for the continental play-offs for the FIFA Women's World Cup 2007™. Japan is capable of keeping their plays compact while also executing dynamic plays. They are also extremely aggressive in both offence and defence. We hope to implement their play style and try to showcase an exciting match against Japan tomorrow.
MS&AD CUP 2021
Nadeshiko Japan vs Mexico Women's National Team
Date: Sun. 13 June 2021 [14:00] (subject to change)
Venue: Kanseki Stadium Tochigi (Tochigi)