NEWS
Nadeshiko Japan lose to USA to conclude tournament with 3 consecutive losses - 2020 SheBelieves Cup
12 March 2020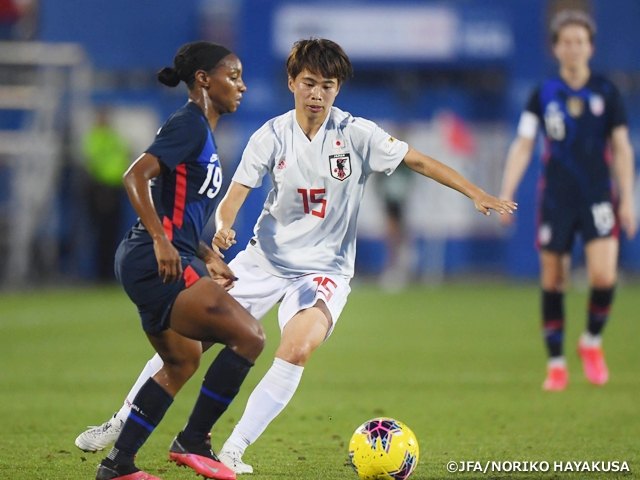 On Wednesday 11 March, the Nadeshiko Japan (Japan Women's National Team) played their third match of the 2020 SheBelieves Cup against the USA Women's National Team, where they lost 1-3 to finish the tournament in fourth place.
In their third and final match of the tournament, coach TAKAKURA Asako started MIYAKE Shiori and DOKO Mayo as fullbacks, after the two defenders played as centre backs in the second match, while striker TANAKA Mina also started as the right side half on this day. Japan showed effective line-control in the early minutes of the match, but conceded in the seventh minute, when the MVP and Golden Boot winner of FIFA Women's World Cup France 2019™, Megan RAPINOE, converted a free kick to give USA the lead.
After conceding the opening goal, Japan collected the ball to their striker SUGASAWA Yuika to seek for their opportunity to equalise the match, but it was once again the home side who scored the next goal. USA doubled their lead in the 26th minute, when Japanese goalkeeper YAMASHITA Ayaka's pass was intercepted by Rapinoe, setting up the brilliantly executed lob-shot taken by Christen PRESS.
Despite trailing two goals, the Japanese players kept their composure to keep the ball moving from their defence line but struggled to create any chances against the speed and strengths showcased by the American players. A close opportunity was created when the ball was connected through MINAMI Moeka, Doko, and Tanaka, before making an attempt to feed the ball to MOMIKI Yuka, who was making a run into the penalty area.
In efforts to change the dynamics of the match, Japan used a substitution during halftime, as they brought IWABUCHI Mana onto the pitch to replace Tanaka, shifting Momiki to the right flank. With Iwabuchi holding onto the ball upfront, the team managed to press their defence-line forward and started to pick up their rhythm. In the 58th minute, Japan managed to cut their deficit in half, when the ball was connected through SUGITA Hina and NAKAJIMA Emi, before finding Iwabuchi inside the penalty area. The shot taken by the second half substitute pierced the side-net of the American goal to make it 1-2.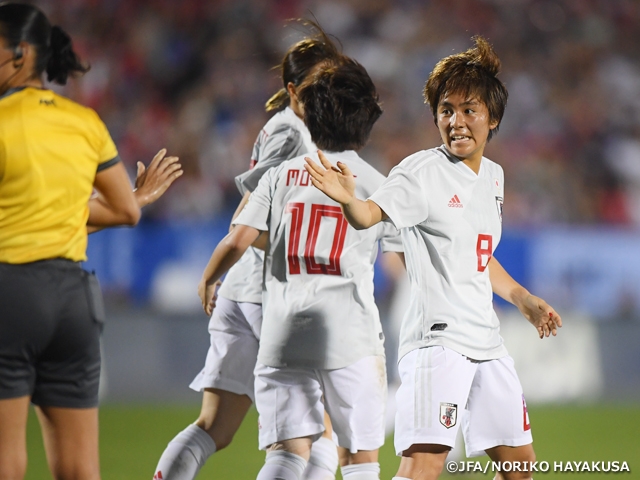 With momentum on their side, Japan started to show great aggression to create opportunities. After the team created opportunities in the 67th and 69th minute, MIURA Narumi came within inches from scoring the equaliser, as her shot taken in the 75th minute struck the post. While Japan struggled to find ways to level the match, USA's Lindsey HORAN capitalised on a corner kick in the 83rd minute to seal their victory. As a result, USA won all three matches to take the title, with Spain as the runners-up, England in third place, and Japan in fourth place, after losing all three matches.
Coach and Players' Comments
TAKAKURA Asako, Coach of Nadeshiko Japan (Japan Women's National Team)
Including today's match, we conceded goals from our own mistakes in all three matches. It really demonstrated the lack of focus and form of the current team. However, we still managed to stick with our game plan, so that is a positive aspect we can take back from this match. We must show better focus and play with more sense of urgency to win matches like these. It may seem impossible for us to win the gold medal after seeing this result, but we have not given up yet. The Nadeshiko Japan is like a delicate machinery. If one cogwheel is off, or one screw is missing, we cannot function as a whole. In that sense this was a tournament where we weren't able to function as a team. However, when looking at each piece, everyone is aware of their ability and role on this team, so we just make forward progress one step at a time.
DF #4 KUMAGAI Saki (Olympique Lyonnais)
We conceded a goal from a set-play after we got within a goal to equalise the match, and our opponent really showed their ability to close out matches. Our game plan was to keep high possession of the ball, but after conceding a goal from our own mistake, we needed to make decisions to use other options. We must also heighten the quality of our plays, while making mental adjustments to improve our overall performance. It is important that each player acknowledges both the positives and negatives from the match and make the necessary adjustments to improve the team.
MF #10 MOMIKI Yuka (Nippon TV Tokyo Verdy Beleza)
It is very disappointing that we gave up three goals from our mistakes, but after playing as a member of the Nadeshiko Japan for the past two, three years, I feel like we have been able to put up a better fight against the USA over the time. We still have plenty of room for improvements, but we are definitely improving, so we hope to continue with the forward progress until the Tokyo Olympics. Ever since losing at the round of 16 in last year's World Cup, we have been striving to win the world title and we are determined to achieve that goal. Although we weren't able to win a single match at this tournament, I still feel that we are moving towards the right direction. I personally was able to make more individual efforts to take on the opponents, and I feel like that is an aspect I have improved over the past year.
FW #8 IWABUCHI Mana (INAC Kobe Leonessa)
We looked a bit rattled after conceding a goal in the early minutes, but out of the three matches played, I feel like we were able to showcase our colour the most in this match. We were able to create some good offence when our opponent slowed down their pace, but regardless of who we face, we have to be able to take the initiative in order to win matches at this level. With the tournament taking place before our regular season, we looked a bit stiff, but this tournament game us a great opportunity to simulate the Olympics.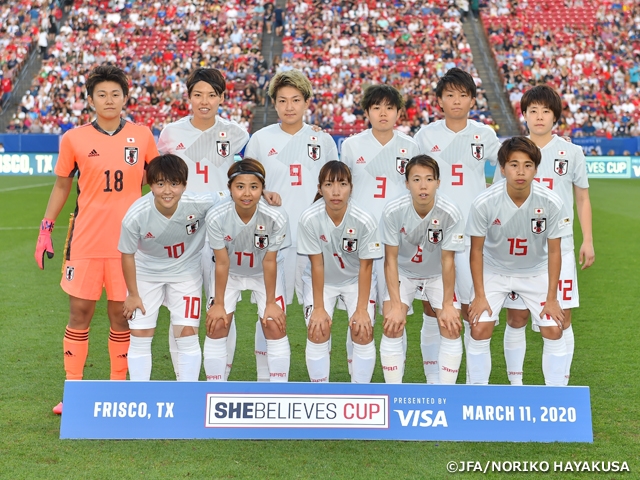 Schedule
2020 SheBelieves Cup
Thu. 5 March
1-3
1st Match
vs Spain Women's National Team (Exploria Stadium)
Fri. 6 March
AM
Training
Sat. 7 March
TBC
Official Training (Red Bull Arena)
Sun. 8 March
0-1
2nd Match
vs England Women's National Team (Red Bull Arena)
Mon. 9 March
AM
Training
Tue. 10 March
TBC
Official Training (Toyota Stadium)
Wed. 11 March
1-3
3rd Match
vs USA Women's National Team (Toyota Stadium)
*Local time.
*The schedule is subject to change due to the team condition, the weather, etc.
2020 SheBelieves Cup
Tournament Dates: Thu. 5 - Wed. 11 March 2020
Venue: Exploria Stadium, Red Bull Arena, Toyota Stadium (USA)
Participating Countries:Spain, England, USA, Japan