NEWS
Nadeshiko Japan lose first match of the tournament 1-3 to Spain - 2020 SheBelieves Cup
06 March 2020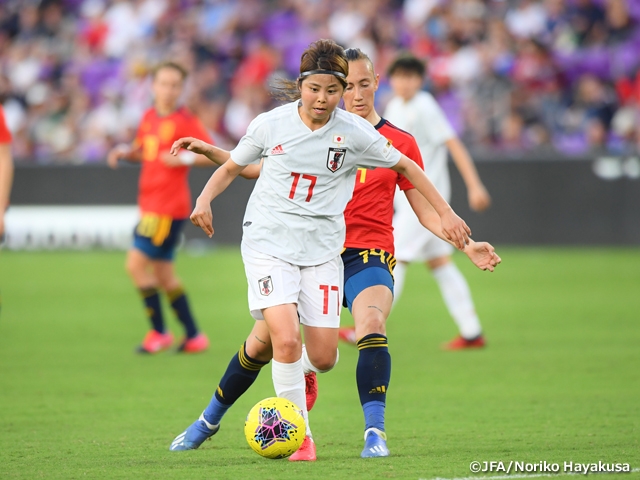 On Thursday 5 March, the Nadeshiko Japan (Japan Women's National Team) played their first match of the 2020 SheBelieves Cup against the Spain Women's National Team and lost the match 1-3.
The two sides had clashed before last year's FIFA Women's World Cup where they drew 1-1, and both sides entered this match with the intention to gain positive momentum ahead of the Summer Olympics.
The Nadeshiko Japan, who has kept clean sheets in five consecutive matches following the Women's World Cup, started YAMASHITA Ayaka in goal, while the team's youngest player, ENDO Jun, started in the left fullback position. In offence, IKEJIRI Mayu was named in the right flank, earning yet another start after starting the second and third match of last year's EAFF E-1 Football Championship. It was the experienced duo of SUGASAWA Yuika and IWABUCHI Mana, who were named upfront as the two strikers. Against Japan's 4-4-2 formation, Spain employed a 4-3-3 formation, where their defensive midfielder played a key role to control both their offence and defence, while their attackers positioned themselves deep in the Japanese territory.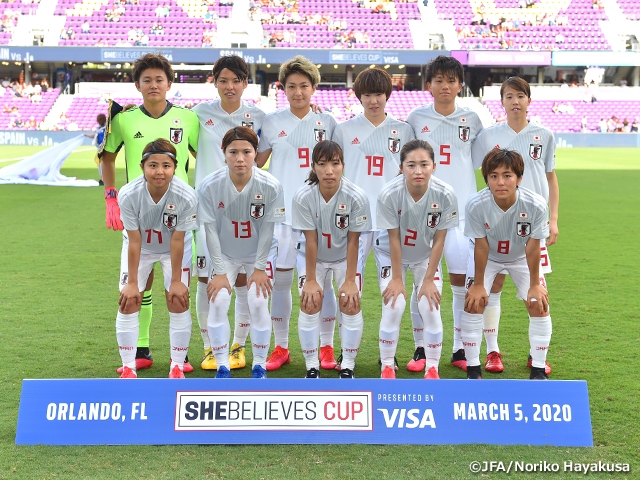 In efforts to take the initiative of the match, the two sides entered the match with great intensity, as they applied aggressive pressure from the front line. While both sides anticipated for their opportunities by connecting short passes in offence, the opening goal was scored by the Spanish side in the eighth minute, when they converted a cross sent from the left side.
With momentum on their side, Spain took control of the match by mixing both short and long passes to keep the ball moving. Japan responded by creating chances through collective plays initiated by their two attackers, Iwabuchi and Sugasawa, while SHIMIZU Risa and Ikejiri combined in the right flank to change the dynamics of the match. In defence, team captain KUMAGAI Saki made tenacious efforts to keep the score intact, as Japan gradually picked up their momentum towards the end of the first half. With the match getting closer to halftime, Iwabuchi responded to a cross sent by Shimizu, before striking a direct volley that sailed over the Spanish goalkeeper to equalise the match in the 44th minute.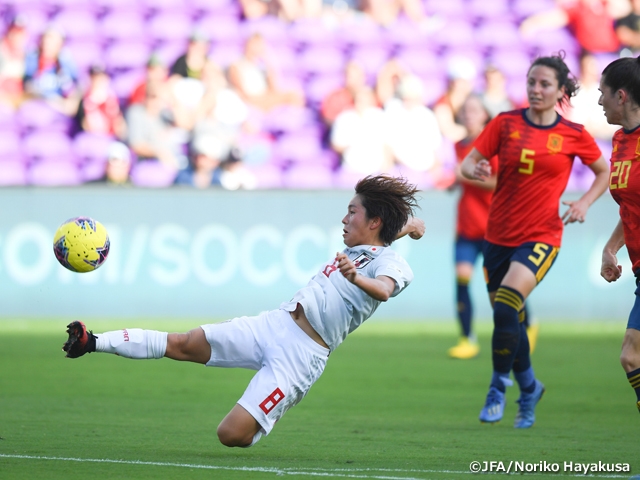 After finishing the first half on a high note, Japan brought TANAKA Mina and MIYAGAWA Asato onto the pitch to start the second half. However, the team once again conceded early in the half, as Spain capitalised on a passing error committed by Japan in the 48th minute. In efforts to level the match, Japan introduced MOMIKI Yuka, MIYAKE Shiori, and UENO Mami, in the 57th, 64th, and 77th minute respectively, but ended up giving up another goal from their own mistake in the 78th minute to give the Spanish side a commanding two goal lead.
Despite the final attempts made by Momiki and Tanaka, Japan failed to score further goals, as they lost their first match of the tournament 1-3.
Coach and Players' Comment
TAKAKURA Asako, Coach of Nadeshiko Japan
We lacked cohesion in our plays and couldn't apply collective pressure as a team. We failed to find our rhythm and as a result, we looked sluggish both mentally and physically on the pitch. Through their 4-3-3 formation, Spain kept the ball moving and created numerical advantage against us throughout the match. Despite our poor performance, we managed to pick up momentum towards the end of the first half, which gave us hope to win the match. However, we started the second half by conceding another goal from our own mistake and it really put us in a tough spot. We weren't able to force turnovers against a team who can possess the ball well, the defensive range of each player was limited, and our game intuition seemed to be a bit off compared to during the season. However, the players are well aware of our game plans, so we shouldn't take this result too negatively. We started to create numbers of chances mid-way through the second half, so we must acknowledge what we did well and what we did poorly and use the experience to improve ourselves ahead of the next two matches.
DF #5 MINAMI Moeka (Urawa Red Diamonds Ladies)
We knew our opponent was going to apply aggressive pressure, but we failed to connect our passes in our build-up plays. We conceded an early goal from a play where we should have played with more composure, so as a defender, that is an aspect I regret the most. I felt like I had to be more prepared on the pitch and as a team, we were a bit too slow. In tough matches like this, each player must position themselves in better positions to support each other. We must also play our passes more quickly even under pressure. As a defender I feel like that is an aspect I must improve on.
MF #17 MIURA Narumi (Nippon TV Tokyo Verdy Beleza)
We conceded goals from our own mistakes and we couldn't make adjustments during this match. We told each other not be afraid of making mistakes, but we gave too much space to the opposing defensive midfielder, which made us a step behind our opponents. In order to showcase our team's strengths, we cannot afford to make simple mistakes like today and we must also do a better job on our positioning. Through today's match, we saw plenty of room for improvements, so we will reset our minds and work to better our performances in the next two matches.
FW #13 IKEJIRI Mayu (Mynavi Vegalta Sendai Ladies)
Our team was forced to play defensively, and I feel like I wasn't able to showcase my strengths today. I wanted to apply more pressure upfront, but my initial position was poor, and I wasn't able to reach the ball quick enough. In terms of offence, I wasn't able to take any shots nor deliver a single cross today, so that is definitely an aspect I must improve on. I believe that I have the physical advantage over many players, so I hope to utilise my speed and strengths to earn a spot on the starting line-up. We know what we need to work on, so we will give our utmost efforts to prepare ourselves ahead of the next match.
Schedule
2020 SheBelieves Cup
Thu. 5 March
1-3
1st Match
vs Spain Women's National Team (Exploria Stadium)
Fri. 6 March
AM
Training
Sat. 7 March
TBC
Official Training (Red Bull Arena)
Sun. 8 March
14:23
2nd Match
vs England Women's National Team (Red Bull Arena)
Mon. 9 March
AM
Training
Tue. 10 March
TBC
Official Training (Toyota Stadium)
Wed. 11 March
19:08
3rd Match
vs USA Women's National Team (Toyota Stadium)
*Local time.
*The schedule is subject to change due to the team condition, the weather, etc.
2020 SheBelieves Cup
Tournament Dates: Thu. 5 - Wed. 11 March 2020
Venue: Exploria Stadium, Red Bull Arena, Toyota Stadium (USA)
Participating Countries:Spain, England, USA, Japan