NEWS
Nadeshiko Japan lose to England after conceding late goal - 2020 SheBelieves Cup
09 March 2020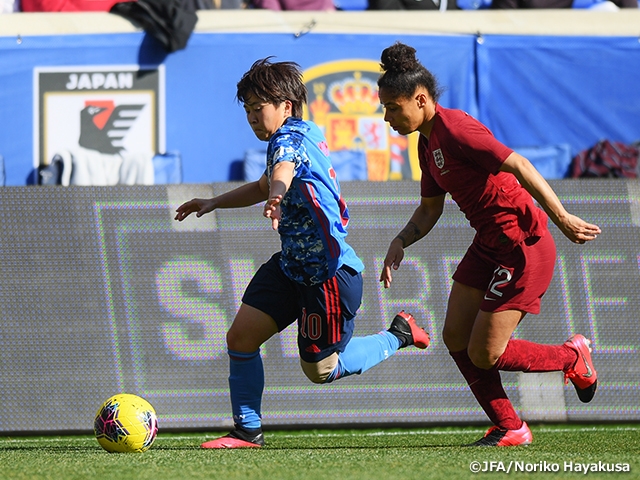 On Sunday 8 March, the Nadeshiko Japan (Japan Women's National Team) played their second match of the 2020 SheBelieves Cup against the England Women's National Team, where they lost the match 0-1 after conceding a late goal.
In collaboration with the International Women's Day established by the United Nations, JFA has declared 8 March as JFA Women's Football Day. In honour of all women radiantly thriving in our society and with hopes to make Nadeshiko Japan a role model for all female athletes, the players of Nadeshiko Japan wore a yellow armband for this match.
Following their match against Spain, the team rotated six players from their starting line-up, as IKEDA Sakiko stepped in goal, with MIYAKE Shiori, DOKO Mayo, SHIMIZU Risa, and MIYAGAWA Asato forming the defence-line. While SUGITA Hina and MIURA Narumi were named as the defensive midfielders, NAKAJIMA Emi and MOMIKI Yuka were positioned as the attacking midfielders, with IWABUCHI Mana and TANAKA Mina playing upfront.
Japan started off the match playing aggressively, as their first shot was taken by the team captain Nakajima in the 17th second. England entered the match with a 4-2-3-1 formation, a system they showed during the recent Women's World Cup where their two wingers penetrated the flanks to create opportunities. In the third minute, England showcased their speed and power to create a close chance, but the Japanese goalkeeper Ikeda made a fine save to keep the score intact. Japan responded with shots taken by Iwabuchi, Sugita, and Shimizu in the seventh, 10th, and 11th minute respectively, but their attempts fell short from capturing the English goal. While the Japanese players created opportunities by penetrating the gap between the opposing midfielders and defence-line, they gave up a close chance to England in the 13th minute from a passing error committed at the midfield, but Ikeda once again came to the rescue to deny the opportunity.
The match saw the Japanese side showing great cohesion to keep the ball moving, while the English side took advantage of their speed and power to create opportunities. While the two sides displayed a heated battle, Shimizu was forced to leave the game with an injury towards the end of the first half. With ENDO Jun getting introduced onto the pitch, Miyagawa shifted her position to the right side, before the match entered halftime scoreless.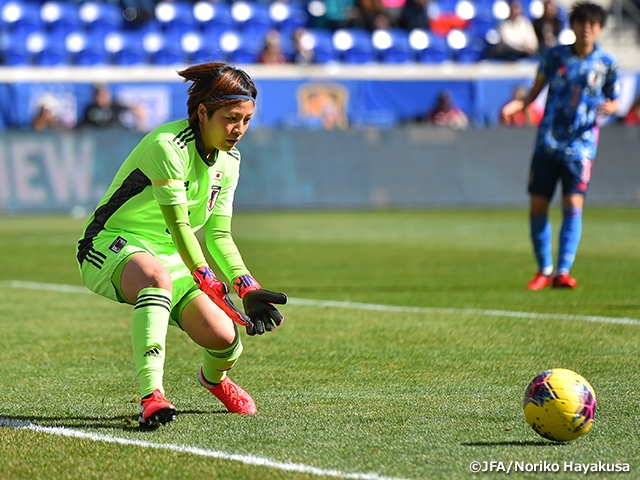 The second half started with Momiki taking shots in the 48th and 55th minute, but her efforts fell short from finding the net. With England making three changes at the hour mark, Japan also made a change by introducing UEKI Riko in place for Iwabuchi in the 66th minute. In efforts to break the deadlock, England made two additional changes in the 69th minute, followed by a substitution made by Japan in the 76th minute, as UENO Mami stepped in for Tanaka. With the dynamics of the game changing by the minute, the first goal of the match was scored in the 83rd minute.
The goal came when Miyake's pass was intercepted deep in the Japanese territory. The English attackers pounced on the opportunity, as Ellen White calmly converted the cross to give England their long awaited lead. In efforts to level the match, Japan made their final push at the end, but failed to capture the equaliser, as the match ended 0-1. As a result, Japan has now lost two consecutive matches.
The Nadeshiko Japan will now face the USA Women's National Team, who has won both of their marches thus far. The match will kick off at 19:08 on Wednesday 11 March (Thursday 12 March at 9:08 Japan time).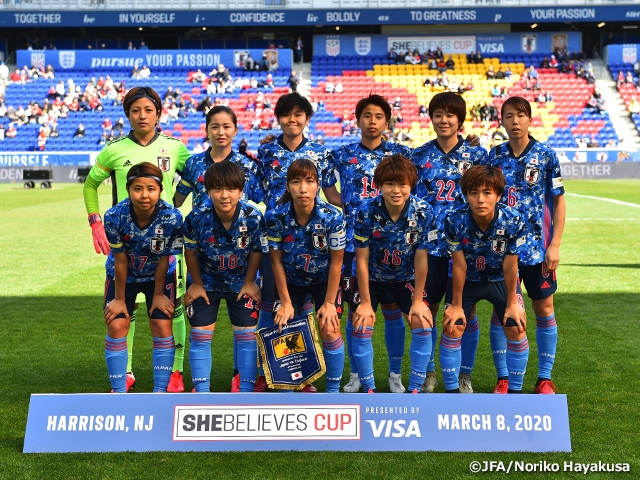 Coach and Players' Comments
TAKAKURA Asako, Coach of Nadeshiko Japan (Japan Women's National Team)
Compared to our match against Spain, we managed to initiate the action by ourselves, but lacked intensity and power to convert our chances. We looked a bit hesitant in front of the goal and as a result, conceded many counterattacks, which made it a very tough match for us. Although we saw some chances created by penetrating the space behind the opposing defence-line, we didn't have enough layers nor the creativity to break through the solid defence-line of England. This match made us realise that we need to heighten the quality of our plays both as a team and as individuals.
GK #1 IKEDA Sakiko (Urawa Red Diamonds Ladies)
We were able to enter the match with great intensity and managed to finish our plays by taking shots, which was part of our game plan. If we were able to convert our few chances created in the second half, this match could have finished differently. As a goalkeeper, I wasn't able to defend the goal when it mattered the most, so I feel like I wasn't able to get my job done. It was a goal I could have saved, so I feel responsible for that goal. I knew I was going to be kept busy, so I was able to enter the match with great composure. It allowed me to be prepared for the one-on-one situations. Regardless of how many saves I make, I must maintain my composure for the entire 90 minutes, and I feel like that is an aspect I must improve on. Our next match against USA will be an even tougher match than the first two. As a challenger, we must stay positive, acknowledge what we lack, and prepare ourselves within the next two days.
DF #22 DOKO Mayo (Nippon TV Tokyo Verdy Beleza)
We weren't able to showcase our football style in our match against Spain, so we entered this match with a strong intention to build our plays from the defence-line and score goals collectively to win the match. However, we weren't able to create opportunities from our build-up plays, so that is an aspect we still need to improve on. My strong point lies on my ability to connect passes and to control the defence-line, and I feel like I was able to demonstrate my strengths in those aspects. We saw our opponent make changes to bring players with speed, and we weren't able to make adjustments to change the dynamics of the game from there on. If the team can stay on the same page and attempted more long balls or finish our plays with more shots, this match could have ended differently.
MF #7 NAKAJIMA Emi (INAC Kobe Leonessa)
We managed to showcase a better performance compared to our first match, but we still lost the match, so we must accept the result and move forward. We weren't able to keep good distance between each other and lacked movements in our match against Spain, so we entered today's match with the intention to improve ourselves in those aspects. With the Tokyo Olympics scheduled around the corner, we really need to make this tournament count, and after underperforming in our first match, we were committed to do better in today's match. We are the challengers, so we must execute our game plan and showcase what we have been working on. In order to find out what we need to fix as a team, it is essential for us to give our utmost efforts in these matches.
Schedule
2020 SheBelieves Cup
Thu. 5 March
1-3
1st Match
vs Spain Women's National Team (Exploria Stadium)
Fri. 6 March
AM
Training
Sat. 7 March
TBC
Official Training (Red Bull Arena)
Sun. 8 March
0-1
2nd Match
vs England Women's National Team (Red Bull Arena)
Mon. 9 March
AM
Training
Tue. 10 March
TBC
Official Training (Toyota Stadium)
Wed. 11 March
19:08
3rd Match
vs USA Women's National Team (Toyota Stadium)
*Local time.
*The schedule is subject to change due to the team condition, the weather, etc.
2020 SheBelieves Cup
Tournament Dates: Thu. 5 - Wed. 11 March 2020
Venue: Exploria Stadium, Red Bull Arena, Toyota Stadium (USA)
Participating Countries:Spain, England, USA, Japan