NEWS
Women's F.League teams dominate podium as Urayasu win second title in three years! - JFA 18th Japan Women's Futsal Championship
07 March 2022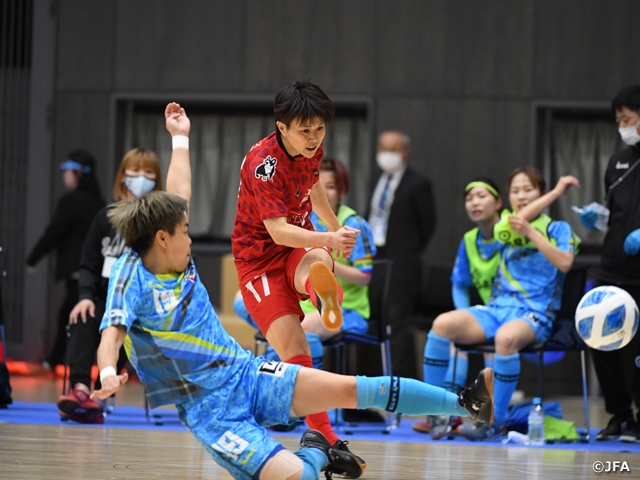 The third place match and final of the JFA 18th Japan Women's Futsal Championship took place at Yotsuba Arena Tokachi in Hokkaido on Sunday 6 March.
Tournament debutante Shoot anilla (Kanto1/Kanagawa) and defending champions SWH Ladies Nishinomiya (Kansai1/Hyogo) squared off in the third place match. After being kept scoreless in the semi-finals, Shoot anilla managed to score the opening goal in the first minute, when ODA Kanna capitalised on a play from a corner kick. However Nishinomiya, who plays in the Women's F.League, responded with three unanswered goals scored by KUBOTA Mitsuki, EGUCHI Mika, and EGAWA Ryo in the eighth, 16th, and 18th minute respectively to take a 3-1 lead at halftime.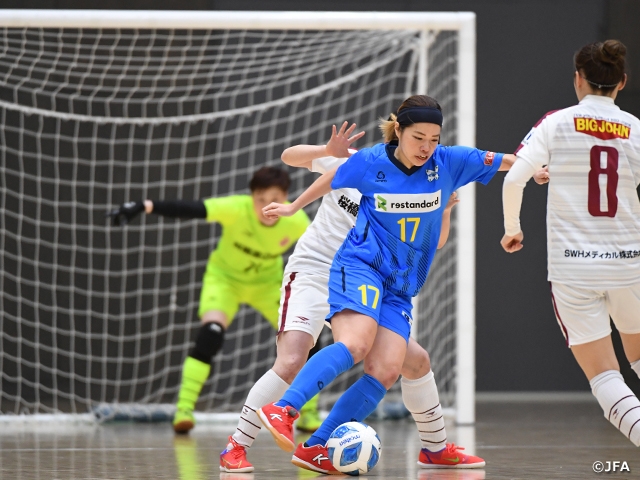 Deploying a 3-1 formation with a pivot, Nishinomiya continued to dominate the match in the second period. Shoot anilla, who won the 9th FUTSAL Regional Women's Champions League and the Kanto Women's League this season, played with great tenacity to stay in the game, scoring a goal in the 35th minute to cut down their deficit. However, with AMISHIRO Anna adding a goal in the 37th minute, Nishinomiya walked away with a 4-2 victory to finish the tournament in third place.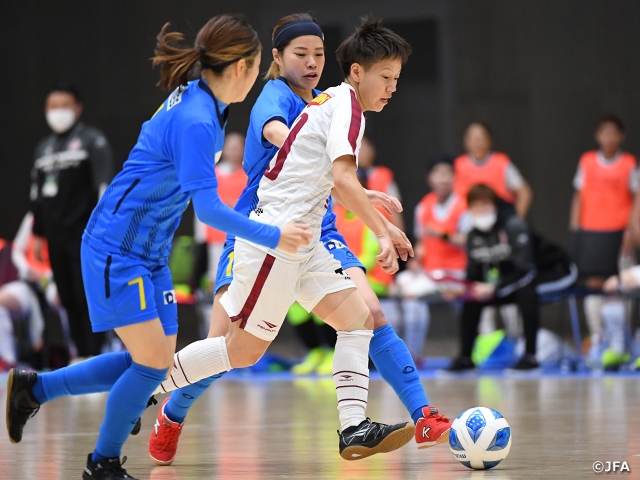 The final featured five time champions Arco Kobe (Kansai2/Hyogo) and Bardral Urayasu Las Bonitas (Kanto2/Chiba), who reached the final three years in a row, including their championship campaign two years ago.
Kobe, who had been playing with limited number of players in this tournament, started the match with great aggression, but it was Urayasu who took the initiative. Just 32 seconds into the first period, IKADAI Risa assisted the goal of YOTSUI Saki to give Urayasu an early lead. The match tightened up after this goal, but another opportunity was created by Urayasu in the 18th minute, when CHIDA Hinako struck a shot from a corner kick, which was followed up by ITO Kaho to make it 2-0 before halftime.
In the second period, Urayasu overpowered a noticeably tired Kobe side. HIRAI Narumi converted the deflection caused by Yotsui's shot in the 23rd minute, followed by the goal of Ikadai in the 25th minute. A minute later, KATO Masami, who was set to retire after this match, scored a goal from her old team, giving Urayasu a five-goal lead.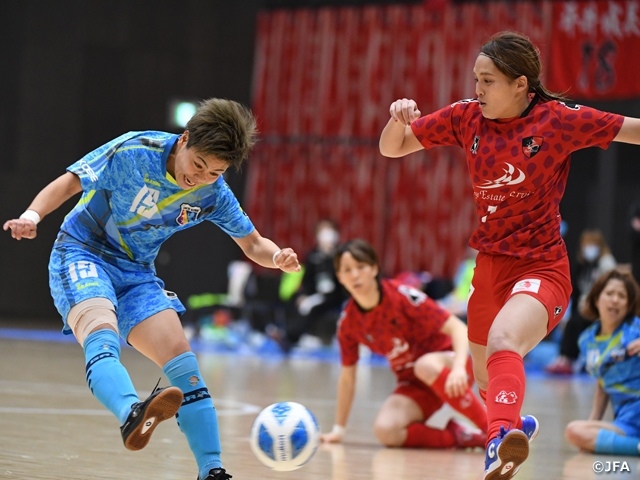 Despite conceding an overwhelming lead, the Kobe players continued to inspire each other to press forward, which led to the goal in the 29th minute, where WAKABAYASHI Eri made a diving effort to convert the delivery of KOMURA Misato. However, with HIRAI Yuka, who is also set to retire after this match, scoring the team's sixth goal in the 39th minute, Urayasu won the match 6-1 to claim their second title of the season alongside the Women's F.League title.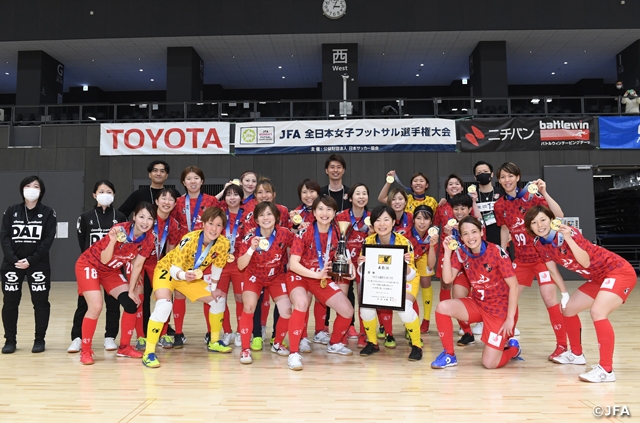 Coach and Players' Comments
YONEKAWA Masao, Coach (Bardral Urayasu Las Bonitas)
We faced a really tough match on the second day of the tournament, but we managed to beat Nishinomiya on penalties in the semi-finals, and that's when I thought "we can do it." Considering this team's resources, staff, and training environment, I thought that we had the potential to win both the Women's F.League and Japan Women's Futsal Championship this season, and that it would be my fault if we failed to do so. I am glad that we were able to showcase our abilities to win the title.
FP #7 HIRAI Yuka (Bardral Urayasu Las Bonitas)
I am very grateful to everyone for helping me get this win. Arco Kobe, who we played in the final, was a club I had been with for a long time, and it was really fun to face them in my final match. I have learned a lot and experienced a lot with Kobe and Urayasu, and I have been able to play futsal with the strengths of both clubs. I have not decided yet, but given my age, I would like to work as a communicator to convey the things I have learnt and experienced over the years.
FP #6 KOMURA Misato (Arco Kobe)
We were not able to practice as a team until the tournament due to various reasons, but we were still fully committed to competing in this tournament. Once the tournament started, we knew that we had no options but to win, so we just focused on doing what we could with the limited resources we had. We prepared ourselves so that we can showcase our full potential at any given match. Although we lost in the final, I believe it was a tournament that will remain strong in everyone's life, mine included.
FP #4 TAKAHASHI Mika (SWH Ladies Nishinomiya)
With the help of my teammates, I was able to finish my career on a high note. Although we fell short from winning the title, this third place finish is a very memorable one for me. I have been a member of this team for seven seasons and will retire at the end of this season. This team was a comfortable place for me, not only in terms of futsal, but also for many other things. Even when I wasn't playing on the pitch, I was always thinking of ways to help the team. I hope that the remaining players will work harder with greater awareness and responsibility, both on and off the pitch.

JFA 18th Japan Women's Futsal Championship
Tournament dates: Fri. 4 – Sun. 6 March 2022
Tournament venue: Yotsuba Arena Tokachi, Hokkaido