NEWS
Women's F-League teams including defending champions Nishinomiya start off strong! - JFA 18th Japan Women's Futsal Championship
05 March 2022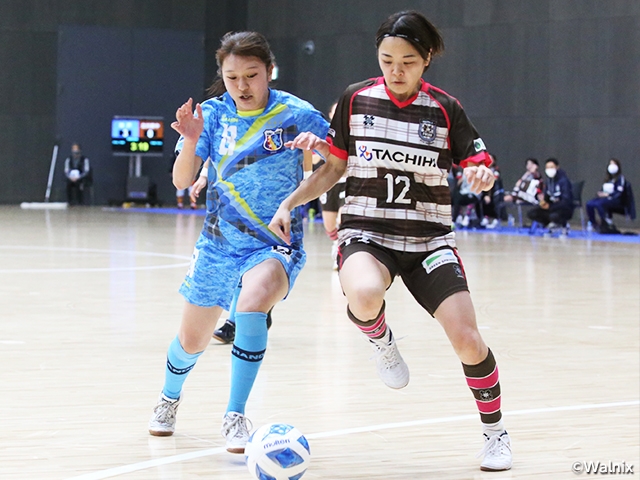 The JFA 18th Japan Women's Futsal Championship kicked off at Yotsuba Arena Tokachi in Hokkaido on Friday 4 March.
Following Espolada Hokkaido Irneve (Hokkaido), AICJ High School (Chugoku/Hiroshima) also had to withdraw from the competition after testing positive for Covid-19. As a result, Fun Lady's Football Club (Tohoku2/Miyagi), who were scheduled to play AICJ High School, have advanced to the quarter-finals.
The match between Arco Kobe (Kansai2/Hyogo) and Tachikawa-Fuchu Athletic FC Ladies (Kanto3/Tokyo), which kicked off at 10:00, turned out to be a heated battle. Arco Kobe, which had members testing positive for Covid-19 on Tuesday 22 February, entered the competition without six of their players, and were unable to hold a team practice session ahead of their first match.
However, with coach ANDO Nobuhito sending off the players by telling them, "Just focus on giving your best in the first 10 minutes," the Kobe side got off to a hot start with TSUTSUMI Saki, YAMAKAWA Rikako, and YAMAGUCHI Marina scoring a goal apiece in the first 11 minutes to take a 3-0 lead. Despite the efforts made by Tachikawa-Fuchu to rally back, the lead in the first period proved to be too much, as Kobe won the match 4-3. Following the final whistle, not only the defeated Tachikawa-Fuchu players but also the victorious Kobe players were seen collapsing on the pitch and shedding tears, showing just how much they had invested themselves in this match and the intensity of the competition.
The third and fourth matches were won by Shoot anilla (Kanto1/Kanagawa), winners of the 9th FUTSAL Regional Women's Champions League (Regional CL) held in Ibaraki last week, and Delizia Iwata Ladies (Tokai1/Shizuoka), who finished third in the same tournament. The two teams also met in the semi-finals of the regional CL. Shoot anilla defeated DELIZIA Iwata 6-1 on that occasion, but it will be interesting to see what the result will be this time, with a place into the semi-finals on the line.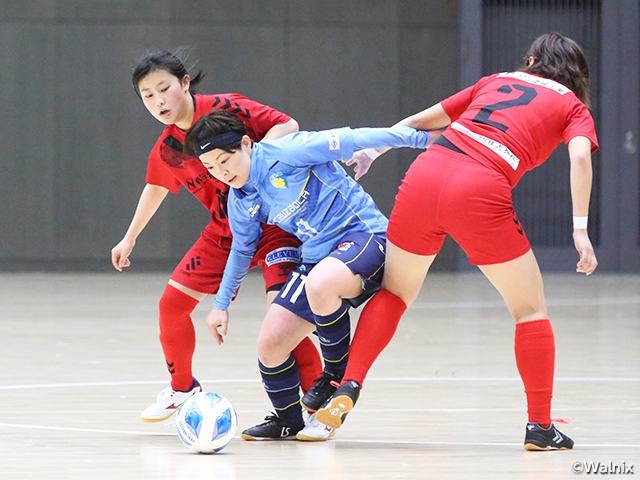 SWH Ladies Nishinomiya (Kansai1/Hyogo), the defending champions, had a tough time against golrira shizuoka (Tokai2/Shizuoka). Despite taking a 2-0 lead in the first half, Nishinomiya conceded back to back goals in the 37th and 39th minute to golrira shizuoka. However, just as everyone thought that the match was going into penalty shootout, OGAWA Nao scored the decisive goal with just 28 seconds remaining on the clock, sending Nishinomiya into the quarterfinals.
The seventh and eighth matches saw two teams from the Women's F.League cruise through, as Bardral Urayasu Las Bonitas (Kanto2/Chiba) and Fukui Maruoka Ruck (Hokushinetsu/Fukui) won their first matches 8-0 and 9-0 respectively. The two will now face each other in the quarterfinals, setting up an enticing fixture between two sides with plenty of players selected into the shortlisted squad of the Japan Women's Futsal National Team.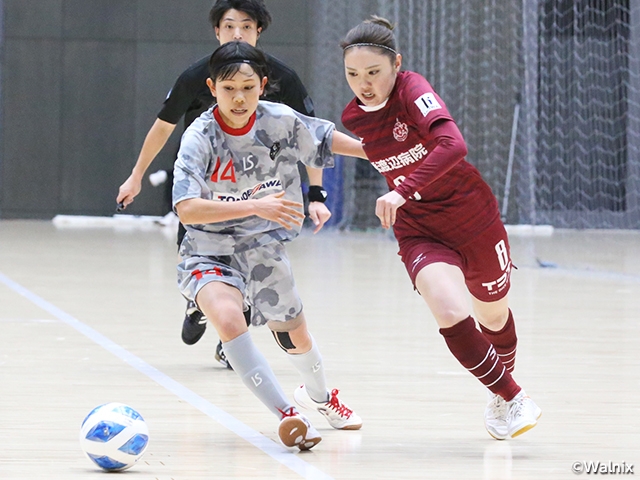 The quarterfinals and semi-finals will all take place on Saturday 5 March. Stay tuned to find out which two teams will advance through to the final of this year's Japan Women's Futsal Championship.
Coach and Players' Comments
ONO Naoki, Coach (Shoot anilla)
Because teams that normally play football also compete in the Japan Women's Futsal Championship, it presents a different set of difficulties compared to the regional CLs. It was confusing at times, but also very interesting. If we continue to win, we will also be able to play against teams from the Women's F.League, so our goal is to advance to the semi-finals, where we will try to beat a team from the F.League to reach the final. Although some of our players are injured, we will continue to give our best efforts so that we can showcase a strong performance like we did today in the upcoming matches.
FP #18 YAMAKAWA Rikako (Arco Kobe)
Although the team was in a difficult situation, we all entered the match fully determined to give our best effort, which allowed us to demonstrate the strength of Arco and showcase one of the best performances of the season. Of course we are exhausted, but we will continue to play aggressively in the matches ahead. Some of the players were crying after the match. Before the match, we thought that it would take a miracle to win today's match, so we hope to carry on the momentum from this victory.
FP #21 NAKAJIMA Shiori (Tachikawa-Fuchu Athletic FC Ladies)
Having returned from Spain this season, this was my first time competing in this tournament for about 10 years. Before I left for Spain, there was no national league and I feel that the environment is gradually getting better for women's futsal in Japan. However, I still feel that the environment for the players still needs to be better. We saw some of our players transfer out before the tournament, but the team must continue to move on regardless of who is on the team. We played poorly in the first period, but still managed to fight until the end, so we must try to make the most of this experience for next season.
FP #9 SAKAKIBARA Kotono (golrira shizuoka)
I usually could not participate in futsal activities because of the commitment I have with my high school football team, but this time I was able to take part in this tournament. With this being my first national competition, I was looking forward to it, but the level was much higher than I expected, and it gave me a great learning experience. Despite conceding two goals to Nishinomiya, it didn't feel like we were getting dominated, so we continued to stick with our plan to drop back and anticipate for our chances to counter. Although I was able to contribute for the team by scoring a goal, our opponent was simply stronger today.
FP #17 ARAI Ichika (Fukui Maruoka Ruck)
I have been playing as a pivot lately, rather than an ala. I still have long ways to go, but my teammates have been helping me along the way. I get to face forward when playing as an ala, but I often find myself playing with an opponent on my back when playing as a pivot, which makes it harder to take shots. However, I was able to score a goal from a play I feel confident in, so I hope to do the same tomorrow. This tournament will be the culmination of all the work we have put in over the past year. Because we have fewer players, it makes it easier for us to face the same direction, so we will continue to give our best effort as a team.

JFA 18th Japan Women's Futsal Championship
Tournament dates: Fri. 4 – Sun. 6 March 2022
Tournament venue: Yotsuba Arena Tokachi, Hokkaido