NEWS
Topflight confrontations including the "Tama River Clasico" to be held - Prince Takamado Trophy JFA U-18 Football Premier League 2022
24 June 2022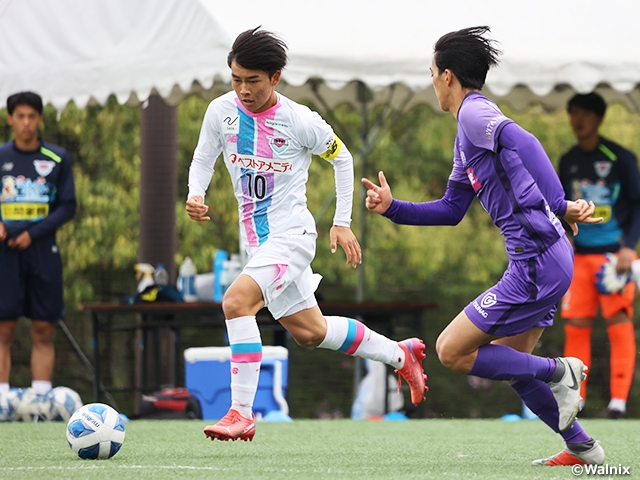 The 10th sec. of the Prince Takamado Trophy JFA U-18 Football Premier League 2022 will be held on Sunday 26 June.
EAST
League leaders Kawasaki Frontale U-18 (Kanagawa) will square off against FC Tokyo U-18 (Tokyo) in the "Tama River Clasico." With last week's 8-0 victory over Yokohama FC Youth (Kanagawa), Kawasaki have now extended their winning streak to six matches. Seven different players scored in the previous week, illustrating the versatility of their attacks, which can score from anywhere. The defence, led by TAKAI Kota (#4), is also very stable and has not conceded more than two goals this season. FC Tokyo, meanwhile, ended their losing streak in their previous match against Funabashi Municipal High School (Chiba). Despite being dominated by Funabashi Municipal, a strike from their substitute TAGUCHI Kiichi (#15) secured their first win in three matches. The Tokyo side is currently in third place, seven points behind Kawasaki. If they can close down the points gap here and hand Kawasaki their first defeat of the season, they will be well on their way to the top of the table.
Second place Yokohama F.Marinos Youth (Kanagawa) will welcome Aomori Yamada High School (Aomori) to their home. Last week, Yokohama FM won their fifth straight match with a 3-1 victory over JFA Academy Fukushima U-18 (Shizuoka). Meanwhile, the reigning champions of the EAST, Amori Yamada, started off the season with three straight wins, but then lost five in a row. They picked up their first win since 17 April with a 1-0 victory over Ryutsu Keizai University Kashiwa High School (Chiba) in the previous sec. Set pieces are likely to be one of the key factors in this match-up. Two of Yokohama FM's three goals in the previous game came from a corner kick taken by SHINOHARA Yudai (#8). Amori Yamada also claimed victory thanks to a direct free kick scored by KOIZUMI Kaito (#22). Set pieces, from any given spot, should not be overlooked in this match, both in terms of offence and defence.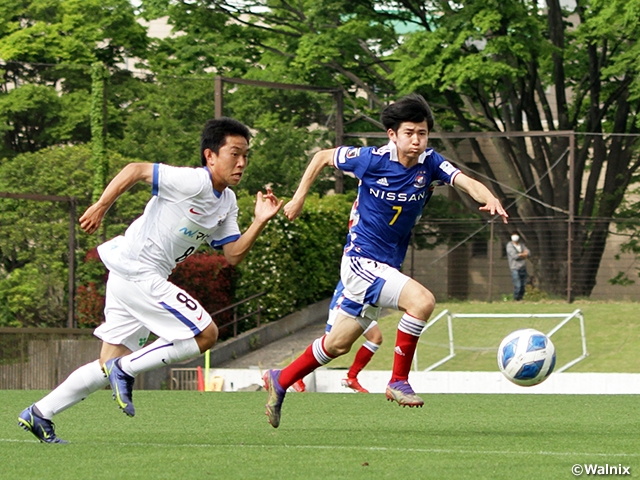 Kiryu Daiichi High School (Gunma), currently bottom of the table, will be at home to seventh place Yokohama FC. Kiryu Daiichi are coming off a 1-6 loss to their prefectural rivals Maebashi Ikuei High School (Gunma), while Yokohama FC, as mentioned above, conceded eight goals to Kawasaki FC. Both sides will certainly be seeking to bounce back from their heavy defeats.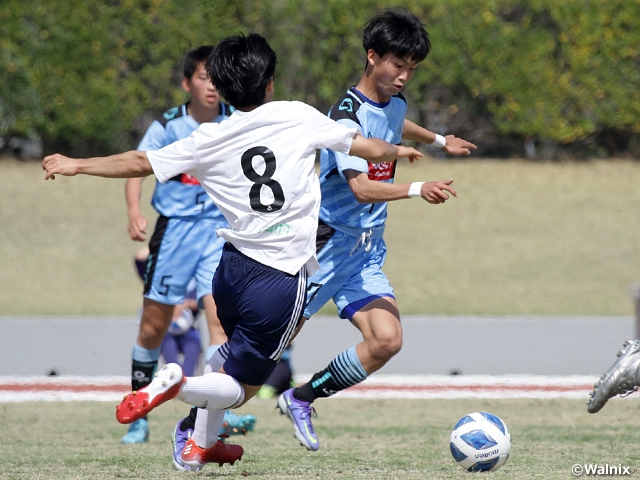 Elsewhere, 11th place Funabashi Municipal will face fifth place Omiya Ardija U18 (Saitama), 10th place Ryutsu Keizai Kashiwa will play fourth place Maebashi Ikuei, and eighth place Kashiwa Reysol U-18 (Chiba) to square off against ninth place AC Fukushima.
WEST
Provisional leaders of the WEST, Sagan Tosu U-18 (Saga), will play Higashi Fukuoka High School (Fukuoka). Tosu's winning streak came to an end at five matches after a 1-3 defeat against Cerezo Osaka U-18 (Osaka) in the previous match. The two goals they conceded before the 12th minute really hindered their game. Despite having four of their matches postponed, Higashi Fukuoka improved their record to three wins and two losses with a win against Ozu High School (Kumamoto) in the previous match. A win from Tosu would present an opportunity for them to move up the ladder.
Jubilo Iwata U-18 (Shizuoka) have played one less match than Tosu but are level on points with them and currently in provisional second place. The team has a good momentum going into this week's match against Ozu, having claimed a comeback victory over Shizuoka Gakuen High School (Shizuoka) in the previous match. Ozu have played six matches so far and continues to struggle in 11th place with one win, one draw and four losses. After having three consecutive postponements since the sixth sec., the last league match against Higashi Fukuoka was their first league match in a long time, where they outshot their opponents but failed to score a goal. However, they were able to limit the damage to just one goal from a set-piece, which is a good sign for their next match. In order to escape the relegation zone, they will need to start picking up points soon.
Third place Shizuoka Gakuen will face Riseisha High School (Osaka). Shizuoka Gakuen's two-game winning streak came to an end last week when they lost to Iwata 1-2. In order to contend for the Premier League title in their first season in nine years, this match against another high school side is a must win match for them. Riseisha on the other hand, drew against Vissel Kobe U-18 (Hyogo) in their previous match, and have not won a match in four matches, as they post a record of two draws and two losses in their recent four matches. Playing in their first Premier League season in eight years, they too must find their winning ways to move up the table.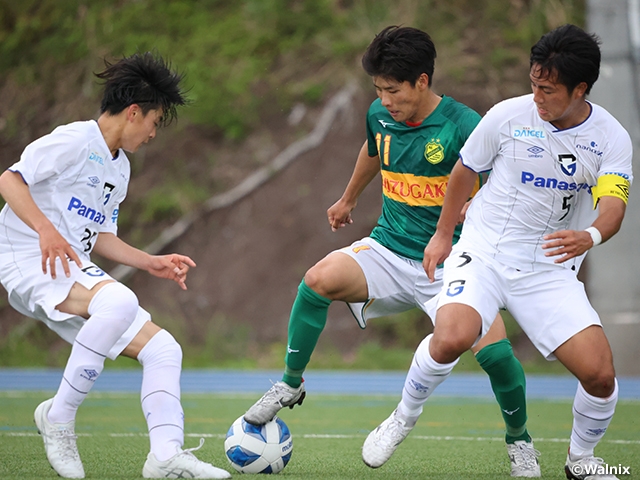 Elsewhere, eighth place Shimizu S-Pulse Youth (Shizuoka) will face 12th place Gamba Osaka Youth (Osaka), fifth place Nagoya Grampus U-18 (Aichi) will clash with sixth place Kobe, and 10th place Sanfrecce Hiroshima FC Youth (Hiroshima) will welcome Cerezo Osaka to their home.
Prince Takamado Trophy JFA U-18 Football Premier League 2022
League Duration: Sat. 2 April - Sun. 4 December 2022