NEWS
Shimizu hold onto provisional lead with six consecutive victories in the Prince Takamado Trophy JFA U-18 Football Premier League 2021
29 November 2021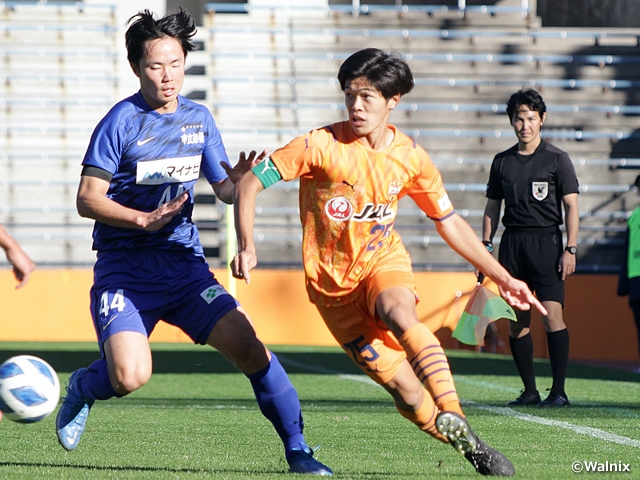 The 17th sec. of the Prince Takamado Trophy JFA U-18 Football Premier League 2021 EAST took place on Saturday 27 and Sunday 28 November at various locations.
Pick-up Match
Shimizu S-Pulse Youth 1-0 (1-0, 0-0) Funabashi Municipal High School
At IAI Stadium Nihondaira in Shizuoka, the provisional leaders of the EAST, Shimizu S-Pulse Youth (Shizuoka), squared off against ninth place Funabashi Municipal High School (Chiba), who is competing in the relegation race, making this a must win match for both sides.
In efforts to take the initiative, Funabashi Municipal applied aggressive pressure against Shimizu's build-ups and tried to win the ball in high position to initiate short counters. Facing this high pressure, Shimizu showcased great individual skills and collective pass-works to carry the ball upfront and create chances that threatened the Funabashi Municipal goal.
It was the home side who struck first, as Shimizu scored the opening goal in the 10th minute. The goal was scored by CHIBA Kanta (#9), who leads the league in goals, when he connected with the cross delivered by YAMADA Riku (#18), as the striker later reflected, "I'm confident in my ability to connect with crosses, and a perfect ball was delivered to me, so I just had to convert it."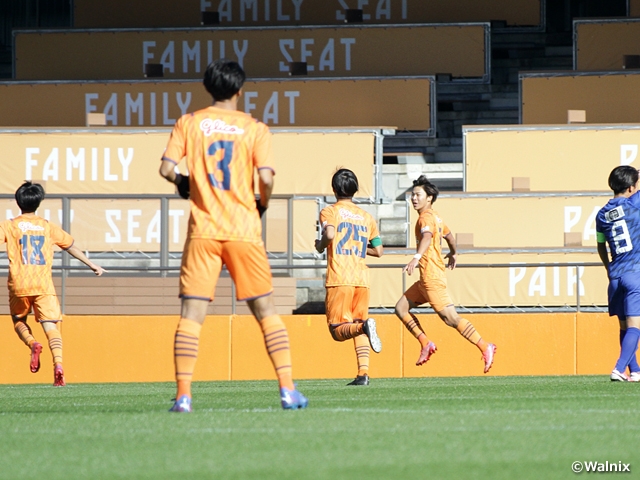 As coach IWASHITA Jun mentioned, "We didn't get off to a bad start," Shimizu managed to find their rhythm from the early minutes, but Funabashi Municipal gradually picked up their pace as the match progressed. "Right after we conceded the goal, we talked it out to reset our minds," said HIRAMA Rikuto (#6), as the Funabashi side created more opportunities to threaten the Shimizu goal.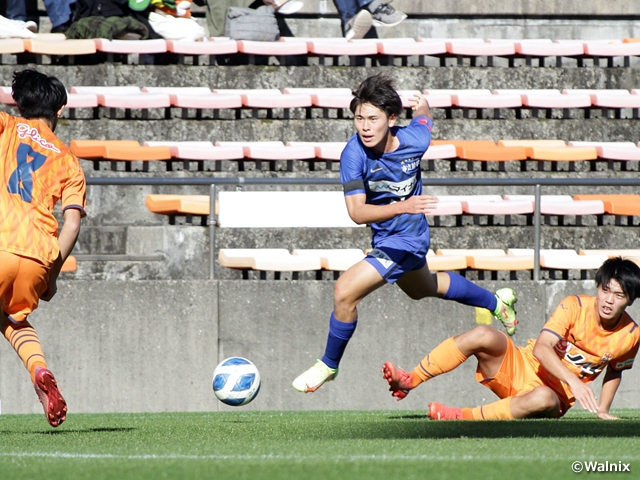 "Each one of us was trying too hard to make a good play, which slowed down our decisions," said coach Iwashita, as Shimizu started to make uncharacteristic mistakes to lose the ball. SUZUKI Keigo (#25) also reflected, "It felt like we were making aimless efforts," as his side struggled to get back on track, but led by KIKUCHI Shuta (#3), TABATA Ryusei (#4), and NAKAJIMA Atsuki (#1), the Shimizu defence showcased great efforts to keep the clean sheet intact.
With time running out, Shimizu made a decision as a team to lockup the win, as the players played with a mutual understanding to maintain the one goal lead. By making tenacious efforts to run down the clock, Shimizu managed to get one step closer to the league title by adding three more points to their tally.
Following the match, coach Iwashita mentioned, "There are many aspects we need to reflect on, but it was a great learning experience." However, in terms of defence, the coach also praised his side for keeping three consecutive clean sheets and building on what they have worked on over the years. On the other hand, Funabashi Municipal's coach HATA Shugo mentioned, "We need to improve on our finishing skills and intensity level at the final third, which are something we have been lacking all season." The couch did touch on the fact that his side managed to bounce back to showcase a positive performance towards the end of the first half and into the second half and vowed to win their next match.
Coaches and Players' Comments
IWASHITA Jun, Coach (Shimizu S-Pulse Youth)
Coming off a big win over Aomori Yamada High School, we knew that this was going to be a crucial match for us. However, it is questionable if everyone was on the same page. Even when we were dominated, the defenders managed to keep their positions to deny the opponents from taking shots, which is something positive we can take away from this match.
DF #4 TABATA Ryusei (Shimizu S-Pulse Youth)
When looking back on our overall performance, there are many things we need to address and improve on. We have been working on our agility, and it felt like we are getting positive results from it, as we managed to close down the gap to block shots and win the ball. We will try to make the most of this experience and finish off the season on a high note by winning the remaining two matches.
HATA Shugo, Coach (Funabashi Municipal High School)
We were forced to chase the ball for a long time from the first half, which made it a difficult match for us. However, even though we were dominated in ball possession, we were determined to maintain our composure in defence. Although we conceded early in the first half, we gradually got used to the pace as the match progressed. We were devastated after being eliminated from the All Japan High School Soccer Tournament qualifier, but the players did a great job to bounce back from it.
MF #6 HIRAMA Rikuto (Funabashi Municipal High School)
Although we conceded an early goal, we managed to regroup and create chances afterwards. However, we lacked quality in the final third, which has been an issue all season. To be honest, we almost gave up after losing in the All Japan High School Soccer Tournament, but we have talked as a team to reset our goal to keep the team in the Premier League. We will give our best efforts to win the remaining matches so that the team can avoid being relegated.
Results of other matches
Yokohama F.Marinos Youth 1-4 (1-2, 0-2) Omiya Ardija U18
Urawa Red Diamonds Youth 0-1 (0-1, 0-0) FC Tokyo U-18
Kashiwa Reysol U-18 1-4 (1-2, 0-2) Aomori Yamada High School
Yokohama FC Youth 1-0 (0-0, 1-0) Ryutsu Keizai University Kashiwa High School
Propelled by the brace of MAEZAWA Hiroki (#17), Omiya Ardija U18 (Saitama) registered four goals to defeat Yokohama F.Marinos Youth (Kanagawa), marking their seventh win of the season. FC Tokyo U-18 (Tokyo) earned a 1-0 shutout victory over Urawa Red Diamonds Youth (Saitama), thanks to the early goal scored by HIGASHI Renta (#13). The hat-trick scored by WATANABE Sera (#17) helped Aomori Yamada High School (Aomori) cruise past Kashiwa Reysol U-18 (Chiba) 4-1. Yokohama FC Youth (Kanagawa) edged Ryutsu Keizai University Kashiwa High School (Chiba) 1-0 at home, with MASUDA Kensho (#3) scoring the game winner in the 50th minute.
Prince Takamado Trophy JFA U-18 Football Premier League 2021
League Duration: Sat. 3 April - Sun. 12 December 2021