NEWS
Shimizu defeat Aomori Yamada to claim provisional lead of the Prince Takamado Trophy JFA U-18 Football Premier League 2021 EAST
22 November 2021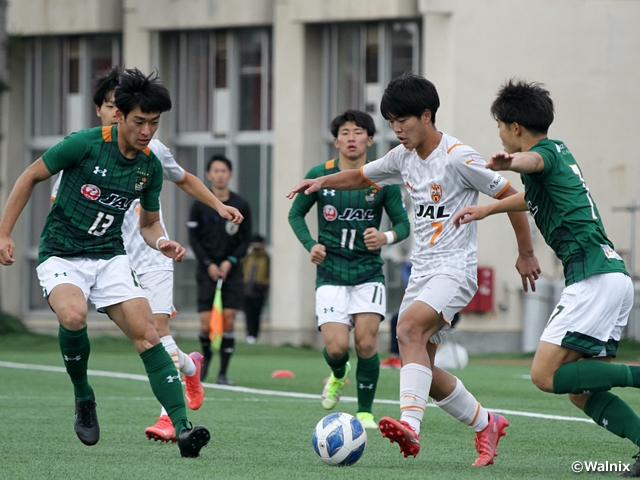 The 16th sec. of the Prince Takamado Trophy JFA U-18 Football Premier League 2021 EAST took place on Sunday 21 November.
Pick-up Match
Aomori Yamada High School 0-2 (0-0, 0-2) Shimizu S-Pulse Youth
At Aomori Yamada High School ground, league leaders Aomori Yamada High School (Aomori) welcomed second place Shimizu S-Pulse Youth (Shizuoka). Although they have different number of matches left to play, with the two sides tied in points, it made this a critical match with major title implications. After losing the first leg at home, Shimizu entered the match with plenty of motivation, as coach IWASHITA Jun sent off his players by telling them, "Let's get back at them!"
Shimizu's ace CHIBA Kanta (#9) mentioned, "We were overwhelmed by Aomori Yamada's intensity," in their first meeting, making them determined to fight with courage from the start this time. Coach Iwashita described the theme for this match as, "Will we be able to showcase what we have built over the season," and the players responded by making tenacious efforts to win the ball in the air and in close battles, as Chiba reflected on their performance, "We were determined to execute our build-up plays without being afraid."
However, despite being able to evade the pressure to possess the ball, Shimizu struggled to create opportunities that threatened the opposing goal, as Aomori Yamada's MARUYAMA Yamato (#5) later reflected, "We did a great job to contain our opponent in the first half." Aomori Yamada on the other hand, created chances through set-pieces and short-counters, including the big chance created in the 31st minute, when TAZAWA Yuzumu (#16) broke loose to take a shot, but his attempt was denied by the fine save of the Shimizu goalkeeper, NAKAJIMA Atsuki (#1).
The biggest opportunity of the first half was created by Shimizu, when a cross ball was met by Chiba, but the striker made a critical error to waste the chance. However, Chiba mentioned afterwards, "That play allowed me to change my mindset in a good way." In the 69th minute, Chiba responded to a loose ball following a corner kick and calmly struck the ball into the net, as he recalled, "It felt like time stood still and I was able to pick where I wanted to kick the ball."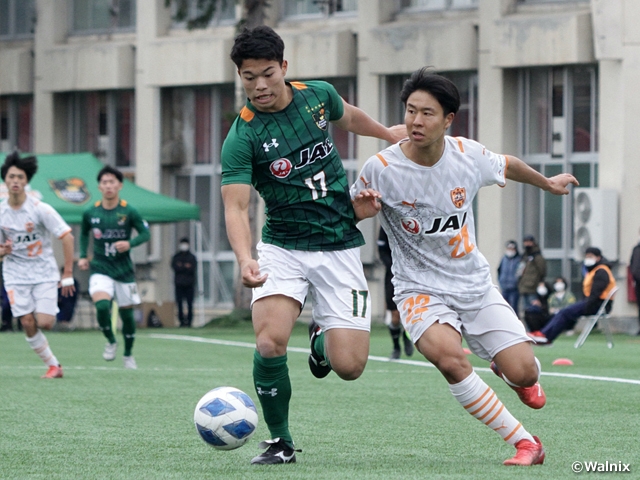 Trailing by a goal, Aomori Yamada started to apply more numbers upfront to add layers to their offence. In the 84th minute, WATANABE Sera (#17) showcased spectacular techniques to control the ball and strike a volley shot, but his effort was saved by Nakajima. Despite creating multiple chances, the Aomori side kept falling short from finding the back of the net, as coach KURODA Go mentioned, "We weren't hitting the target."
While their league rival struggled to convert their chances, Shimizu capitalise on their opportunity in the 86th minute, when Chiba responded to the cross of WATANABE Keika (#22), in which the ace later described as "a perfect cross." Chiba made a brilliant move to free himself up to score a header, as he explained the play after the match, "I can't compete with Maruyama in the air, so I had to be creative."
Despite dominating their opponent 14 to 4 in shots taken, the home side surrendered two goals to Shimizu, while been kept scoreless themselves, as coach Kuroda later mentioned, "Chiba was wonderful in this match. He converted all opportunities in the second half." With this victory, Shimizu has now taken the provisional lead in the EAST.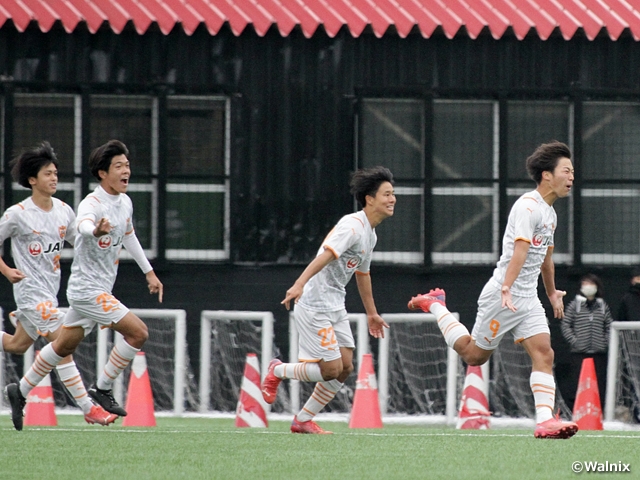 Coaches and Players' Comments
KURODA Go, Coach (Aomori Yamada High School)
We knew it was going to be a difficult match after losing some of our players with injuries. Although our overall performance was not bad, there were so many scenes where we just couldn't hit the target. On the other hand, Chiba converted all opportunities in the second half, and that was the difference in this match. However, I still believe that we can win the title by winning the remaining matches, so we will reset our minds to prepare for our next match.
DF #5 MARUYAMA Yamato (Aomori Yamada High School)
Although we managed to contain Chiba in the first half, we weren't able to hold him back for the entire match. I am also disappointed in terms of offence, because I couldn't convert the chances I was given from set-pieces. However, I think we can still win the title if we win all our games from here on, so we just need to pull ourselves together and get right back on the horse.
IWASHITA Jun, Coach (Shimizu S-Pulse Youth)
The players played extremely hard in this match. Matches against Aomori Yamada make us realise that we need to improve our techniques, so we really appreciate it. We were completely overwhelmed by them in the first leg at home, but we were able to make the most of that experience to become a stronger team.
FW #9 CHIBA Kanta (Shimizu S-Pulse Youth)
When I scored the first goal, I was fortunate that the ball found me, but I was able to take a great first touch to control the ball where I wanted. I have always idolised OKAZAKI Shinji since I was a little kid, so I have spent a lot of time on my headers, and I feel like it is showing in the results.
Results of other matches
Omiya Ardija U18 3-1 (3-0, 0-1) Yokohama FC Youth
Ryutsu Keizai University Kashiwa High School 0-2 (0-0, 0-2) Funabashi Municipal High School
Yokohama F.Marinos Youth 6-2 (2-0, 4-2) Urawa Red Diamonds Youth
Kashiwa Reysol U-18 1-1 (0-1, 1-0) FC Tokyo U-18
Led by the opening goal scored by OZAWA Haruki (#15) in the 15th minute, Omiya Ardija U18 (Saitama) scored three goals in the first half to win over Yokohama FC Youth (Kanagawa). Funabashi Municipal High School (Chiba) rallied late in the match to win over Ryutsu Keizai University Kashiwa High School (Chiba), thanks to the goals of MUTO Hiroshi (#8) and GUNJI Riku (#30). Yokohama F.Marinos Youth (Kanagawa) scored six goals against Urawa Red Diamonds Youth (Saitama) to win the match 6-2 at home. Kashiwa Reysol U-18 (Chiba) and FC Tokyo U-18 (Tokyo) each walked away with a point after drawing the match 1-1.

Prince Takamado Trophy JFA U-18 Football Premier League 2021
League Duration: Sat. 3 April - Sun. 5 December 2021