NEWS
Heated Kyushu showdown between Ozu and Tosu ends in a draw - Prince Takamado Trophy JFA U-18 Football Premier League 2021
29 November 2021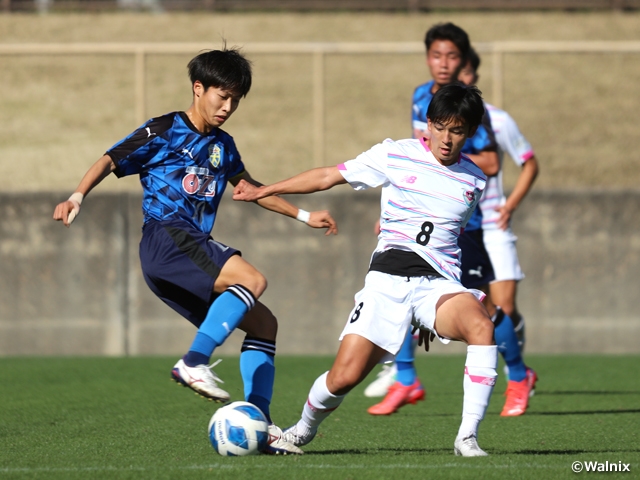 The 17th sec. of the Prince Takamado Trophy JFA U-18 Football Premier League 2021 WEST took place on Sunday 28 November. At Ozu Athletic Park, Ozu High School (Kumamoto) welcomed Sagan Tosu U-18 (Saga).
Pick-up Match
Ozu High School 1-1 (0-0, 1-1) Sagan Tosu U-18
Despite having many of their matches postponed, Ozu entered the week in third place, but was without their ace, KOBAYASHI Shunei (#9), because of his involvement with the U-17 Japan High School Select Team. There were also players who were not part of the team due to injuries or university entrance exams, so it was expected that they would have to spend a lot of time on defence, as coach HIRAOKA Kazunori later reflected, "Facing a team that likes to possess the ball, we entered with a three-back formation to eliminate the space in the sides."
The match started with Tosu taking the initiative by creating chances with their long balls, as YAMAMOTO Sota (#21) shared their approach for the match, "The ball didn't bounce much on natural grass, so we tried to get the ball behind the opponent's defence line." With TERAOKA Junichiro (#5) leading the defence, Ozu showcased great composure to keep the Tosu offence from scoring a goal. In the 15th minute, a shot struck by SAKAI Shunya (#5) from distance came close to giving Tosu the lead, but the shot went off the goalpost to keep the score tied at 0-0.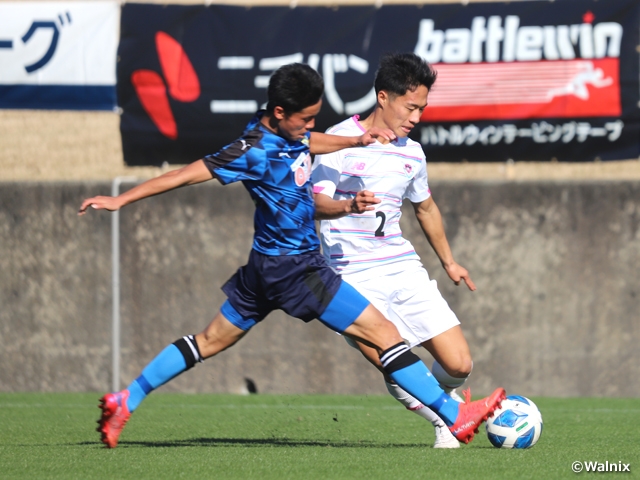 After the first half ended scoreless, the deadlock was broken in the 62nd minute, when OSATO Koma (#16) played the ball to Sakai, who delivered a lobbing pass behind the Ozu defence line. Although the pass did not connect with TODA Shunpei (#2), NARAHARA Yoshiki (#8) was there to convert the loose ball and give Tosu the long awaited lead.
With their backs against the wall, Ozu started to rally in the closing minutes, as MORITA Daichi (#10) repeatedly won the ball in the midfield to create opportunities. Encouraged by Morita's efforts, the home side started to gain momentum, as IWAMOTO Shotaro (#12) later mentioned, "As we started to play with confidence, it enabled us to have a wider perspective."
Ozu won a throw-in from the left side in the 74th minute. The cross delivered by HIDAKA Haruto (#3) was cleared by the Tosu defence, but KAWAZOE Taiki (#4) quickly retrieved the ball. "I made a mistake when we conceded the first goal, so I really wanted to make up for it. I am always anticipating for the loose balls from set-pieces, so I had been practicing taking shots on target," said Kawazoe, as the shot struck by the defender shook the net to equalise the match. With both sides showing tenacious efforts until the end, the match between the two Kyushu sides ended in a 1-1 draw.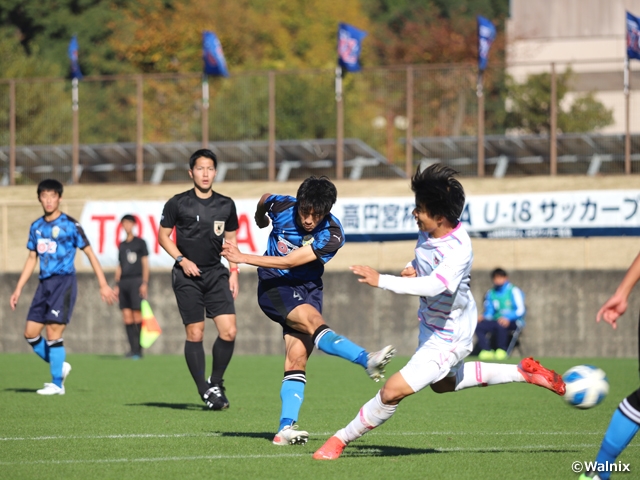 Coaches and Players' Comments
HIRAOKA Kazunori, Coach (Ozu High School)
I told the players to make it a match that would have a lasting impression. I thought that if they could do that, the spectators would be even more impressed. Because the players have been staying up late to study for their exams, they were not in perfect condition, and we saw some of the players cramping up towards the end. However, the players showcased their persistency to fight until the end. I'd be happy if people who saw today's match became a fan of Ozu.
DF #4 KAWAZOE Taiki (Ozu High School)
Today was a match against my former team in a must win situation, so I really wanted to win. We have been working hard as a team to concede the fewest goals in the league, but following the match against Gamba Osaka, in which we conceded two goals, we ended up conceding another goal today. We want to insist on keeping a clean sheet. We are still in position to contend for the league title, so we will do our best to win the title.
TANAKA Tomonori, Coach (Sagan Tosu U-18)
In terms of winning and losing, there were times when we could have sealed the match, but more than that, we have to learn from Ozu's passionate plays. They showed tremendous efforts throughout the match, and it is an area we must not lose. We can gain such experience only at the Premier League. Being able to compete on this stage is significant for the growth of the players.
DF #21 YAMAMOTO Sota (Sagan Tosu U-18)
We definitely want to be the best team in Kyushu, so we were extremely motivated for this match. Although we were able to create many chances, we couldn't convert them, which allowed our opponent to gain momentum and eventually equalise the match. If we could have scored when we had the opportunity, I think this would have been a much different outcome. The speed and intensity are at a different level between the Premier and Prince League. Surrounded by so many talented players, I can feel my growth when I play in the Premier League.
Results of other matches
Jubilo Iwata U-18 1-4 (0-1, 1-3) Cerezo Osaka U-18
Sanfrecce Hiroshima F.C Youth 2-0 (1-0, 1-0) Higashi Fukuoka High School
Kyoto Sanga FC U-18 1-2 (0-1, 1-1) Vissel Kobe U-18
Gamba Osaka Youth 2-3 (0-3, 2-0) Nagoya Grampus U-18
Led by the opening goal scored by SARARA Ritsukii (#34), Cerezo Osaka U-18 (Osaka) scored four goals to defeat Jubilo Iwata U-18 (Shizuoka), marking their fifth win this season. Sanfrecce Hiroshima F.C Youth (Hiroshima) earned a shutout victory over Higashi Fukuoka High School (Fukuoka) 2-0, thanks to the goal of KASAGI Yuzu (#22) and TAKIGUCHI Haruto (#17). In a match between two teams trying to avoid relegation, Vissel Kobe U-18 (Hyogo) scored a goal apiece in both halves to win over Kyoto Sanga FC U-18 (Kyoto). With their ace MANABE Hayato (#10) scoring back to back goals, Nagoya Grampus U-18 (Aichi) defeated Gamba Osaka Youth (Osaka) 3-2.
Prince Takamado Trophy JFA U-18 Football Premier League 2021
League Duration: Sat. 3 April - Sun. 12 December 2021