NEWS
Propelled by the brace of their new striker Kyoto stop Tokyo Verdy's impressive run - Emperor's Cup JFA 102nd Japan Football Championship
08 September 2022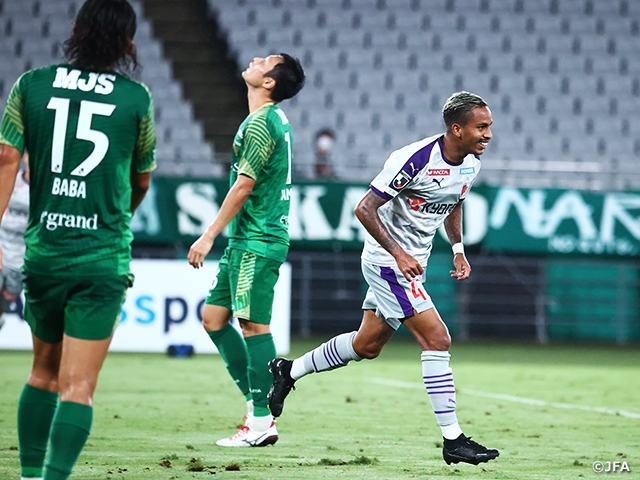 The Emperor's Cup JFA 102nd Japan Football Championship quarterfinals took place on Wednesday 7 September. Helped by the superb performance of their new signing PAULINHO, who joined the club in August, Kyoto Sanga FC defeated Tokyo Verdy 2-1 to reach their first Emperor's Cup semi-finals in 11 years. "I was able to put my game intuition in display," said the Brazilian striker, scoring a brace in his first match since arriving in Japan.
The opening goal came in the 21st minute, when Paulinho received the ball outside the box, dribbled through two defenders before slotting the ball into the corner of the goal. He then scored his second goal from a counterattack initiated in the 53rd minute, finding a gap between two defenders to pierce a shot into the far corner. Kyoto's coach CHO Kwi-jae praised the club's newest signing, who joined on a loan from a Ukrainian club under FIFA's special measures following the Russian invasion, saying "He showcased his natural talent and composure."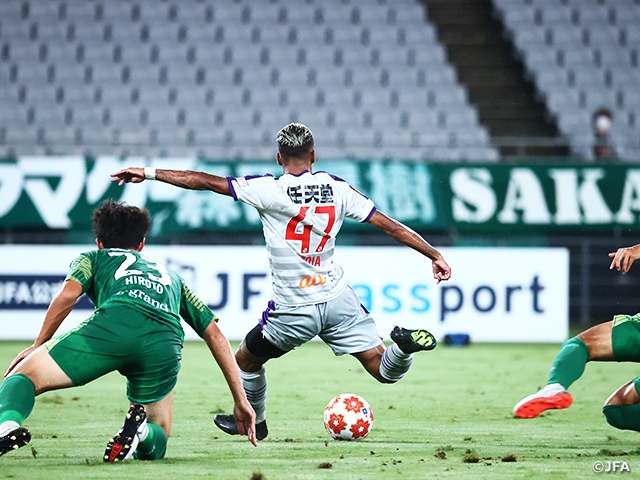 J2 side Tokyo Verdy's impressive run finally came to a halt after they reached their first quarterfinals since the 84th Emperor's Cup, in which they won the title. The once prestigious club has been playing in J2 since 2009 and has not been able to make its presence felt in the Emperor's Cup for a long time but was certainly one of the most talked about club in this year's tournament with their third-round victory over J1 champions Kawasaki Frontale.
Verdy's only goal came in the 90th minute, when TANIGUCHI Hiroto converted a loose ball in a goalmouth scramble, but their rally ended there. Following the match, coach JOFUKU Hiroshi commented, "We were too immature. We didn't concede any chances expect for those two goals. I don't know how we let those two shots slip by."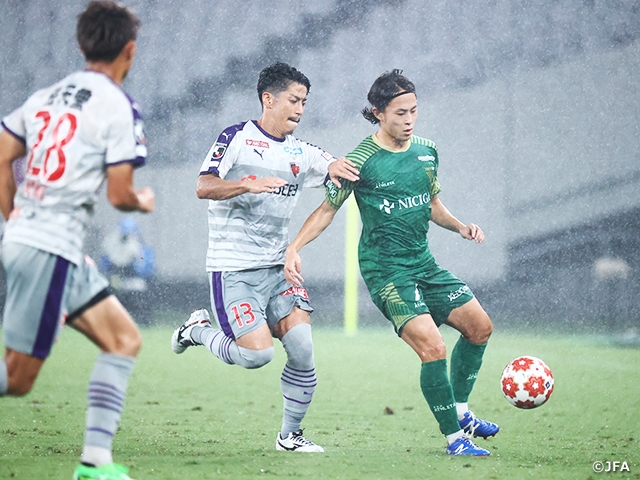 Coaches and Players' Comments
CHO Kwi-jae, Coach (Kyoto Sanga FC)
We weren't able to play any practice matches with this squad and with only three days in between matches, the preparation leading up to this match was very difficult. We saw many players cramping up, and it was a difficult match to manage. Despite such circumstance, I believe that we were able to deliver a result that would give energy to all those who have been supporting us. Through our match against Vissel Kobe in the weekend and today's match, we were able to showcase our perseverance and ability to capitalise on the chances we are given. I feel like these are qualities we have nurtured through the battles in the J1. Being able to compete in both the league and Emperor's Cup should serve as motivation for the players. Today we played a very tough match against Tokyo Verdy, who displayed incredible fighting spirit. I would like to dedicate this victory to the players and staff who remained in Kyoto, and to the people of Kyoto.
PAULINHO (Kyoto Sanga FC)
We played through this match with a group of players with limited playing opportunities in the league, and we were able to obtain a positive result. Including myself, we were able to play with a good rhythm to showcase a solid performance. (Regarding his brace) It is hard to put it in words, but it came from my intuition. Brazilian players who become professional players have their own characteristics, and from a young age, we are used to playing in tight spaces and finding ways to score goals. The players who do well there become professionals. In that sense, I feel like I was able to showcase my character in that moment.
JOFUKU Hiroshi, Coach (Tokyo Verdy)
We are simply disappointed. The players did what they had to do, but we regret how we played in those two scenes where we conceded the goals. It exposed our immaturity in defence, but I don't think we conceded that many opportunities besides those two plays. I also wish we could have scored a goal earlier, which could have given us a chance to send the game into overtime. The players did what they could, and I think we played a game that didn't deserve to lose.
MORITA Koki (Tokyo Verdy)
Kyoto utilised many long balls and collected the ball to Ismaila, but our centre-halves and side-backs showed great coverage to respond to these balls. They also applied lots of pressure from their frontline and tried to exploit the spaces between our midfield and defence. We knew entering the match that their defence do not apply ton of pressure to against the opposing forwards, and even though we were able to take control of the ball possession in the first half, we ended up conceding the opening goal. The fact that we couldn't capitalise on our few opportunities created in the first half was one of the reasons we lost this match.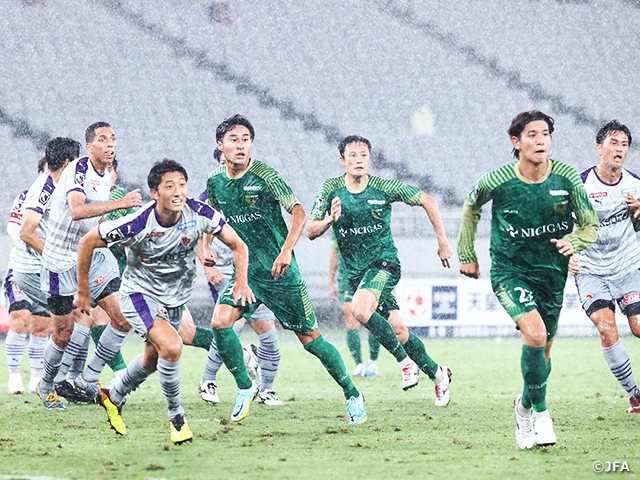 Emperor's Cup JFA 102nd Japan Football Championship
【1st Round】Sat. 21, Sun. 22 May [Backup date: Mon. 23 May]
【2nd Round】Wed. 1, Wed. 8 June
【3rd Round】Wed. 22 June [Backup date: Wed. 29 June]
【Round of 16】Wed. 13, Wed. 20 July]
【Quarterfinals】Wed. 7 September[Backup date: Wed. 28 September]
【Semi-Finals】Wed. 5 October
【Final】Sun. 16 October