NEWS
Kashima defeat Kobe to advance through to the semi-finals of the Emperor's Cup JFA 102nd Japan Football Championship
08 September 2022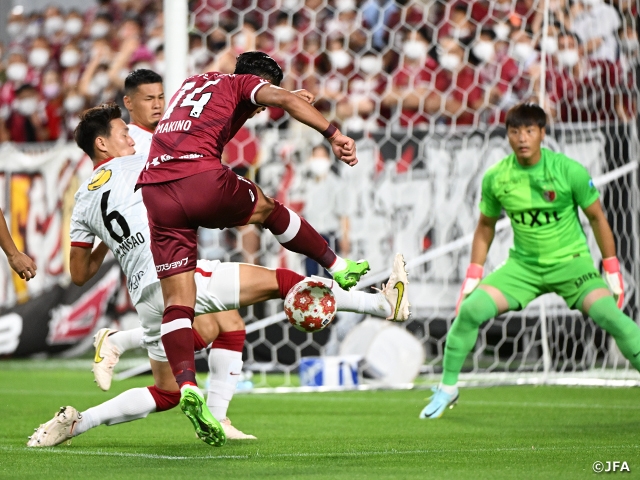 The Emperor's Cup JFA 102nd Japan Football Championship quarterfinals took place on Wednesday 7 September. "Our hopes are slim to win the league title, so we are fully determined to win the Emperor's Cup," said Kashima Antlers' SUZUKI Yuma, as they entered the quarterfinals match against Vissel Kobe.
Following a scoreless first half, the deadlock was broken in the 62nd minute, when Arthur CAIKE redirected a cross towards the centre, allowing Suzuki to fire a powerful header that went off the hands of Kobe goalkeeper IIKURA Hiroki before finding the back of the net. With the team holding onto this one goal lead, Kashima advanced through to their first Emperor's Cup semi-finals in three years. Coach IWAMASA Daiki, who took over the helm midway through the season after the club had sacked coach Rene WEILER, commented after the match, "There was a lot of pressure, so I feel very relieved."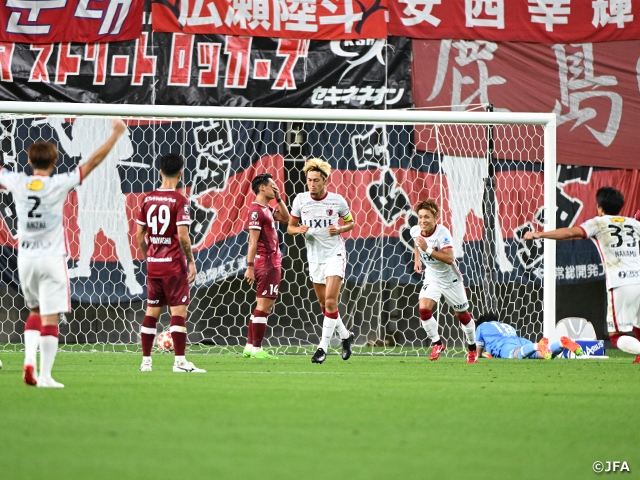 Kobe, who defeated Kashima at the final of the 99th Emperor's Cup, missed out on their opportunity to make their first semi-final appearance since that tournament. With their chances of qualifying for next season's AFC Champions League (ACL) now diminished, coach YOSHIDA Takayuki shared his disappointment, "I am responsible for this result."
"We will have to make an all-out effort as a team in order to avoid relegation," said MUTO Yoshinori, as the Kobe side will now focus on their survival to remain in the J1.
Coaches and Players' Comments
IWAMASA Daiki, Coach (Kashima Antlers)
There was a lot of pressure, so I feel very relieved. Although the club didn't explicitly say so, the fact that I was appointed as the new coach at this timing of the season means that it is my obligation to lead this team to win the Emperor's Cup. I have already told the players, but the reason why we changed our strategy against Kawasaki Frontale was to win this match and the Emperor's Cup, so there was a lot of pressure on us to win this match. It was a relief to know that we had won that bet for the moment.
SUZUKI Yuma (Kashima Antlers)
(Reflecting on the goal) I was quite concerned that I hadn't scored recently. It was a very tough match, but it is crucial that we win matches like these in a knockout tournament. Our hopes are slim to win the league title, so we are fully determined to win the Emperor's Cup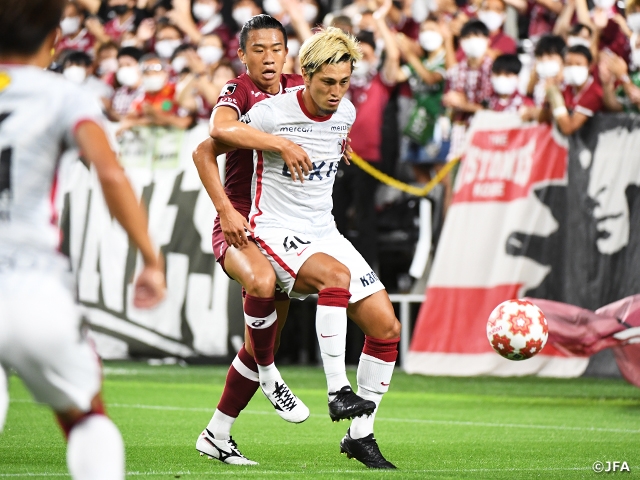 YOSHIDA Takayuki, Coach (Vissel Kobe)
I am responsible for this result. I think the first half went according to the plan we had drawn up. However, we let our guard down for a brief moment in the second half and started to get overwhelmed by our opponents. Nevertheless, I think the players worked very hard, and the fact that some of the players were able to return from injury was a positive thing we can take away from this match. With the number of injuries increasing day by day, we are currently in a very tough situation. That is why we need the support of our fans more than ever.
OGIHARA Takahiro (Vissel Kobe)
We were able to execute our game plan in the first half, but the fact that we weren't able to score during that time led to this result. Kashima were able to capitalise on their few opportunities, and that is an aspect we lacked as a team. I myself played with the intention of enjoying the game and, because today's line-up featured many players who hadn't played in the league matches, we focused on creating a positive vibe as a team. However, it doesn't mean anything if we cannot deliver results, so we are very disappointed.
Emperor's Cup JFA 102nd Japan Football Championship
【1st Round】Sat. 21, Sun. 22 May [Backup date: Mon. 23 May]
【2nd Round】Wed. 1, Wed. 8 June
【3rd Round】Wed. 22 June [Backup date: Wed. 29 June]
【Round of 16】Wed. 13, Wed. 20 July]
【Quarterfinals】Wed. 7 September[Backup date: Wed. 28 September]
【Semi-Finals】Wed. 5 October
【Final】Sun. 16 October