NEWS
Shimizu defeats Tosu to advance to their first Semi-finals in five years - The Emperor's Cup JFA 99th Japan Football Championship
24 October 2019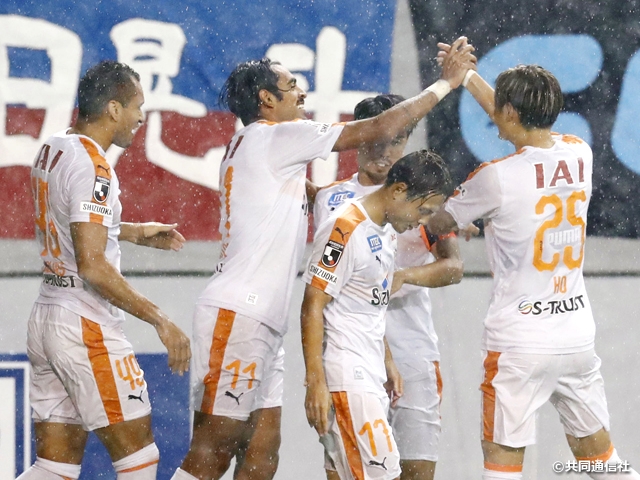 The 81st Emperor's Cup Champions, Shimizu S-Pulse earned a 1-0 victory over another J1 side, Sagan Tosu to advance to the semi-finals for the first time in five years. Shimizu's Junior DUTRA, who scored the game winner in the 15th minute, commented after the match, "It was a very tough match. I am so happy that I was able to score a goal in this crucial match."
With the match kicking-off under torrential rain, both sides started off by applying aggressive pressure to induce mistakes from their opponent. The opening goal was scored early in the match, as Shimizu's attacker, Dutra responded to a through ball delivered by KAWAI Yosuke, before striking a right footed shot that pierced the Tosu goal.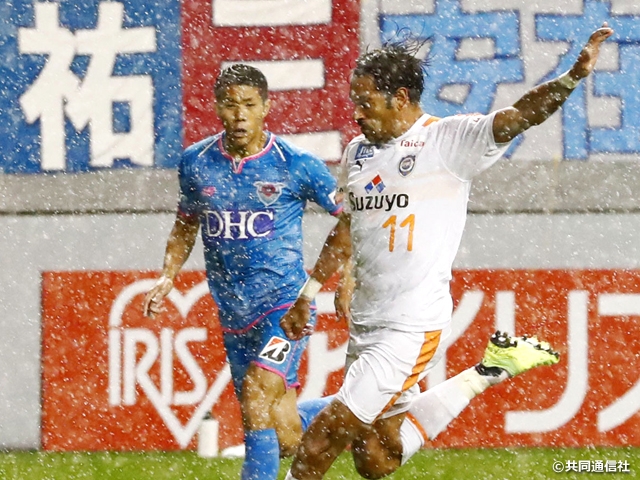 The second half saw Tosu showing more aggression to level the match, but they lacked quality to convert their opportunities in front of the goal. With time running out, Tosu continued to make their efforts to respond to the home crowd but fell short from scoring the equaliser. After the match, Tosu's coach KIM Myung Hwi reflected on his team's performance, "We gave up too many opportunities to our opponent. We also committed more mistakes than our opponent."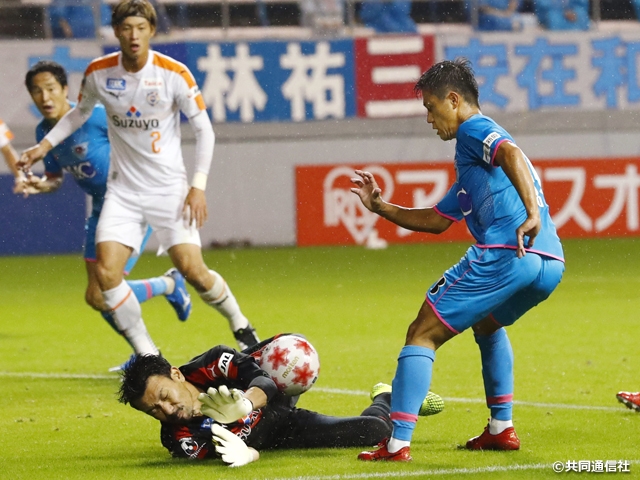 Earlier this season, Shimizu has lost to Tosu 2-4 in a J.League match at the same stadium. With his side getting their revenge, Shimizu's coach SHINODA Yoshiyuki praised his players, "A 1-0 victory at away is a wonderful result." With their eyes set on their first Emperor's Cup title in 18 years, Shimizu will now face Kobe on December 21.
Coaches and Players' Comments
KIM Myung Hwi, Coach (Sagan Tosu)
Our opponent was simply the better team. After conceding a goal that easily, we got ourselves in a very difficult situation. Our players played courageously and gave their very best, but we lacked quality in our plays, especially with the wet pitch condition. It felt like we committed a tad more mistakes than our opponents. That is something we must address and improve at our training sessions, so I will keep on demanding higher standards from our players.
FW #19 CHO Dong Geon (Sagan Tosu)
I am very disappointed that our team couldn't win this match. However, I am glad that I was able to make my return to the team. I will just have to work harder to help the team win our next match. My condition is getting better, so I will prepare myself ahead of our next match and try to get myself involved in our team's goals. (After being side-lined due to illness) I feel so fortunate to be able to play on the pitch and I am enjoying every moment I spend with my teammates. It has been a while since I played in a match, so I will continue to work hard to showcase a better performance in our future matches.
SHINODA Yoshiyuki, Coach (Shimizu S-Pulse)
It feels great that we managed to defend our early lead to achieve our goal of advancing through to the next round. Our team played very well in the first half, but after our opponent made a change in their formation, we started to show some signs of struggle to defend against them. Although we faced some tough stretches, it was great to see our team keep a clean sheet. In order to adjust to our opponent's approach, we changed our formation in the second half, but our players did well to understand the objective and worked extremely hard to earn this victory.
MF #17 KAWAI Yosuke (Shimizu S-Pulse)
(Reflecting on the assist) I saw the open space in front of me, so I made an approach to push forward. It didn't turn out the way I planned, but Dutra did a great job to score that goal. I am glad that I was able to set up the game winner. I didn't want the ball to skip away, so I made the decision to lift the ball in the air. In our recent matches, we have been allowing our opponents to come from behind, so it's great to see us holding the lead after scoring the opening goal.
Emperor's Cup JFA 99th Japan Football Championship
【1st Round】Sat. 25, Sun. 26 May
【2nd Round】Wed. 3, Wed. 10 July
【3rd Round】Wed. 14 August
【Round of 16】Wed. 18 September
【Quarterfinals】Wed. 23 October
【Semi-final】Sat. 21 December
【Final】Wed. 1 January 2020