NEWS
Kobe reaches second Semi-finals in three years - The Emperor's Cup JFA 99th Japan Football Championship
24 October 2019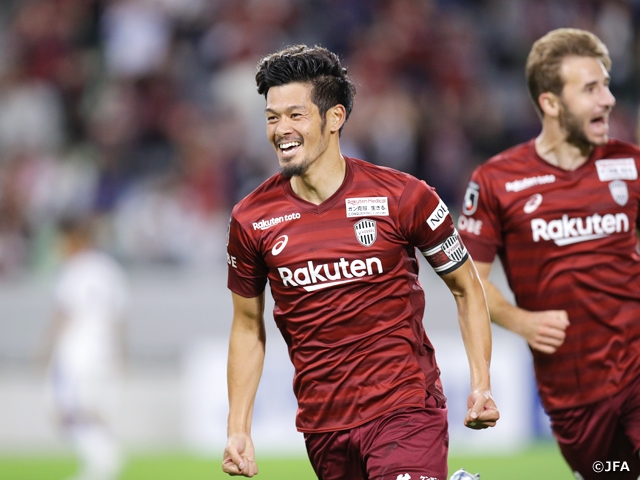 The Emperor's Cup quarterfinal fixture between Vissel Kobe and Oita Trinita marked their fifth encounter this season, as the two sides have faced each other at the J.League and the YBC Levain Cup, coming into this match with an equal record of one win, two draws, and one loss. In this matchup between two J1 sides, Kobe claimed the 1-0 victory to advance to their second semi-finals in three years. With the Emperor's Cup title and their seat to the ACL in sight, team captain YAMAGUCHI Hotaru mentioned after the match, "This was a huge match, and this victory means a lot for us. We have just two matches to go. Our eyes are set on the title."
The match started with Kobe applying aggressive pressure to possess the ball, as OGAWA Keijiro came close to scoring the opener in the 21st minute, but his attempt was saved by the opposing goalkeeper. Oita also came close to scoring a goal, but the shot taken by ONAIWU Ado in the closing minutes was blocked by the Kobe goalkeeper.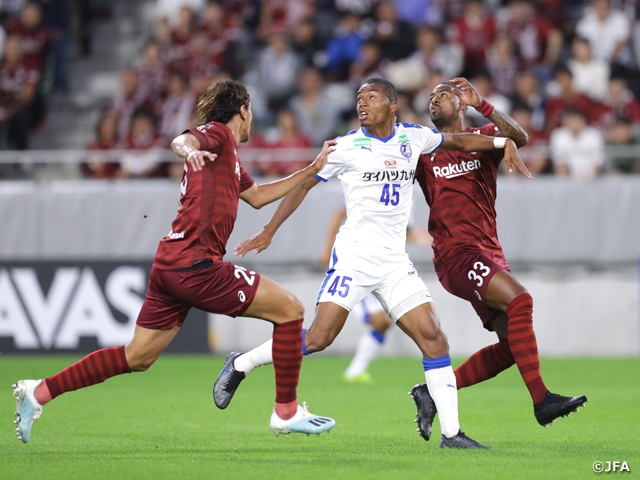 With the match entering the second half scoreless, the opening goal was scored by Kobe, when Yamaguchi captured the goal in the 56th minute. In efforts to rally back, Oita brought in KOBAYASHI Seigo to replace KOZUKA Kazuki, only to see Kobayashi limping off the field with an injury.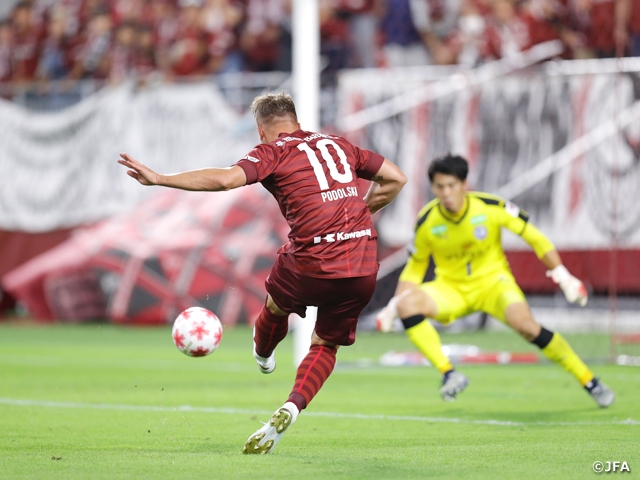 After suffering back to back losses in their most recent league matches, where they conceded nine goals during those two matches, Kobe's coach Thorsten FINK showed a sign of relief, "It meant a lot for us to keep a clean sheet. It allowed us to regain our confidence." With the team once again failing to advance through the quarterfinals, Oita's coach KATANOSAKA Tomohiro mentioned, "Despite the close score, Kobe was the better team in this match."
Coaches and Players' Comments
Thorsten FINK, Coach (Vissel Kobe)
I am glad that we are through to the next round. After dropping two straight league matches, we were starting to lose our confidence, but we managed to bounce back and showcase a strong performance. Both sides played very tightly in the first half. Despite giving up some chances to our opponents at the end, our team displayed a good performance overall. In this match, we shifted (Yamaguchi) Hotaru in a deeper position than usual, which allowed the three attacking players to apply pressure more effectively. It means a lot for us to keep a clean sheet in this match. We hope to win the tournament and bring back the club's first ever Emperor's Cup title. That is not only my wish, but the entire team's wish.
MF #24 SAKAI Gotoku (Vissel Kobe)
We didn't play aggressive enough in our previous two league matches, so we told each other to play aggressively in today's match. We showcased great speed, intensity, and combinations, while fighting hard for the ball. We gave up one or two opportunities to our opponent in the first half and allowed them to keep possession of the ball in the second half, but we applied enough pressure to keep our opponents in their own territory and I think we were able to execute our game plan overall. It was great that we managed to maintain a high defence line and keep a clean sheet.
KATANOSAKA Tomohiro, Coach (Oita Trinita)
With this being a Wednesday night game against Kobe, we knew this was going to be a tough match for us, so we entered the match with strong determination to win, but it turned out to be a disappointing result. We came into the match with a great victory (over Urawa) in our league, and we wanted to carry that momentum to challenge Kobe, but our opponent was the better team today. Despite the close result, they had the upper-hand over us, and I am sure that our players felt that on the pitch as well. We did have some good stretches though. If we could have capitalised on our opportunities towards the end of the first half, this could have been a totally different result. This marks the end of our run at the Emperor's Cup. We must reset our minds and focus on our relegation battle at our league.
FW #9 GOTO Yusuke (Oita Trinita)
We managed to create many opportunities but lacked the quality to finish our chances. On the other hand, our opponent was able to capitalise on their one chance. We were able to keep the ball possession in the first half and take control of the match for a while. We felt that our opponent had the upper-hand over us, but it wasn't a devastating difference we can't overcome. We had to make our opponent chase the ball more and create gaps in their defence line. We have just five matches left in our league, but I am in great form right now, so I will continue to challenge myself to finish the season on a high note.
Emperor's Cup JFA 99th Japan Football Championship
【1st Round】Sat. 25, Sun. 26 May
【2nd Round】Wed. 3, Wed. 10 July
【3rd Round】Wed. 14 August
【Round of 16】Wed. 18 September
【Quarterfinals】Wed. 23 October
【Semi-final】Sat. 21 December
【Final】Wed. 1 January 2020