NEWS
Kashima defeats Honda to advance through to the Semi-finals - The Emperor's Cup JFA 99th Japan Football Championship
24 October 2019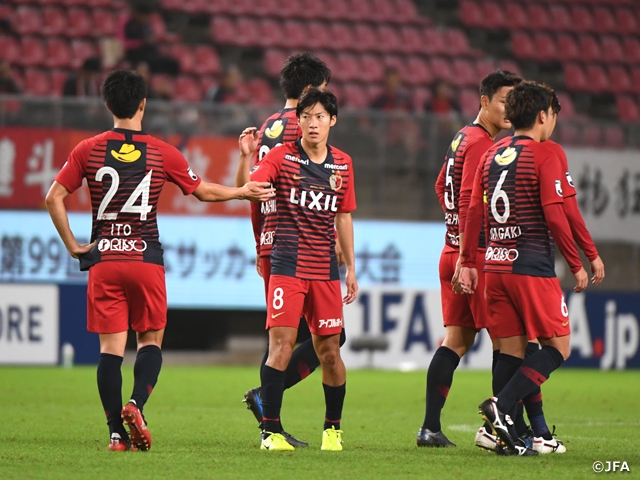 The quarterfinal match between Kashima Antlers, who is seeking for their sixth Emperor's Cup title and the only amateur team left in the tournament, Honda FC came down to the final minute, as the J1 side prevailed at the end with a mere goal. Kashima's coach OIWA Go mentioned after the match, "We weren't able to take control of the match, but we were expecting a tough match from the beginning. We will assess this result positively and move onto the next round."
After advancing through to the quarterfinals by defeating teams like Urawa Red Diamonds, Honda FC carried their momentum into this match, as they applied aggressive pressure to induce mistakes from Kashima. The amateur side did well to keep the ball moving and carry the ball upfront but lacked quality in the final third to capitalise on their opportunities. Kashima on the other hand, marked just one shot in the first half, as their offence looked dysfunctional throughout the half .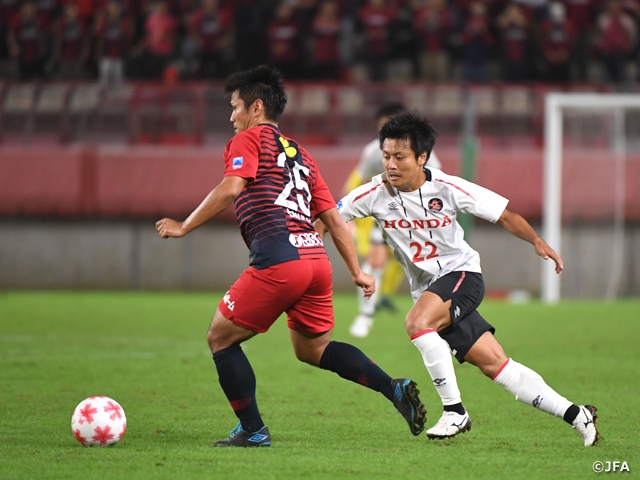 The second half started with a similar development in the early minutes, but it was Kashima who broke the deadlock. The goal came in the 65th minute, when DOI Shoma connected with a cross delivered by ENDO Yasushi from the right side to score the opening goal. In response to this goal, Honda FC started to rally back, as SASAKI Toshiki came close to scoring the equaliser just minutes after the opener. Despite the efforts made by Honda FC, the clock ticked away with Kashima holding onto their one goal lead. In the closing minutes of the match, Honda FC made their final efforts, as Sasaki struck the post with a header, followed by a shot taken by OMACHI Shogo, but his attempt went wide of the goal. With Kashima keeping a clean sheet, the match ended with the J1 side advancing through to the semi-final with a score of 1-0.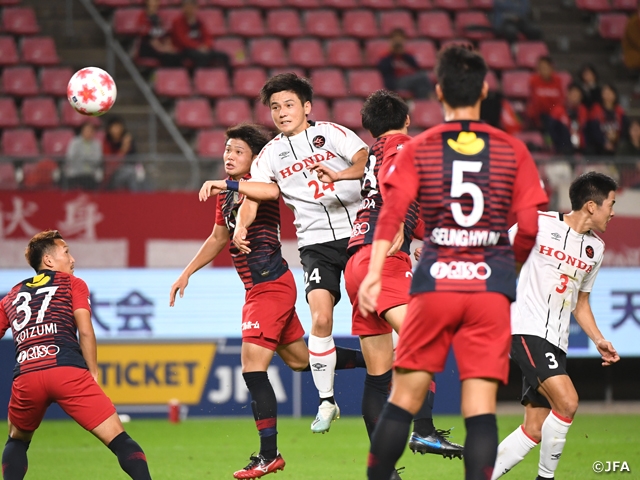 The two sides have now faced each other in two straight Emperor's Cup, as Kashima won 6-1 in their last encounter at the second round. Despite seeing a much closer match this year, Honda FC's coach IBATA Hiroyasu showed his disappointment, "We want to become a better team and face Kashima again. Regardless of how much we possess the ball, how many opportunities we create, a loss is a loss."
Coaches and Players' Comments
OIWA Go, Coach (Kashima Antlers)
Honda played extremely well, and we weren't able to take control of the match, but we knew entering the match that this was going to be a tough match for us. We will assess this result positively and move onto the next round. We have a very important J.League match coming up, so we will prepare ourselves ahead of the match.
MF #8 DOI Shoma (Kashima Antlers)
We faced another tough match today. I played too defensively against our match against Matsumoto. If I don't drop back, we can't move the ball around, but if I drop too deep, I can't get myself involved in our offence. It is a tough dilemma, but I focused on keeping my position high in this match. Although we couldn't create many opportunities, it helped me focus on converting the few chances we had in today's match.
IBATA Hiroyasu, Coach (Honda FC)
Our game plan was to keep a clean sheet during the first half, and although we managed to execute our plan, we made too many mistakes and couldn't showcase our strengths in offence. There must have been something I could have done to help the team change the dynamics of the match. Regardless of how much we possess the ball, how many opportunities we create, a loss is a loss. This was a typical game where we played well but couldn't earn the victory.
DF #5 SUZUKI Yuya (Honda FC)
This was a match we had to win. Our opponent didn't have their full squad because of injuries, and we all know that this was a match we could have won. We saw both sides making many mistakes in the first half. In the scene where we conceded the goal, it was my mistake to leave a player unmarked, so I feel very sorry for my team. That is definitely an aspect I must improve on.
Emperor's Cup JFA 99th Japan Football Championship
【1st Round】Sat. 25, Sun. 26 May
【2nd Round】Wed. 3, Wed. 10 July
【3rd Round】Wed. 14 August
【Round of 16】Wed. 18 September
【Quarterfinals】Wed. 23 October
【Semi-final】Sat. 21 December
【Final】Wed. 1 January 2020