NEWS
Kashiwa defeats F1 Champion Nagoya at Quarterfinals of the JFA 26th Japan Futsal Championship
01 March 2021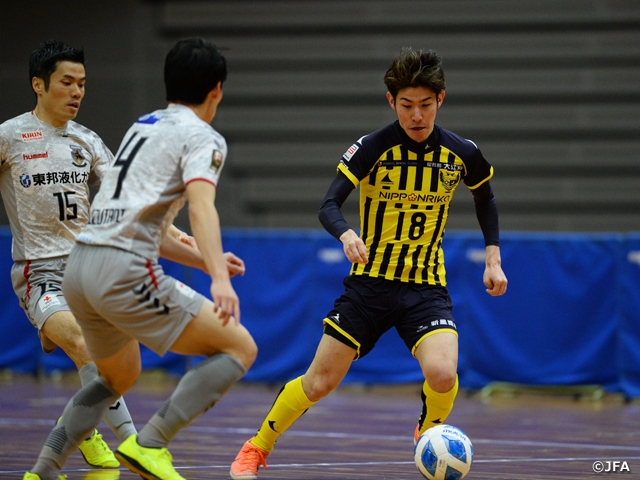 The quarterfinals of the JFA 26th Japan Futsal Championship took place at Mie Prefectural Sun Arena and Komazawa Olympic Park General Sports Ground on Sunday 28 February.
The first fixture hosted at Sun Arena featured the F1 champion Nagoya Oceans (F1/Aichi) and F2 champion Toruela Kashiwa (F2/Chiba).
With Kashiwa missing their captain SHIRAKATA Hidekazu due to cumulative cautions, it was Nagoya who took the initiative in the early minutes. However, the opening goal was scored by Kashiwa in the 11th minute, when SAKAI Daniel Yuji delivered a pass down the right side, allowing UCHINO Shuma to cut the ball back to the centre. With the ball taking a deflection off Nagoya's HOSHI Ryuta, NOMURA Keisuke responded to the loose ball and struck a right footed shot into the net. Kashiwa extended their lead from a counterattack in the 14th minute, when MUNAKATA Hiroki converted a shot from distance. Trailing by two goals, Nagoya responded by converting a CK in the 15th minute.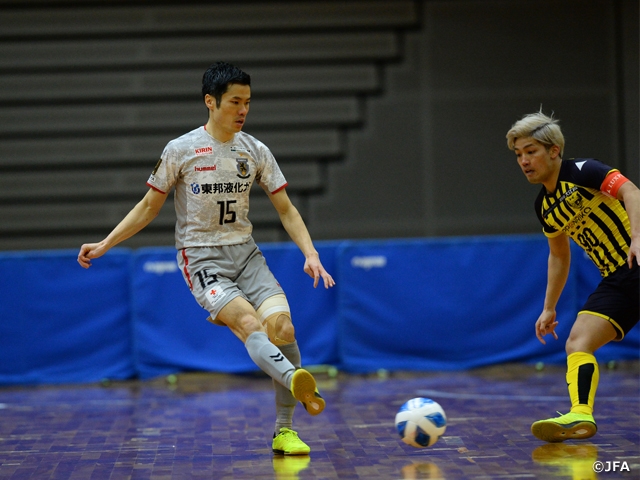 The second half saw Nagoya take full control over the match, but with Kashiwa making tenacious efforts to defend their goal, the F1 champion struggled to score the equaliser. Nagoya's NISHITANI Ryosuke managed to find the back of the net in the 32nd minute, but the goal was not allowed due to a foul committed just before the play. In efforts to level the match, Nagoya deployed their power-play towards the end, but the match ended with Kashiwa holding onto their one goal lead, eliminating the F1 champion from the competition.
Following a major upset, the second fixture between Tachikawa-Fuchu Athletic FC (F1/Tokyo) and Vasagey Oita (F1/Oita) kicked-off at Sun Arena. After seeing the first half end scoreless, the second half was filled with action. Oita's MORI Hikaru started the action with a goal scored in the 26th minute, which was followed by Tachikawa's equaliser in the 31st minute. Mori gave Oita the lead once again with his second goal scored in the 33rd minute, this time followed by his teammate PACATO scoring in the 36th minute to extend the lead. With less than two minutes to go, Tachikawa rallied with back to back goals scored by UCHIDA Shunta and TSUTSUMI Yuta to send the match into overtime.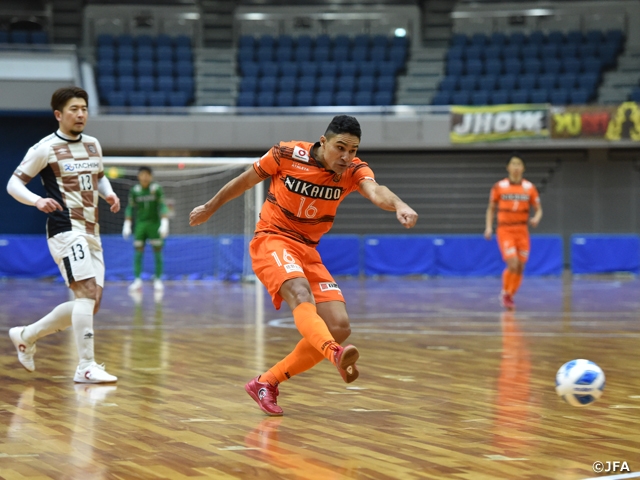 With momentum on their side, Tachikawa took the initiative in the first half of overtime but fell short from finding the net. Oita on the other side, managed to defend through the first half and regained their rhythm in the second half. With YAMADA Kaito and SHIBANO Sota scoring goals in the second half of overtime, Oita advanced to the semi-finals with a final score of 5-3.
Over at Komazawa Olympic Park in Tokyo, Pescadola Machida (F1/Tokyo) won over Shonan Bellmare (F1/Kanagawa) to clinch their seat into the semi-finals, while Fugador Sumida (F1/Tokyo) defeated Y.S.C.C. Yokohama (F1/Kanagawa) in overtime to advance through. The semi-finals will take place on Saturday 6, and the final will take place on Sunday 7 March at Hamamatsu Arena.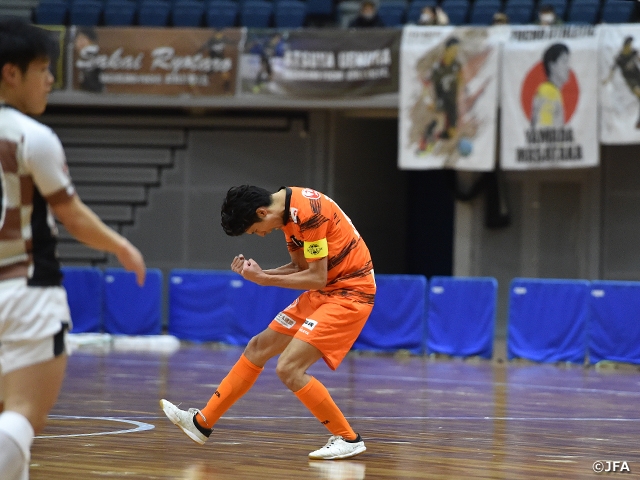 Players' Comments
FP #90 KUMAGAI Toshiki (Toruela Kashiwa)
I am just overwhelmed by joy right now. Despite facing Nagoya, we tried not to change our strategy and keep our aggressive style. We managed to stick with our plan and earn this result. Earning a win over an F1 team really gives us confidence moving forward. Although Nagoya consists many talented players, we were able to keep our minds strong and play without being scared of them. Our team is getting better as we play along, so we hope to win another match and advance to the final.
FP #15 YOSHIKAWA Tomoki (Nagoya Oceans)
I feel responsible for this loss. I played horribly today, and I was involved in the second goal we conceded, too. We were not able to showcase our usual performance today. We failed to find our rhythm and couldn't execute the things we normally do. I wish I could have played better to help the team and that is the biggest regret I have right now.
FP #8 UEMURA Atsuya (Tachikawa-Fuchu Athletic FC)
Throughout the league matches, we have been winning a lot of matches from behind, so we weren't really worried about conceding the opening goal. Although we were able to showcase our usual performance, I think Oita had the upper-hand today. Some of our veteran players will be retiring after this season, so we will do our best to build a new team with who we have and the new players for next season.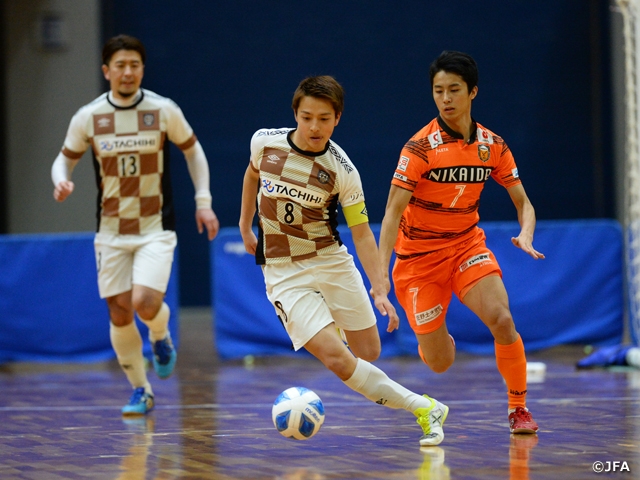 FP #19 MORI Hikaru (Vasagey Oita)
Our goal is to make a deep run at this tournament, so despite facing a tough match, we are just so glad we managed to win the match. I was fortunate to score a brace today. We have been conceding too many goals from power-plays, so we must do a better job at defending them ahead of next week's match. Kashiwa is a very hot team right now, so we must go over our scouting report closely to prepare ourselves.

Quarterfinals 2/28【Full-Match】Toruela Kashiwa vs Nagoya Oceans
Quarterfinals 2/28【Full-Match】Tachikawa-Fuchu Athletic FC vs Vasagey Oita
Quarterfinals 2/28【Full-Match】Pescadola Machida vs Shonan Bellmare
Quarterfinals 2/28【Full-Match】Y.S.C.C. Yokohama vs Fugador Sumida
JFA 26th Japan Futsal Championship
Tournament duration: Fri. 19 February – Sun. 7 March
Venue: Mie Prefectural Sun Arena (Mie), Komazawa Olympic Park General Sports Ground (Tokyo), Hamamatsu Arena (Shizuoka)