NEWS
Regional side Dele Yaone Gifu advance to third round after defeating F2 club at the JFA 26th Japan Futsal Championship
21 February 2021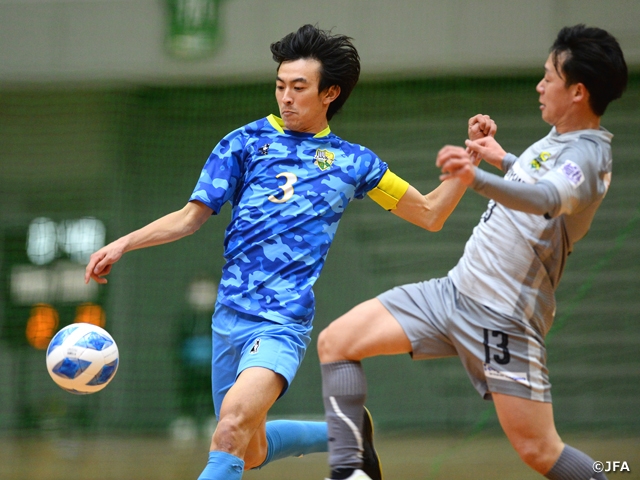 The second round of the JFA 26th Japan Futsal Championship took place on Saturday 20 February, as eight fixtures were played at Mie Prefectural Sun Arena.
The two fixtures kicking off in the morning featured division two sides of the F.League, Deucao Kobe (Hyogo) and Vincedor Hakusan (Ishikawa), who faced Dele Yaone Gifu/AGM (Tokai2/Gifu) and Volviendo Koriyama (Tohoku/Fukushima) respectively. While both clubs conceded the opening goal in the early minutes, the end result came out vastly different for the two sides, as Kobe lost to Gifu 2-6, while Hakusan won 7-2 against Koriyama.
In the fixture between Hiroshima F.DO (F2/Hiroshima) and Novantuno (Hokkaido), Hiroshima's GK OZEKI Jun assisted the goal of TAKEDA Yuya to take the lead. The Hiroshima side went onto score five goals to defeat Novantuno 5-3 to advance to the third round. On court B, Malva Ibaraki fc (Kanto1/Ibaraki) defeated Espolecarna MFC (Kyushu2/Miyazaki) 7-3, thanks to the four goals scored by KARASHIMA Masayuki.
Perhaps the most intriguing fixture of this round featured a matchup between Toruela Kashiwa (F2/Chiba) and Nagoya Oceans Satellite (Tokai1/Aichi). However, it was the Kashiwa side who showcased their dominance in this match, scoring the opening goal in just nine seconds following kick-off. With momentum on their side, Toruela Kashiwa went onto defeat the subordinate team of Nagoya Oceans 6-1 to cruise through to the next round. Another subordinate team of a F1 side, Fugador Sumida Buffaloes (Kanto3/Tokyo) squared off against Crescer FC (Kyushu1/Fukuoka), but once again the team with more experience prevailed at the end, as the Fukuoka side who consists many former players of the F.League bagged a 3-2 victory.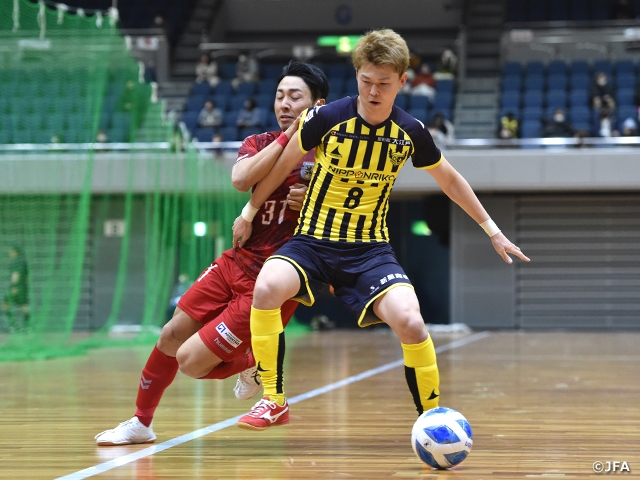 The four teams who advanced through the first round clashed in the remaining two fixtures. In the match between O-PA (Kanto2/Chiba) and Confianza FC (Kansai1/Nara), HANADA Kota scored a brace to give the Chiba side a 3-1 victory. The match between FC miracle smile (Shikoku/Ehime) and Ritsumeikan University intramural club All.1 (Kansai2/Shiga) went into overtime after miracle smile scored a late equaliser from a power-play. After both sides exchanged a goal apiece in overtime, the match entered PKs where the collegiate side grabbed the victory.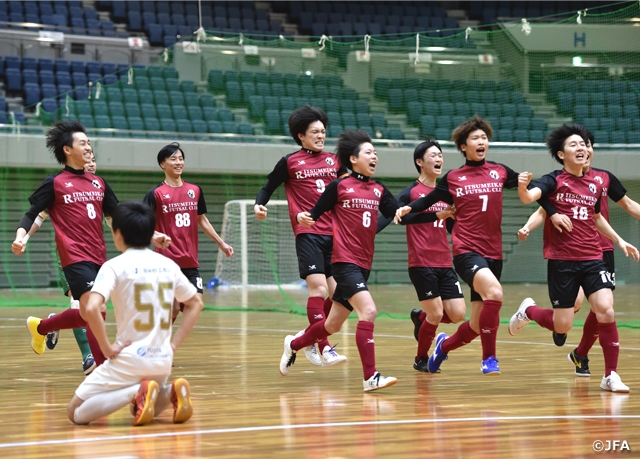 The third round will take place on Sunday 21, to determine the four teams advancing to the fourth round, where 12 F1 clubs will make their appearance. Please stay tuned for more heated action from the JFA 26th Japan Futsal Championship.
Coach and Players' Comments
FP #16 HOSHI Tomoaki (Dele Yaone Gifu/AGM)
We trained hard for this day, so I am very happy with this result. We faced a team from the second division of the F.League, but we spent a lot of time scouting our opponent, so we were thoroughly prepared for this match. The opening goal came from a play we have been using in our league matches, and I am proud of how I scored the second goal. We will face another F2 side tomorrow, so we will continue to give our best efforts and try to make a deep run.
FP #12 SASAKI Ryo (Hiroshima F.DO)
With this being our first match of the tournament, we looked nervous at first, and failed to capitalise on our chances, which made it a very tough match for us. However, we managed to gain momentum in the second half to earn ourselves a victory. We saw other F2 clubs losing against regional sides, so we entered this match with a sense of urgency. It's always hard to face opponents who we have never faced before, so we are glad we managed to win this match.
ASANO Tomohisa, Coach (Malva Ibaraki fc)
We still have plenty of room for improvements, but we managed to execute our game plan for the most part, so that was good. Our club has been working hard to enter the F.League, so this was a match we couldn't afford to lose. We will now face a F2 side, Hiroshima F.DO, an opponent who consists of many talented players and I personally know their coach, so I am looking forward for this match.
GK #21 TABUCHI Hiroshi (Nagoya Oceans Satellite)
We lost our composure after conceding the opening goal at the beginning of the match. We had to reset our minds to fight back, but it was just so unexpected that we didn't know what to do. This is one of those things that can happen in futsal, so we will try to make the most of this experience and move on. Kashiwa is an experienced team, and they were very hard to play against. They showcased quick counterattacks and each of their players seemed to know exactly what they had to do on the pitch.

2nd Round 2/20 【Highlight】Deucao Kobe vs Dele Yaone Gifu/AGM
2nd Round 2/20 【Highlight】Vincedor Hakusan vs Volviendo Koriyama
2nd Round 2/20 【Highlight】Hiroshima F.DO vs Novantuno
2nd Round 2/20 【Highlight】Malva Ibaraki fc vs Espolecarna MFC
2nd Round 2/20 【Highlight】Toruela Kashiwa vs Nagoya Oceans Satellite
2nd Round 2/20 【Highlight】Fugador Sumida Buffaloes vs Crescer FC
2nd Round 2/20 【Highlight】Confianza FC vs O-PA
2nd Round 2/20 【Highlight】FC miracle smile vs Ritsumeikan University intramural club All.1
JFA 26th Japan Futsal Championship
Tournament duration: Fri. 19 February – Sun. 7 March
Venue: Mie Prefectural Sun Arena (Mie), Komazawa Olympic Park General Sports Ground (Tokyo), Hamamatsu Arena (Shizuoka)