NEWS
F1 clubs make appearance while F2 champion Kashiwa wins derby match against Urayasu at the JFA 26th Japan Futsal Championship
28 February 2021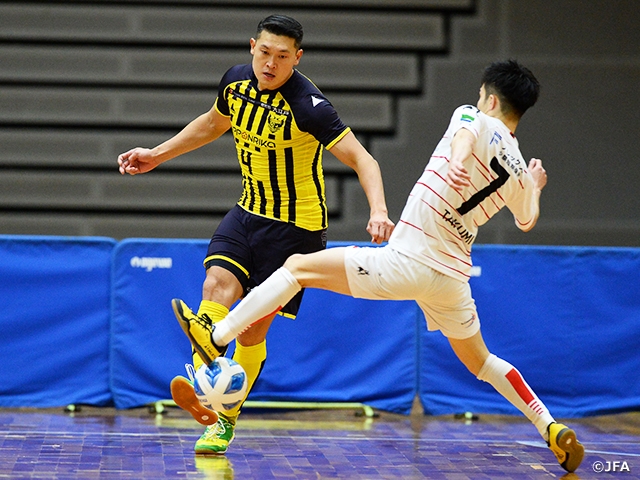 The fourth round of the JFA 26th Japan Futsal Championship took place at Mie Prefectural Sun Arena and Komazawa Olympic Park General Sports Ground on Saturday 27 February.
The first fixture held at Sun Arena featured the "Chiba derby" between Bardral Urayasu (F1/Chiba) and Toruela Kashiwa (F2/Chiba). The match started with the F2 champion Kashiwa taking the initiative, as MATSUBARA Tomohiro converted the cross of YAMADA Shoji in the 12th minute to grab the lead. Former player of Urayasu, NOMURA Keisuke, made it 2-0 in the 15th minute, giving the F2 side a two goal lead at halftime. After SAKAI Daniel Yuji scored Kashiwa's third goal, Urayasu deployed their powerplay, but ended up conceding three more goals to Kashiwa, as the F2 champion walked away with a 6-0 victory to advance to the quarterfinals.
In the second fixture played between Nagoya Oceans (F1/Aichi) and Bork Bullet Kitakyushu (F1/Fukuoka), the Fukuoka side took the early lead with a powerful shot struck by CHAO Palmeiro Christian in the sixth minute. However, the two-time defending champion levelled the match in the 12th minute, with the equaliser scored by OLIVEIRA Arthur, which was soon followed by the go-ahead goal of HOSHI Shota in the 18th minute. With momentum on their side, and with HOSHI Ryuta's brace in the second half, the F1 champions cruised through the fourth round with a 6-1 victory.
The third match between Tachikawa-Fuchu Athletic FC (F1/Tokyo) and Dele Yaone Gifu/AGM (Tokai2/Gifu) saw Tachikawa's WATANABE Tomoaki score the opening goal in the second minute, but Gifu rallied back to take a 3-2 lead at halftime. However, as Gifu's player-coach ARAKAWA Hiroyuki later reflected, "Our opponent had the upper-hand in terms of stamina," the F1 side dominated the second half to come back from behind and secure a 6-4 win to advance to the quarterfinals.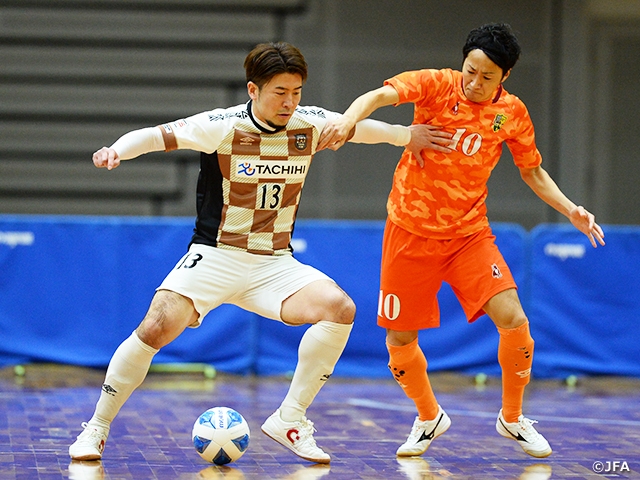 The fourth fixture played at Sun Arena featured two F1 sides clash head to head, as Vasagey Oita (F1/Oita) squared off against Shriker Osaka (F1/Osaka). Osaka got off to a good start, as KATO Tsubasa scored the opening goal in the sixth minute, but it was all Oita from this point on, as the Kyushu side scored four consecutive goals to secure their spot into the quarterfinals with a 4-1 victory.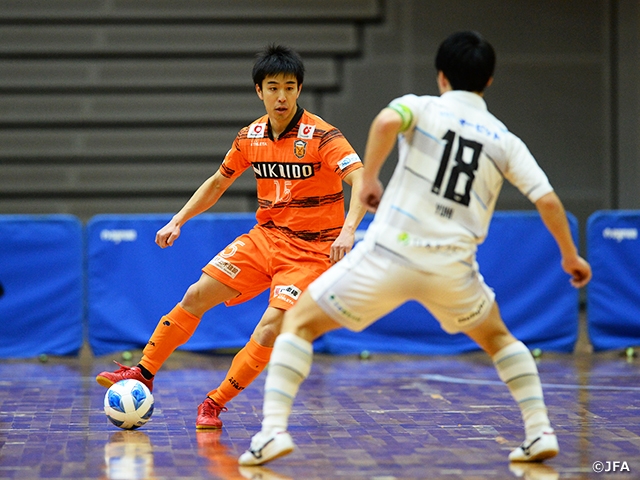 Over in Tokyo, Pescadola Machida (F1/Tokyo) defeated Hiroshima F.DO (F2/Hiroshima) 6-3, while Y.S.C.C. Yokohama (F1/Kanagawa) won over O-PA (Kanto2/Chiba) 5-2. The match between two F1 sides, Shonan Bellmare (F1/Kanagawa) and Espolada Hokkaido (F1/Hokkaido), went into PKs, but it was the Kanagawa side who prevailed at the end. Fugador Sumida (F1/Tokyo) won 6-2 against Boaluz Nagano (F1/Nagano) to advance through to the next round.
The quarterfinals will take place on Sunday 28, as the four teams advancing to the semi-finals will be determined. Please stay tuned for the heated action.
Players' Comments
FP #14 SHIRAKATA Hidekazu (Toruela Kashiwa)
We were able to showcase good pressure in defence and managed to control the match very well. The two goals came from plays we have been working on and the fact that we managed to keep a clean sheet gave us great confidence. We will be competing for a spot at the first division of the F.League, so we must get used to this type of intensity level. Beating an F1 club gives us great confidence and it also give us another shot to play against an F1 club. The next match will be a significant match for us, and I am looking forward for the match, even though I am suspended.
FP #5 HOSHI Ryuta (Nagoya Oceans)
We did not play particularly well in the final stretch of the regular season, and I think that has led to us conceding early in this match. We still have plenty of room for improvements, but at least we were able to score goals and managed to control the match. Our next opponent is a tough team with plenty of experience in these types of knockout tournaments. They will certainly be looking to beat us, so we are expecting a very tough match tomorrow.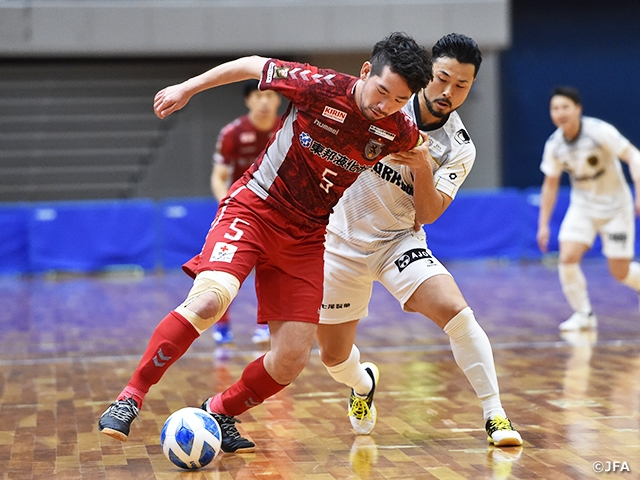 FP #5 MINAMOTO Akira (Tachikawa-Fuchu Athletic FC)
This was a very tough match. Our opponent showed great energy and strengths, so we had a tough time playing against them. We might have let our guards down after scoring the first goal. We faced a lot of players with great skillsets and they were also showed endurance too. We managed to win the match because we believed and executed our plan. Although we gave up the lead after the first half, we were confident that we can win the match after a full 40 minutes, so we were not worried at all. The competition level will rise significantly from tomorrow. Oita finished higher than us at the league, so we will make sure to beat them at this competition.
FP #17 IMAI Sho (Shriker Osaka)
I really didn't want to make this my final match, so this is a regretful result, and I am still pretty upset. Oita showed great defence, and we couldn't find ways to break through. I was able to win two titles in my first year with Osaka, and that was probably the most memorable season. I am very thankful to be given such a wonderful career.

4th Round 2/27 【Full Match】Bardral Urayasu vs Toruela Kashiwa
4th Round 2/27 【Full Match】Nagoya Oceans vs Bork Bullet Kitakyushu
4th Round 2/27 【Full Match】Tachikawa-Fuchu Athletic FC vs Dele Yaone Gifu/AGM
4th Round 2/27 【Full Match】Vasagey Oita vs Shriker Osaka
4th Round 2/27 【Full Match】Pescadola Machida vs Hiroshima F.DO
4th Round 2/27 【Full Match】Shonan Bellmare vs Espolada Hokkaido
4th Round 2/27 【Full Match】Y.S.C.C. Yokohama vs O-PA
4th Round 2/27 【Full Match】Fugador Sumida vs Boaluz Nagano
JFA 26th Japan Futsal Championship
Tournament duration: Fri. 19 February – Sun. 7 March
Venue: Mie Prefectural Sun Arena (Mie), Komazawa Olympic Park General Sports Ground (Tokyo), Hamamatsu Arena (Shizuoka)