NEWS
1,300 kids participate in JFA Uniqlo Soccer Kids in Sapporo
06 November 2014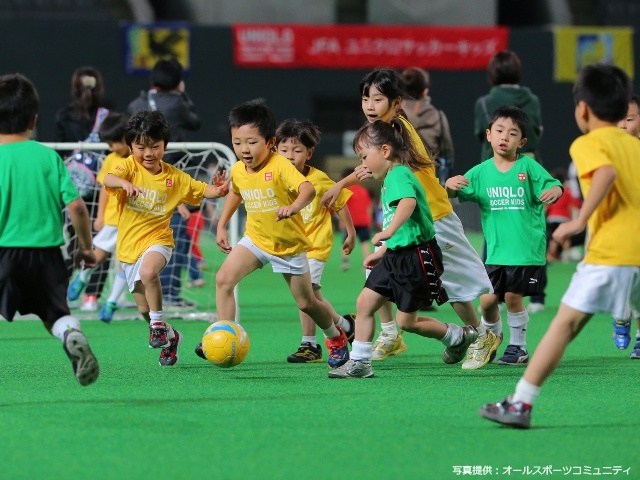 The JFA Uniqlo Soccer Kids is a series of fun football events where any children of age 6 and under can enjoy football. On Monday 3 November, Approximately 1,300 kids from 115 teams, including 72 individual participants, joined the event at Sapporo Dome in Sapporo, Hokkaido.
Former Japan international Kojima Nobuyuki joined football game sessions along with children as a special guest. In cooperation with Hokkaido's J.League and F.League teams, Consadole Sapporo's Dole Kun and Espolada Hokkaido's Rispo, two team mascots, took part in photo sessions with children and gave cheers for kids on the pitch.
The name, logo and registration method of the event were changed from this year. As a few newly-installed features to make the event more enjoyable, an interview backdrop was placed at the event site for the photo session purpose, while participating kids' comments were displayed on the big screen.
The Uniqlo Soccer Kids will continue its festival throughout the nation as it is currently scheduled at 14 venues such as major domes and football stadiums.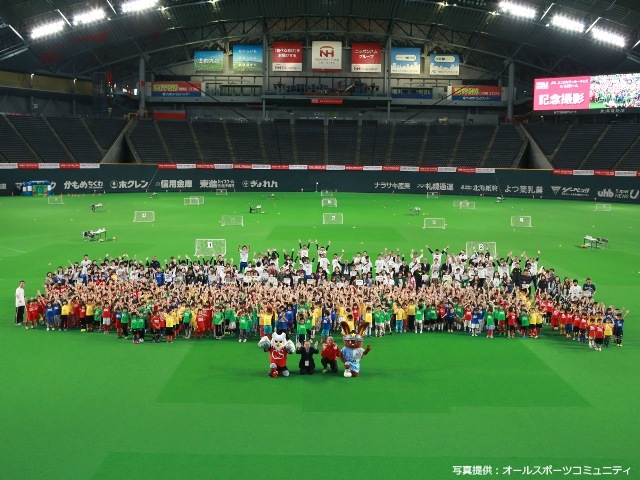 Comments
DEGUCHI Akira, Chairman of Hokkaido Football Association
Did you all enjoy football? You all did a good job today. I saw you were running a lot. I saw you were enjoying your time. Please appreciate for the shirt that you got from Uniqlo and play football in your nursery or kindergarten. There will be an event called Consadole Espolada Cup here at Sapporo Dome next February. I hope you will come and join the event with the shirt on. I would like to express my deep appreciation to Uniqlo, which supported us as a special sponsor. Thank you very much for taking part in the event, Mr. Kojima. Thank you very much, Dole Kun and Rispo Kun. (at the closing ceremony)
KOJIMA Nobuyuki, former Japan international
Some teams won, some teams lost, there could be a lot of kinds of teams, but the most important thing is that you enjoyed your time and worked hard to the end with your friends and your teammates. Today some staff members from pro football and futsal teams came here, so their scout may come to your house in a near future and you would be asked "please sign with us." Mothers and fathers of the players here, they all worked hard today. Please give praise for their work today when you sit around the dinner table. The fun memory is very important for football players. I wish many future Japan internationals will come out from here. Thank you very much. (? at the closing ceremony)
FUKUDA Kasumi, one of participant's parents
I was surprised the event was such a big one supported by Uniqlo. There were 10 pitches in the Sapporo Dome, and a lot of people coming out here were enjoying their time. My children also had opportunities to get to know other teams and experienced a lot of games. I definitely want to take part in this event again.
OHTATSUME Aya, teacher of Asahikawa Futaba Kindergarten
Looking at our children working hard today, I felt I also need to work harder. We got together for a practice only once before coming here. We don't usually play football as part of our programme, so we couldn't score as many goals as other teams. That might disappointed our children, but I want them to get motivated from that for further efforts. We took part in the event with 20 senior grade kids in our kindergarten, who applied for the event. Each family came here by their family car or JR lines and then we made two teams for the games. Our kindergarten has joined this event six or seven times. I saw our children were cheering peers, running and chasing the ball, and their parents cheered their children. We want to join again.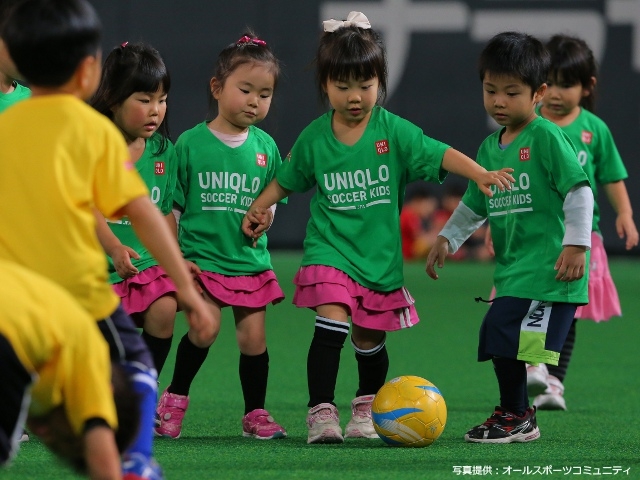 JFA TV
Highlight of Morning Session
Highlight of Afternoon Session
Name of event
JFA Uniqlo Soccer Kids in Sapporo Dome
Date
Monday/Holiday. 3 November 2014
Schedule
Morning session: Gate open 09:15 Opening Ceremony 9:30, Festival 10:00-11:55, Closing Ceremony at 12:05
Afternoon session: Gate open 13:15 Opening Ceremony 13:30, Festival 14:00-15:55, Closing Ceremony at 16:05
Venue
Sapporo Dome (1 Hitsujigaoka Toyohiraku Sapporo City)
Game format
8-a-side mini soccer festival
Size of pitch: 26m×16m (Total of 10 pitches)
Number of games per team: about 3 games Playing time: 10 min
Target participants
Preschool age children 6 years old or younger
Host organizations
Japan Football Association and Hokkaido Football Association
Special sponsor
Uniqlo Co., Ltd.
Associate sponsors
Hokkaido / Sapporo City / The Hokkaido Prefectural Board of Education / Hokkaido Sports Association / The Sapporo City Board of Education
Special guest
Mr. KOJIMA Nobuyuki(former Japan International)
Soccer Families
Teams
Men
Women
Total
U-6 age group (team participation)
115
911
288
1,199
U-6 group (individual participation)
62
10
72
Total
115
973
298
1,271
Spectators
3,350
Staff
102
Soccer families total
4,723
2014 Event Venue List
| | | |
| --- | --- | --- |
| Sunday 8 June 2014 | Fukuoka | Fukuoka Yahuoku! Dome |
| Monda 21 July 2014 | Aichi | Nagoya Dome |
| Monday 15 September 2014 | Tokyo | Tokyo Dome |
| Sunday 5 October 2014 | Iwate | Iwate Sports Park Athletic Field |
| Monday 13 October 2014 | Toyama | Toyama Athletic Recreation Park |
| Sunday 19 October 2014 | Ibaragi | Kashima Soccer Stadium |
| Monday 3 November 2014 | Hokkaido | Sapporo Dome |
| Sunday 16 November 2014 | Miyagi | Kesennuma Elementary School |
| Monday 24 November 2014 | Saitama | Seibu Dome |
| Saturday 29 November 2014 | Kumamoto | Kumamoto Sports Park Auxiliary field |
| Sunday 7 December2014 | Okayama | kanko Stadium |
| Sunday 21 December 2014 | Yamaguchi | Yamaguchi Kirara Memorial Park |
Besides these events, the event in Osaka and Kanagawa is planned after January 2015. The information will be available on JFA official site once the detail is fixed.
Special sponsor