NEWS
S-Licence Coaching Course 2021 Module3/Intensive Course (6) Participant's Report Vol.9
24 September 2021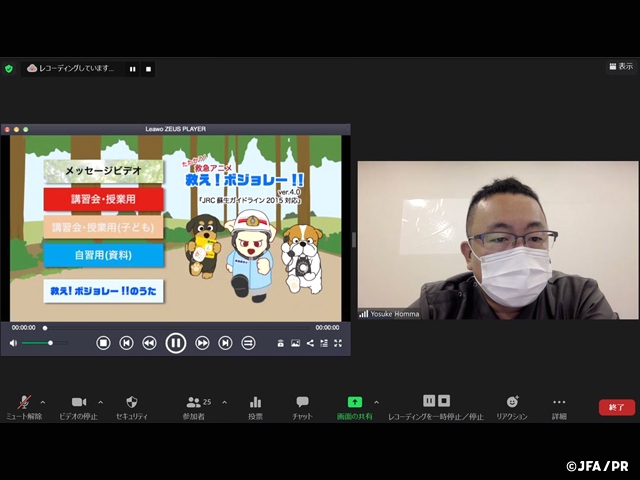 As we entered the last week of Module 3, the participants have become accustomed to the online course, and they are now actively chatting online during breaks and after lectures. In the sports paramedic lecture, each participant actively engaged in practical training despite being held online. The instructors will visit the participants' clubs during the period leading up to Module 4, which will start on Monday 18 October.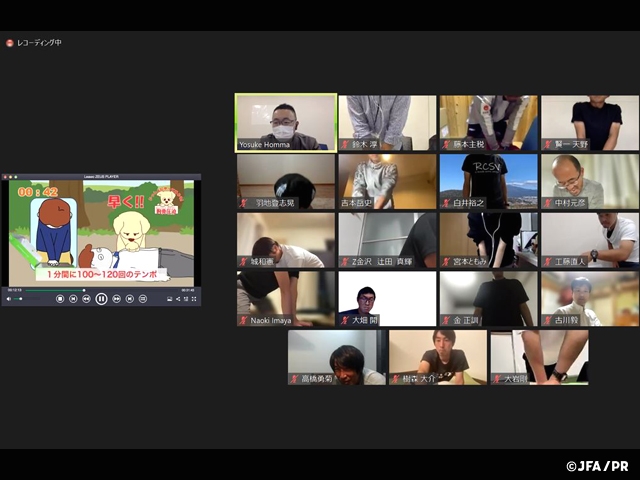 Module 3 Intensive Course (6)
Date: Mon. 13 - Thu. 16 September
Mon. 13 September
・Physical conditioning: Professor HIROSE Norikazu (Waseda University)
・Professional coaching theory: SUZUKI Jun (JFA Class S Instructor)
・Presentation
Tue. 14 September
・Sports Paramedic: Dr. FUKUSHIMA Yoshifumi (Juntendo University Hospital),
 Dr. HOMMA Yosuke (Chiba Kaihin Municipal Hospital)
・Presentation
Wed. 15 September
・Professional coaching theory: Coach CHO Kwi-jae (Kyoto Sanga FC)
・Activities of JFA: KAGEYAMA Masanaga (JFA Class S Instructor)
Thu. 16 September
・Professional coaching theory: OIWA Go (JFA Class S Instructor),
 SUZUKI Jun (JFA Class S Instructor)
・Module3 review
Participant's Comment
Mr. Takahashi Yuki (Toyama Shinjo Club)
Continuing from last week, the last week of Module 3 took place online from Monday 13 to Thursday 16 September. This week we went through four presentations held by the participants, and lectures on physical conditioning, professional coaching theory, sports Paramedic, and activities of JFA.
To start with, Professor HIROSE Norikazu gave us a lecture on physical conditioning. During the lecture, we were divided into groups of four people to discuss topics such as: Is there good communication between the technical side (coaches) and the medical side (trainers and doctors) on the field? If you have a physical coach, what is his or her position? What problems do you have in practice? What are the criteria for an injured player to return to play? What is the difference between rehabilitation and reconditioning? Knowing these things can help protect players, teams, and clubs, and we learned that "fairness is more important than equality" because injured players vary from person to person, and that "it's more of a principle than a standard" when it comes to recovery from injury.
This week, we also went through the final presentations. The instructors and participants gave new insights and suggestions to those who had given presentations so far, and we were able to make up for what we hadn't noticed. It felt that the next presenter was able to learn and make the most of the previous presentations, and that the quality of the presentations was improving with each successive session. Even so, there seemed to be new aspects emerging every time, such as the depth of research, theme understanding, tone of language, and time management. This time, all participants finished their presentations, and each of them was able to confirm what went right and what they need to correct. Although it was a rare task for us, I felt that the participants were able to learn how to communicate "what," "to whom," and "how," in their own words as coaches.
In Sports Paramedic, Dr. FUKUSHIMA Yoshifumi from Juntendo University Hospital and Dr. HOMMA Yosuke from Chiba Kaihin Municipal Hospital gave us a lecture on heatstroke, concussion, and commotio cordis. We also practiced the use of AED and learned how to conduct chest compressions for CPR. These were issues that have been addressed globally and could occur at any given time. As much as it is important to know how to prevent these problems, and how to deal with them when they do occur, this lecture reminded us that it requires courage and composure. During the part where we learned how to conduct chest compressions, Dr. Homma told us to be "strong, fast, and constant," as we repeated the massage. All participants worked hard to learn the procedures, as it would be useful not only in football but also in our daily lives.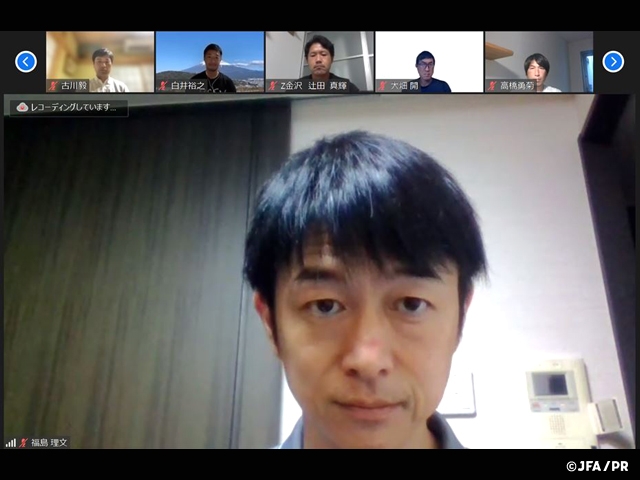 In the section of professional coaching theory, we listened into the lectures given by Mr. SUZUKI Jun, Mr. OIWA Go, and Coach CHO Kwi-jae who is the current head coach of Kyoto Sanga FC.
Mr. SUZUKI Jun mainly talked about team management. Through his own experience, he talked about the importance of understanding the philosophy and direction of the club, and the need to build good relationships with all parties involved, including the coaching staffs, players, development department, and club staffs. It struck me when he mentioned, "Instead of being enthusiastic about managing the team well, the team might come together if you just have a wider perspective."
Mr. OIWA Go also shared his experiences, such as the team schedule when he was a head coach, and the direction in which his team was heading towards back then. He mentioned that his first job was to answer to the question of his manger at the time, "What time does training start tomorrow?" and made it clear that "the most important job of a coach is to make decisions," which reminded us the importance of this job.
Coach CHO Kwi-jae gave us a very valuable insight on why his team is currently in such good form, and how to use young players, veteran players, and foreign players. Among the things he said, I was impressed when he mentioned, "I believe in the power of words," and that the team's intensity level will change depending on "when, at which timing, and who" you use. He also answered many questions from the participants in a friendly manner, which was very helpful.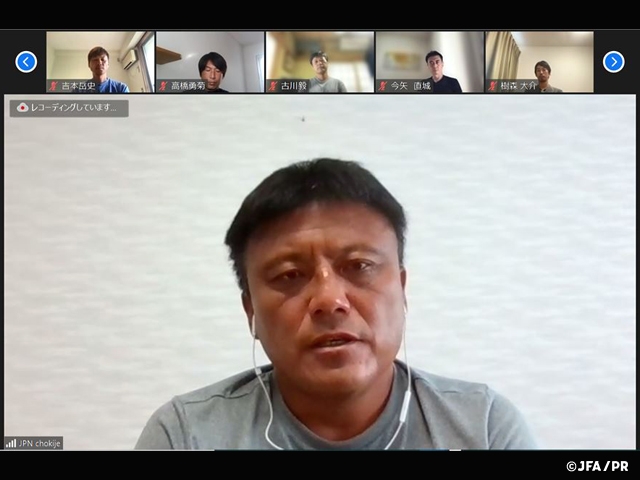 In the final section of the course, Mr. KAGEYAMA Masanaga, who is also a JFA Class S Instructor, gave us a lecture on the activities of JFA, where he talked about the problems he sees at the youth development categories. He mentioned that we need to work together in order to bring changes and that it takes a lot of time and energy to change something. During this lecture, many of the participants raised the issues of school education, disparity between school teams and clubs, and cultural issues, but it really got us thinking when Mr. Kageyama asked us, "Is it okay to lose the good qualities of a country, its culture and education, if football becomes stronger?"
We have now concluded Module 3. As I spent my time learning and getting inspired, I have been thing of the things I can do and what I should do, which reminds me that each day is filled with small decisions. I will continue to give my best efforts to improve myself and strive to reach a higher level.
Next time we will share the report of coach Tsujita Masateru (Zweigen Kanazawa U-18).