NEWS
On the passing of Mr. Ivica OSIM
02 May 2022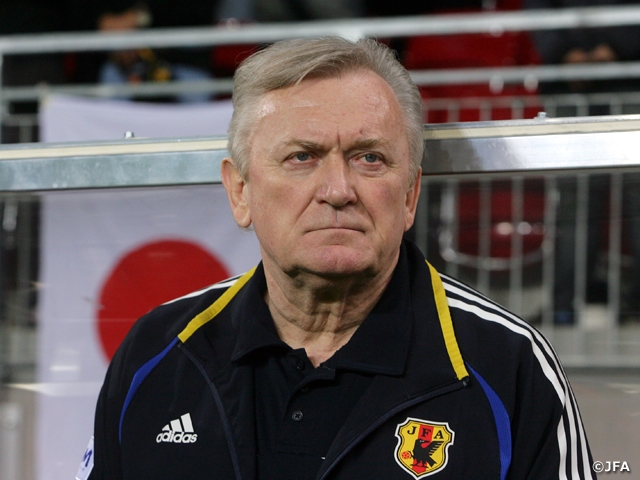 We are deeply saddened to hear of the passing of Mr. Ivica OSIM. Here are the comments of JFA Executive Advisor KAWABUCHI Saburo, JFA President TASHIMA Kohzo, JFA Technical Director SORIMACHI Yasuharu, and SAMURAI BLUE (Japan National Team) Head Coach MORIYASU Hajime.
KAWABUCHI Saburo, JFA Executive Advisor
I would like to express my sincere condolences on the passing of former Japan National Team Head Coach, Mr. Osim. My first memory of Mr. Osim was at the 5th/6th place match at the Tokyo 1964 Olympic Games, also known as the "Osaka Tournament," held at Nagai Stadium, Osaka. The tall, slender, and very skilful centre forward from the Yugoslavia National Team, who I later found out was Mr. Osim, left a strong impression on me because he was a great player, but the fact that he led the Japan National Team 42 years later makes me believe it was fate that brought him to Japan.
The moments which will forever be engraved in my memory are my "Osim blunder" and when Mr. Osim suffered a stroke. I attended a press conference with the intention of apologising to the Japanese fans after we were eliminated from the group stage of the 2006 FIFA World Cup Germany™ despite the high expectations ahead of the tournament, but I inadvertently mentioned the name "Osim" as we entered the Q&A session and was heavily criticised for it. I was worried that he might not accept the position because of my blunder, but Mr. Osim accepted our offer without making any criticism, saying that "a president does not have to apologise for such matters." He was always considerate of my position.
When I heard the news that Mr. Osim had suffered a stroke in November 2007, I was really shocked and prayed for him every day. Thanks to the dedicated work of the doctors, he managed to survive, and when we were finally allowed to visit him at the hospital, he was just about to finish his rehabilitation session. His first words to me were "I cannot accept that I have to say 'thank you' after being tortured so much (during rehabilitation)." I will never forget the playful smile he had on his face at the time.
He valued players who were dedicated to the team and taught them important lessons using thought-provoking words. He instilled "Osim-ism" into JEF United Ichihara Chiba and developed them into a strong team with many players being called up to the Japan National Team. Perhaps it is time for the J.League clubs to revisit "Osim-ism," reflect on the philosophy of Mr. Osim, and strive to strengthen football in Japan.
It was a tremendous honour for Japanese football to have had a great coach like Ivica Osim leading JEF United Ichihara Chiba and the Japan National Team. I would like to express my sincere condolences.
TASHIMA Kohzo, JFA President
Last night, we received word that Mr. Osim had passed away, leaving us with many fond memories of him. He led the Yugoslavia National Team in the 1990 FIFA World Cup Italy™ and excelled in building great teams including JEF United Ichihara Chiba. He displayed great ability to seize the hearts of the players and developed them through intensive trainings designed to make them think and make decisions on their own. He has also helped the development of many players since taking over as Head Coach of the Japan National Team. I believe he is the very definition of a great coach. It was a miracle that he managed to recover from the stroke he suffered on 16 November 2007, but it was really hard for me to inform him of our decision to replace him with a new Coach in the midst of his tenure. I cannot imagine how disappointed he must have felt with our decision, and to this day, this remains a moment that I am unable to forget. We were told that he has been spending time in Graz, where he had achieved success as a coach. He may have had a turbulent life with the Yugoslav Wars and illness, but because of what he has gone through, his words were so persuasive and impactful to us all. We pray that he may rest in peace. And we thank him for all he has done.
SORIMACHI Yasuharu, JFA Technical Director
We regret to hear that the very man we used to call "Dad," the father of Japanese football, has passed away. We pray that his soul may rest in peace.
During my time as a Coach in the J.League, I was shocked by the combination of solid defence and fluid attacks showcased by JEF United Ichihara Chiba, as they never seemed to lack ideas to create a numerical advantage on the pitch. I also had the pleasure of working with Mr. Osim at the 2005 J.League All-Star Soccer, in which I served as head coach while he was the assistant coach of the EAST team.
In 2006, Mr. Osim was appointed as Head Coach of the Japan National Team, while I joined the team as Assistant Coach, and I cannot remember how many times I was scolded by him. The word "compromise" was not in his dictionary and there is no doubt that he is still the most influential coach I have ever met.
Two years ago, the SAMURAI BLUE played international friendlies against Panama and Mexico in Graz, Austria. I regret that I was not able to see him and invite him to attend our matches because of the ongoing pandemic, even though we were very close from his home.
Rest in peace, "Dad."
MORIYASU Hajime, Head Coach of SAMURAI BLUE (Japan National Team)
We are deeply saddened and feel a great sense of loss by the news of his sudden passing. Although I never had the opportunity to work with him on the same team, his passion for football and football philosophy were always a great inspiration to me. I was very encouraged by his suggestion to "establish a more Japanese way of playing football" and I have kept these words in my heart as I face football on a daily basis.
As Head Coach of the Japan National Team, I would like to carry on what Mr. Osim has left behind and pass it on to the future, so that we can continue to keep his legacy alive in the Japanese football community. Thank you for all you have done. May you rest in peace.