NEWS
YAMASHITA Yoshimi named to officiate games in the FIFA World Cup Qatar 2022™
20 May 2022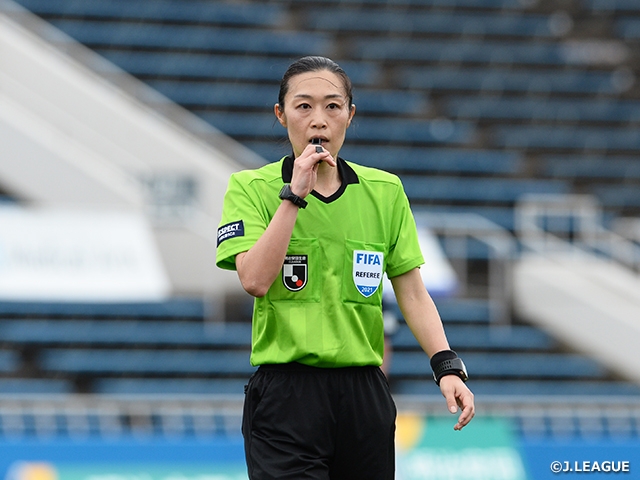 FIFA announced the list of referees chosen to officiate the games in the FIFA World Cup Qatar 2022™, which will take place in November and December. Among the list, YAMASHITA Yoshimi was selected from Japan, becoming one of the first female referees chosen to officiate at the FIFA World Cup™, as a total of three female referees and three assistant referees were named for this event.
FIFA World Cup Qatar 2022™
Dates: Mon. 21 November - Sun. 18 December
Profile of Referee YAMASHITA Yoshimi
Name: YAMASHITA Yoshimi
Birthplace: Tokyo
International referee registration year: 2015
International competitions refereed:
2015 The 28th Summer Universiade (2015/Gwangju)
2016 FIFA U-17 Women's World Cup Jordan 2016™
2017 The 29th Summer Universiade 2017 Taipei
2018 AFC Women's Asian Cup Jordan 2018
2018 FIFA U-17 Women's World Cup Uruguay 2018™
2019 FIFA Women's World Cup France 2019™
2021 Games of the XXXII Olympiad (Tokyo 2020)
2021 AFC Women's Club Championship 2021 – Pilot Tournament
2022 AFC Women's Asian Cup India 2022™
2022 AFC Champions League 2022
*Became the first female referee to officiate a J.League match in 2021 (J3 League match between Y.S.C.C. Yokohama and Tegevajaro Miyazaki on 16 May) and continued to be appointed as a J.League referee in 2022.
Comment
I am very honoured to be selected and cannot thank you all enough. In order to ensure the success of the tournament, I will prepare myself to the best of my ability and enter the tournament with the pride and responsibility as a representative of Japan.