NEWS
JFA renews partnership with Confederación Sudamericana de Fútbol
04 April 2022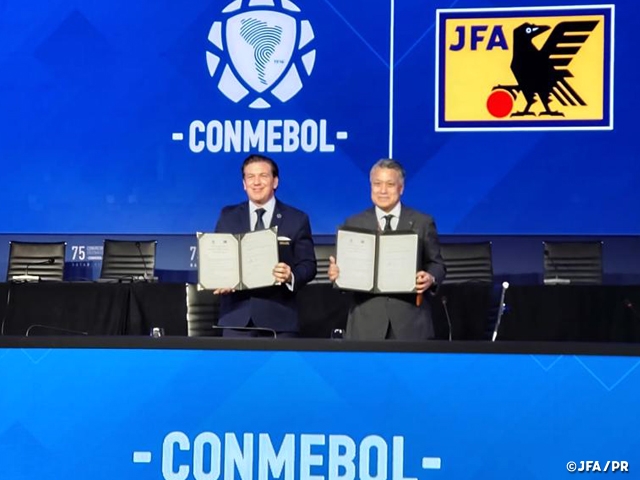 Japan Football Association (JFA) signed a renewed Memorandum of Understanding (MoU) with Confederación Sudamericana de Fútbol (CONMEBOL) on 1 April 2022.
The MoU focuses on knowledge sharing and exchange programmes in order to deepen even further the friendly relationship between CONMEBOL and JFA.
The signing ceremony took place at The St. Regis Hotel in Doha, Qatar, and went in an amicable manner with the presence of Mr. Alejandro DOMINGUEZ, President of CONMEBOL, and Mr. TASHIMA Kohzo, President of JFA. Both positively discussed as to how various exchanges can be conducted through the renewal of partnership this time, and expressed high expectations for future projects.
The MoU between CONMEBOL and JFA aims to cooperate with each other in the areas as follows:
1. Mutual participation in competitions of each category
2. Knowledge-sharing between administrative and management staff
3. To have assistance by CONMEBOL for JFA to establish favorable relationship with Member Associations/Federations of CONMEBOL (including the matters related to future partnerships)
Until today JFA has signed a MoU with the following football associations, confederation and club:
[Asia]
East: Chinese Taipei, Hong Kong, Mongolia
ASEAN: Indonesia, Laos, Malaysia, Singapore, Thailand, Vietnam
Central: Iran, Uzbekistan
West: Jordan, Oman, Qatar, United Arab Emirates
[Europe]
Belgium, Denmark, England, France, Germany, Russia, Spain, FC Bayern München
[South America]
CONMEBOL, Argentine, Paraguay, Venezuela