NEWS
JFA Academy Sakai English Conversation Programme
26 October 2022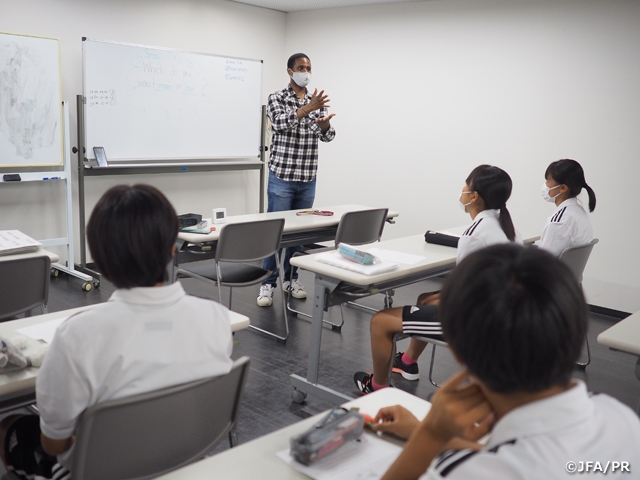 JFA Academy Sakai offers a wide range of programmes on and off the pitch. The English conversation programme is one of these, which allows students to practise English with a native English-speaking teacher. Mr. Brian, who is in charge of this year's programme, conducts fun classes where the students can actively think on their own, practice how to ask questions in English, and introduce what they like to do or where they like to go on their day offs.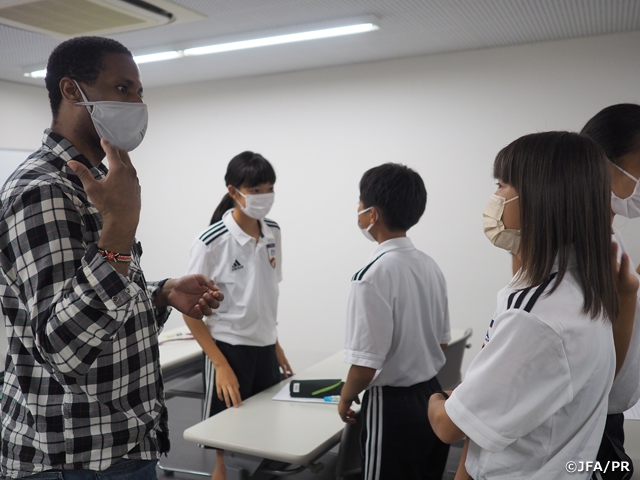 Comments
TORIYAMA Ayumi (9th Class/Takefu FC Junior Youth)
During English conversation time, students speak only in English with little or no Japanese. Mr. Brian's classes are very fun. Even if we make mistakes, he allows us to try over and over, which makes it easier for us to engage in the activities. When practicing how to introduce places and people in English, I always try to come up with the sentences in advance, so I am also getting better at writing. English is a universal language, and I am happy to learn it in this fun way. Everybody loves Mr. Brian, and the 40-minute class goes by very quickly. When I can't communicate in English alone, I use gestures to try to get my message across. I want to improve my communication skills through this programme.
BANBA Mei (10th Class/Bunnys Kyoto SC flaps U-15)
I always look forward to this English conversation programme because I get to speak to a native teacher. This class let's you improve your ability to express yourself using the words you know. The teacher is very kind and teaches us new words, which can be used in our English classes at school. We are also given time to come up with our own sentences and present them in front of the class, which gives us an opportunity to practice speaking English and build our confidence. We sometimes play card games in English, which is one of my favourite activities. I want to make the most of each lesson so that I can speak English when traveling abroad.
HAYASHI Naomi (11th Class/RESC Girls U-15)
Mr. Brian is our teacher for this English conversation programme. We first started to practice how to introduce each other in English. I enjoyed our recent lesson where we practiced introducing places we have visited before. Whenever we have questions, we ask Mr. Brian, and he always helps us in an easy to understand fashion, which makes his classes so enjoyable. During the last class, we played a game where we had to explain a certain topic in English and the rest of the class had to guess what the topic was. It was difficult because I didn't have enough vocabulary to explain the topic, but the teacher taught me new words along the way, which gave me a good opportunity to learn new vocabulary and complete the game. I also practised using pronouns such as He and She. I want to practise using what I have learnt so that I can learn to like English more.