NEWS
JFA Academy Imabari conduct Life Skills Programme
13 October 2022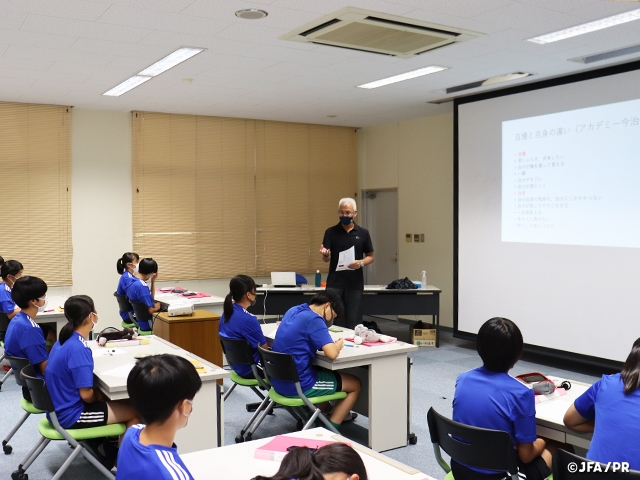 JFA Academy Imabari ran a three-day Life Skills programme from Monday 3 October. On the first day, all three grades worked together to learn how to draw a growth curve and learned how to think vertically and horizontally in order to grow as a football player. In the activities held by each grade, the eighth class (first grade of Junior High School) reflected on themselves using a mind map, while the sixth and seventh classes (second and third grade of JHS) deepened their thoughts on assertiveness and self-confidence.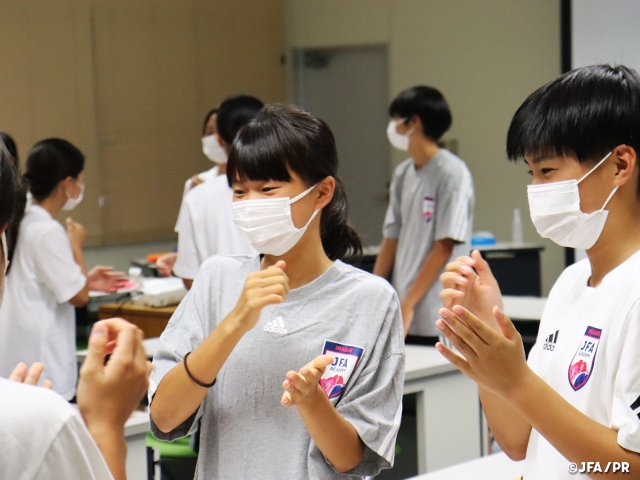 Academy Players' Comments
OKAMURA Miu (6th Class/FC Cormoladies Azalea)
One thing in particular that I have found through this Life Skills programme is that I need to think more vertically. Because whenever I make a mistake, I tend to compare myself to other people and easily get frustrated. In order to fix this, I think it is important to think vertically, not to compare myself with others, and to face myself to build up my self-confidence. From now on, I will always try to think how I can improve, make conscious efforts to think vertically so that I can change for the better and become a better player than I am now.
MATSUMARU Chika (7th Class/FC Imabari Ladies NEXT)
I have learnt two things through this Life Skills programme. The first thing is that I should not think laterally. I used to compare myself with other people when I had problems. So, from now on, I will think vertically and try to know myself better. The second thing is that you can't change the past. Even though I know I can't change the past, I still tend to dwell on past plays and events. It is important to look back, but it is also important to reset your mind. I hope to make use of these new findings to improve my game.
YAMAOKA Kaho (8th Class/Kochi Gakuen Kochi Junior High School)
Mind mapping has given me the opportunity to think about myself and how I can overcome my weaknesses. I want to be able to concentrate when studying and to write neatly at all times. In football, I want to be able to communicate my thoughts clearly and give instructions to my teammates during the game. When I look back at myself, I had been thinking horizontally, wondering why I couldn't do things that everyone else could do, so from now on I want to change to a positive, vertical mindset and strive to become a better player.