NEWS
Urawa and Nippon TV advance to final of the JFA 24th U-18 Japan Women's Football Championship
07 January 2021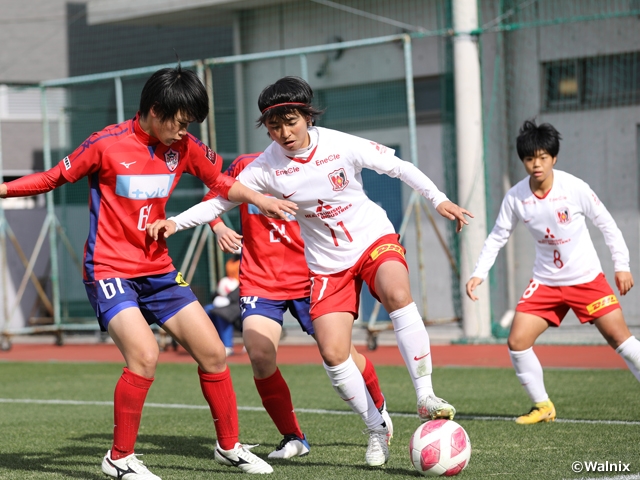 The semi-final fixtures of the JFA 24th U-18 Japan Women's Football Championship took place at J-GREEN Sakai on Wednesday 6 January.
Semi-finals 1
Urawa Red Diamonds Ladies Youth 2-0 (1-0, 1-0) Nojima Stella Kanagawa Sagamihara Due
Despite the strong wind, the match started with Urawa Red Diamonds Ladies Youth (Kanto1/Saitama) connecting short passes to take control over the ball possession. By collecting the ball to SHIMADA Mei and TANNO Ririka, Urawa created numerous opportunities to threaten the opposing goal, but led by their GK HONDA Hinata, Nojima Stella Kanagawa Sagamihara Due (Kanto5/Kanagawa) showcased great defence to keep the Saitama side at bay.
Urawa managed to break the deadlock just before the break, when Tanno carried the ball into the box to strike a shot. Although her shot was initially blocked, Shimada was there to convert the loose ball, giving Urawa an 1-0 lead at halftime.
After managing to minimise the damage despite conceding 10 shots to Urawa in the first half, Nojima brought in SASAI Chinari and UTSUGI Nozomi during halftime to rally back in the second half. Although NEBU Momoko and Sasai came close to scoring a goal, their efforts were denied by the Urawa defence, as Shimada later reflected, "Rather than scoring another goal, we focused on keeping a clean sheet." With NISHIO Hanon adding another goal in the 90th minute, Urawa Red Diamonds Ladies Youth won the match 2-0.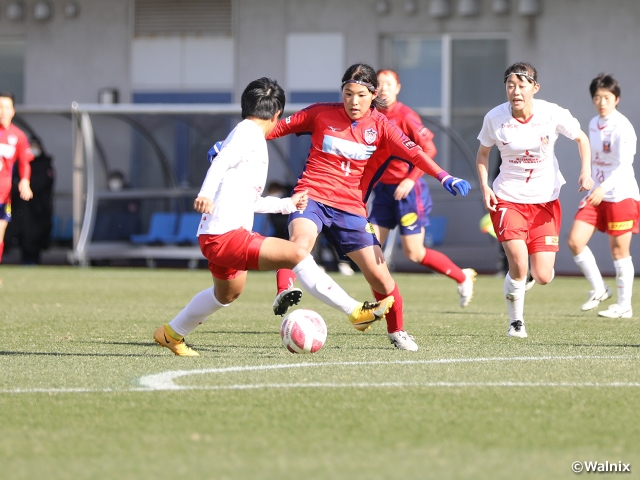 After making their way into the final, Urawa's coach KUSUNOSE Naoki shared his aspiration, "It's been a while since we won the title, so we will enter the match as a challenger."
Semi-finals 2
JEF United Ichihara Chiba Ladies U-18 0-1 (0-0, 0-1) Nippon TV Tokyo Verdy Menina
The second semi-final match started with Nippon TV Tokyo Verdy Menina (Kanto3/Tokyo) taking control of the match through their attacking football style, as OYAMA Aemu later reflected, "We knew we were entering a tough match, so we focused on showcasing our usual football." However, the Tokyo side struggled to break down the defence of JEF United Ichihara Chiba Ladies U-18 (Kanto2/Chiba), who is yet to concede a goal at this tournament.
After being kept scoreless in the first half, Nippon TV brought KINOSHITA Momoka, who plays for the top team, in the second half, but continued struggle against the JEF United defence.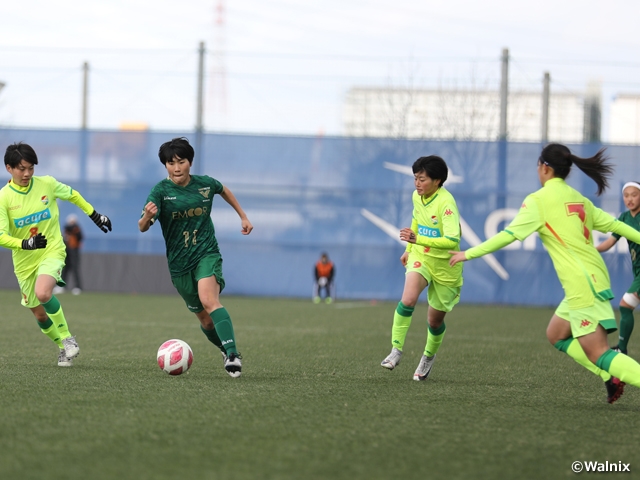 The deadlock was finally broken in the 86th minute, when IWASAKI Kokona converted a loose ball following a CK to give Nippon TV the long awaited lead. Oyama, who took the CK later described the play, "I was first thinking of taking a short corner, but with just a few minutes left, I decided to go for the high percentage play."
After winning the match 1-0, Oyama mentioned, "We lost to Urawa at the Kanto qualifiers, so we hope to showcase a better performance at the final and take home the title."
Coach and Players' Comments
SHIMADA Mei (Urawa Red Diamonds Ladies Youth)
We entered the match with the intention to apply aggressive pressure from the frontline. Although we struggled to score goals, we kept telling each other to keep our patience. I am always anticipating on laying off the ball upfront, making runs in front of the goal, and converting the loose balls, so I am glad I was able to earn results at the semi-finals. I believe that positive results will follow if I can continue to fulfil my role as a FW, so we will give our best efforts as a team at the final.
NEBU Momoko (Nojima Stella Kanagawa Sagamihara Due)
Our game plan was to play solid defence and to capitalise on our few chances. Conceding the opening goal was within our expectations, so the first half went just as we planned. In the second half, we were able to utilise our midfielders to connect the ball from our defence line to our attackers, but we failed to create much shooting opportunities to threaten the opposing goal. Throughout this tournament, I was able to showcase my ability to initiate attacks for our team, I was not able to score many goals, so that is an area I must improve on.
INOUE Chisato (JEF United Ichihara Chiba Ladies U-18)
We faced an opponent who was capable of deploying a solid passing game, so we knew we couldn't let our guards down. We entered the match with great focus and managed to keep the first half scoreless. However, we conceded from a CK at the very end, which was one of our biggest weak points of the season. Although we were limited with our football activities due to the effects of the pandemic, we still entered this tournament with the goal of defending the title. We struggled to win matches during the early part of the season, but we managed to get ourselves on the same page as the season progressed, and today, we were able to showcase a football style that best represents us.
SAKAGUCHI Keisuke, Coach (Nippon TV Tokyo Verdy Menina)
Every time we face JEF United, they form a block at the centre, and this match was no different. We were bracing ourselves to enter PKs, but we managed to score a goal to end the match in 90 minutes. It would have been better if we scored from a run of play, but that's an area we still need to improve on. Urawa is our club's rival at every age category, and they are an opponent we cannot avoid when competing for the national title. We had a tough draw at this tournament, but if we can win over Cerezo, JEF, and Reds at the same tournament, it should give our players great confidence moving forward, so we hope to get over one more hump and strive to reach a higher level both as a team and as individuals.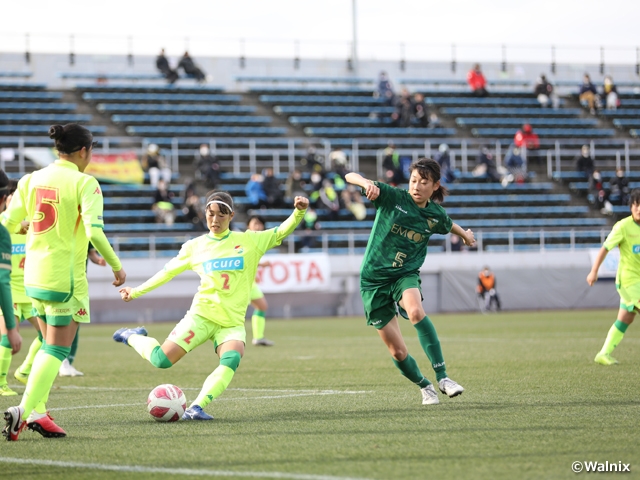 JFA 24th U-18 Japan Women's Football Championship
Tournament duration: Sun. 3 - Thu. 7 January 2021