NEWS
SAMURAI BLUE in final prep session for Cambodia match as Halilhodzic says "we want to finish with win"
17 November 2015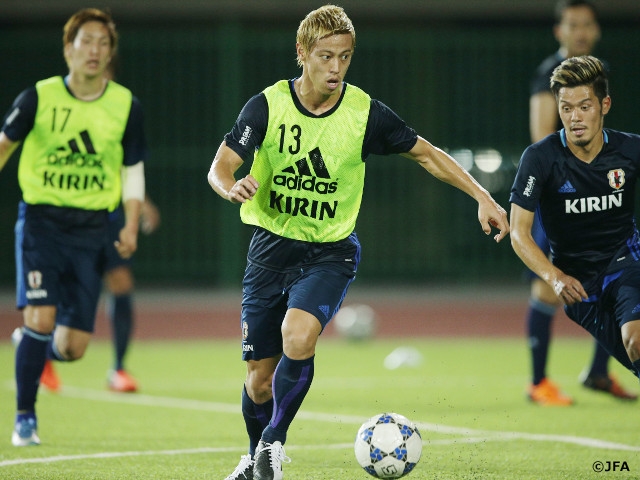 SAMURAI BLUE (Japan National Team) on 16 November had the final preparation workout at the match venue in Phnom Penh for the contest on the next day against Cambodia, which is the sixth fixture of 2018 FIFA World Cup Russia Asian Qualifiers 2nd Round. Coach Vahid HALILHODZIC pointed that he would change the starters from the Singapore match for winning the last contest of the year for his national team.
The practice, originally scheduled as closed to public, started in the early evening with doors opened. While the field players engaged in physical training aiming for raising the reaction and agility levels and passing drills, three goalkeepers confirmed defence against corner-kicks and cross balls and feeds that follow catches.
Then two groups gathered for a 9-on-9 with a neutral player in the half-sized pitch. The bench coach Halilhodzic carefully observed his players and gave instructions on details. The players earnestly occupied themselves with training as they sometimes entertained the crowed in the stands with their plays such as when midfielder KIYOTAKE Hiroshi (Hannover 96) and forward HONDA Keisuke (AC Milan) scored their goal.
After the last team workout of the year, the coach assembled the entire squad at the middle of the pitch and appreciated all the hard work and commitment that started in March. "Thank you all for everything in this year. Let's wrap it up by winning beautifully. "He said to his players.
Their opponents Cambodia are now ranked 183rd in the FIFA ranking, while Japan are at 50th. Japan defeated Cambodia 3-0 at home in their last match-up in September.
However, considering the heat in the local climate and the artificial pitch that is unfamiliar to Japanese players, the coach stays alert, saying "We can't underestimate Cambodia. They have good forward players and they get on quick counter-attacks with two or three players."
Speaking of offence "We need to be realists in front of goal," added Halilhodzic. He expects his players to stay composed, as well as be aggressive, in making last passes and shots to finish attacks.
In addition, he indicated that he would play different players from the ones for the Singapore match, saying "I want to give opportunities to express themselves to many player. The players that give best performance will play."
Pointing out the difference in ball touches on an artificial pitch, defender MAKINO Tomoaki (Urawa Reds) says "The transition after making a mistake and perseverance will be important." "We want to play a good game to summarise our coach's version of the national team that started in March." Motivated Makino added.
It has been decided that a moment of silence will be spared for the victims of the terrorist attacks in Paris, France on 13 November. The report says there was a Cambodia restaurant affected by the incident. Also coach Halilhodzic whose family members reside in Paris and other France native coaching staff have been undoubtedly emotional as well.
The match is scheduled to kick off at 7:14 p.m. (9:14 p.m. Japan Time) on 17 November at the National Olympics Stadium in Phnom Penh.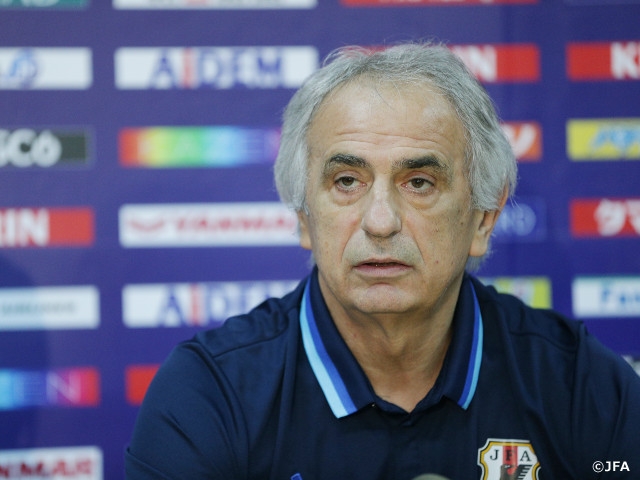 Coach and Players' Comments
Vahid HALILHODZIC, Coach of SAMURAI BLUE (Japan National Team)
Just as we did in the Singapore match, we want to win and wrap up this year, but we can't underestimate Cambodia. They play quality football and they are highly motivated. I told my players to stay focused to get the win. We know what we are supposed to do offensively and defensively.
We will adjust to the artificial pitch and the heat as soon as possible and we just do our job. Our goal is keep pushing forward in every aspect of the game offensively and defensively. I will change a few players on the line-up from the Singapore match. I will utilise the players in the best condition possible and give opportunities to express themselves to many players.
DF MAKINO Tomoaki (Urawa Reds)
There are some difficulties relating to away matches such as the heat, the pitch and difference in officiating. Whatever the situation is, we want to leave good results with good details to finish the last national team match of this year. It's my first time to play on an artificial pitch since I was in high school.
Ball touches are different and it's the difficult part. The transition after making a mistake and perseverance will be important. We have competitions within the team, so I have to defend my position. But we want to improve the level of this national team by competing against each other.
MF MUTO Yoshinori (1.FSV Mainz 05)
I am ready to play wherever it is. My strength is I can play at any position. So all I have to do is to play at any given position. It's important to leave good results at the position where our coach expects us to play. If I play as the only striker on the pitch, scoring goals is everything.
I want to improve the quality of my plays including the first touches, ability to make simple passes, and ability to keep the ball. I don't want to talk about the artificial pitch as an excuse. The competition for the starting position is getting more intense, which is creating a good synergy in making the national team a deeper team.
MF HASEBE Makoto (Eintracht Frankfurt)
This Cambodia match is our last match of this year, and our coach has repeatedly said we want to "finish it beautifully". We want to leave both good details and good results. The ball and the pitch are different from the ones we usually have. But still good results will follow if we can take advantage of our passing football and make good transitions from offence to defence after losing the ball.
While the artificial pitch prevents our shots and passes from rolling on and that will give opponents a chance to take it and attack, we can still use line drives as usual. So we want to keep that in mind. Just like the Singapore match, we want to play well so that can make the competition within the team more intense.
Lee TAE HOON, Coach (Cambodia National Team)
This match will be more difficult than the away match. Japan are at a high level and at a totally different level than Southeast Asian teams like us. They seem to be prepared well. We need to play aggressively and offensively as we also keep paying attention to its balance to defence.
I personally want us to play even more aggressively, but we have to take it into consideration that the players have fatigue and conditioning problem that they are suffering from the domestic matches they played in a short period of time. Hopefully we can hold on to a draw. We want to do our best in getting ready for the match.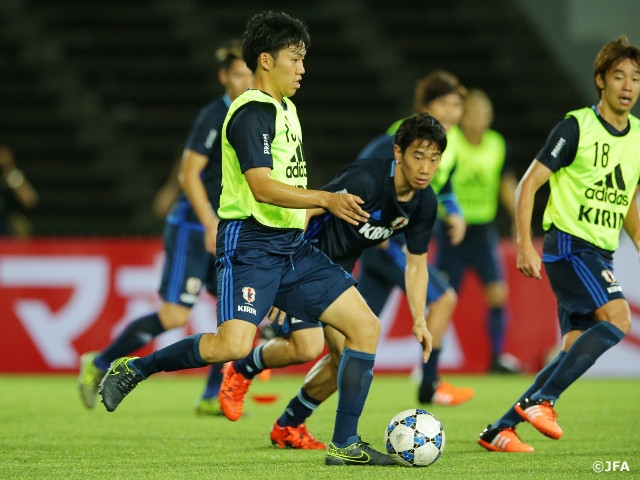 JFA-TV (Japanese version only)
Interview - MAKINO Tomoaki (Urawa Reds)

Interview - MUTO Yoshinori (1.FSV Mainz 05)

Interview - HASEBE Makoto (Eintracht Frankfurt)
Schedule
Sun. 8 November
AM
Training
Mon. 9 November
PM
Training
Tue. 10 November
PM
Training
Wed. 11 November
PM
Official Conference
Official Training (National Stadium)
Thu. 12 November
3-0
2018 FIFA World Cup Russia Asian Qualifiers Round 2
AFC Asian Cup UAE 2019 Preliminary Joint Qualification
vs Singapore National Team (National Stadium)
More information

Fri. 13 November
AM
Training
Sat. 14 November
PM
Training
Sun. 15 November
PM
Training
Mon. 16 November
PM
Official Conference
Official Training
Tue. 17 November
19:14
(Local Time)
2018 FIFA World Cup Russia Asian Qualifiers Round 2
AFC Asian Cup UAE 2019 Preliminary Joint Qualification
vs Cambodia National Team (National Olympic Stadium)
More information

2018 FIFA World Cup Russia Asian Qualifiers Round 2 AFC Asian Cup UAE 2019 Preliminary Joint Qualification
11-17 (Tue.) - kick off at 21:14<Japan Time> (subject to change)
Cambodia/National Olympic Stadium
Cambodia National Team vs SAMURAI BLUE (Japan National Team)
More information