NEWS
Doors closed, SAMURAI BLUE prepare for Cambodia
16 November 2015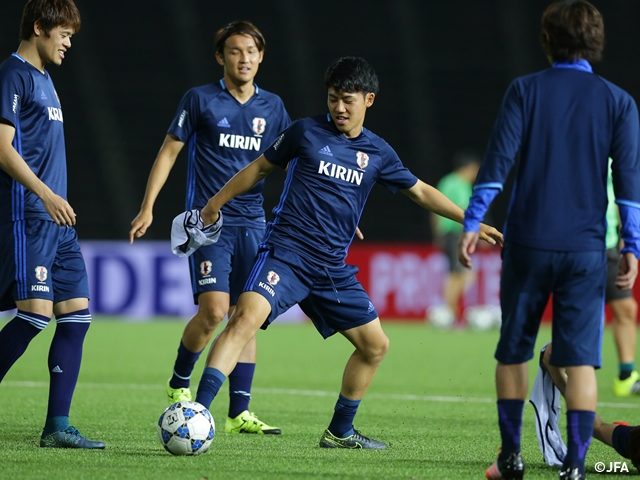 On Sunday 15 November, SAMURAI BLUE (Japan National Team) worked out in Phnom Penh for the match two days later, where they take on Cambodia in the sixth fixture of 2018 FIFA World Cup Russia Asian Qualifiers 2nd Round.
The day's heat got milder after the sunset and coolness was being felt when the practice got started. As the squad went through running, passing drills and fitness training, they loosened their body as well as made sure how they can move around on the artificial turf and with the ball both of which are different from the normal ones they play with. Before they moved on to reviewing tactic the team closed the doors for the media.
So far in this qualifying round, Japan have won four matches and tied once, which adds up to 13 points and Group E's top spot. On the other hand, Cambodia have lost all six matches they have played, sitting at the bottom in the five-country group.
These two countries have played against each other three times in the past and Japan won all three of them, including the last contest held in Japan in September this year where one goal each by forward HONDA Keisuke (AC Milan), defender YOSHIDA Maya (Southampton) and midfielder KAGAWA Shinji (Borussia Dortmund) helped Japan come out with 3-0 victory.
While Cambodia have conceded the 19 total goals in the six matches of this qualifiers, they scored only one which they achieved in the away match against Singapore last month. At the end of their practice that took place ahead of that of Japan at the same facility on this day focused on free-kicks and both attacking through and defending cross balls.
Meanwhile Japan have kept a clean sheet in every five match they have played so far in this round, which ties their longest streak of this kind recorded twice in the FIFA World Cup qualifiers in 1993 and 1997. They look to renew the record with another perfect win against Cambodia.
Goalkeeper NISHIKAWA Shusaku (Urawa Reds) who has defended Japan's goal including the international friendlies since September this year says "If there is that kind of streak, I want to extend it." Asked on the unfamiliar artificial pitch, "We want to make sure to get prepared enough to expect whatever happens," added the goalkeeper.
Forward OKAZAKI Shinji (Leicester City Football Club) is apparently motivated enough, saying of the past three years when he repeatedly scored a goal in the last national team match of the year "I think I have a good fortune going for me. It feels good to wrap it up with my goal. I will be happy if I can do it again."
The match kicks off at 7:14 p.m. (9:14 p.m. Japan Time) at the National Olympics Stadium in Phnom Penh on 17 November.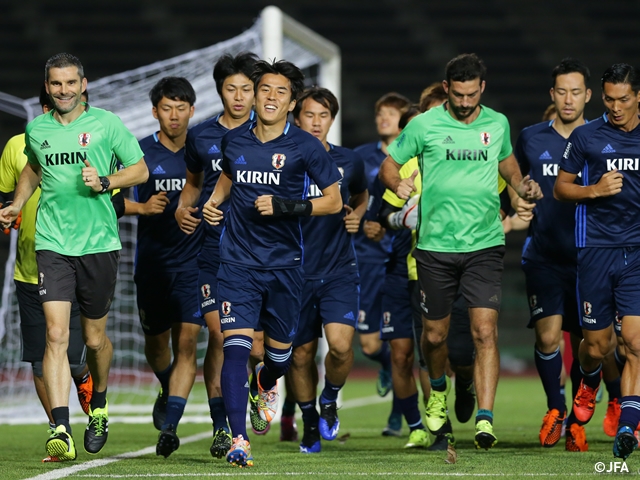 Players' Comments
MF KAGAWA Shinji (Borussia Dortmund)
In the last match at home against Cambodia, we didn't do a good job in terms of the number of players for attacking collectively and the timing of our attacks. The distance between each of us failed to create an overwhelming force. We have to cover for each other with everyone thinking to attack aggressively. It is important for all of us to share visually how we attack together and to maintain good distances. Breaking down the opposing defence and scoring goals are possible when everyone's effort clicks in creating space and taking advantage of that space.
We can't ignore the effects of the artificial pitch. There should be some scary moments and irregularities regarding how we feel about it because we don't have much experience of playing on it. But I think we can get it organised as we go along in the match. It is necessary that we all fulfil each other's role and show his own strength, whoever gets on the pitch.
FW OKAZAKI Shinji (Leicester City Football Club)
I think Cambodia will sit back more than Cambodia did. When we played against them at home, they played very defensively. There was a feel that the match would have been very difficult for us if there had not been mid-range shots. This time we need to be a little more tactically creative in our offence, for example making plays in a small area without spending too much time or quickly attacking behind the defenders. We need to keep changing the tempo of our offence. We don't have any clear go-to player on this squad, so we have to get getter overall as a team. We need everyone's strength.
Me personally I have been able to score a goal in every last match of the year, so I think I have a good fortune going on for me. I will be happy if I can do it again, and I will try whenever I find a chance.
FW MINAMINO Takumi (Salzburg)
The match against Singapore was a difficult match, but we as a team could move the ball effectively and didn't miss the opportunity to get three points, which was good. If I get to play, what I will be expected to do most as a forward is to score goals. Sometimes I will go behind the defenders or sometimes I will shoot it aggressively to score goals.
DF FUJIHARU Hiroki (Gamba Osaka)
I watched the video of the match we played against Cambodia. As we can expect that they will sit back very defensively, how much we can break them through is the key. We need to make sure to do that, and because we are being able to send good cross balls in practice, we want to show that in the match as well. I want to get involved in scoring. Artificial pitches can make bounces go differently, I think I can deal with it because I played on it for four years when I was in college.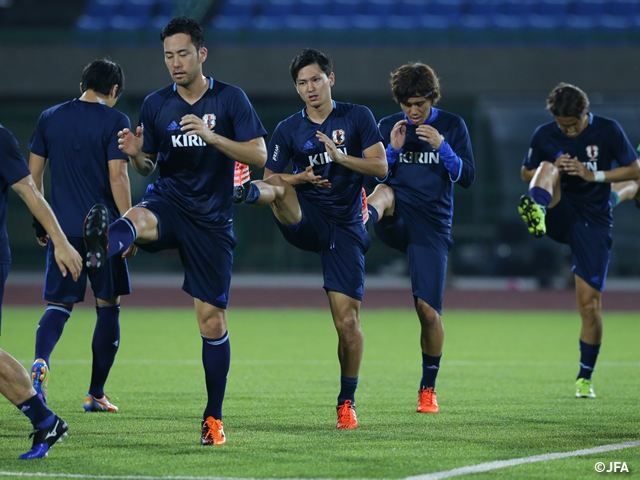 JFA-TV (Japanese version only)
Interview - KAGAWA Shinji (Borussia Dortmund)

Interview - OKAZAKI Shinji (Leicester City Football Club)

Interview - MINAMINO Takumi (Salzburg)
Schedule
Sun. 8 November
AM
Training
Mon. 9 November
PM
Training
Tue. 10 November
PM
Training
Wed. 11 November
PM
Official Conference
Official Training (National Stadium)
Thu. 12 November
3-0
2018 FIFA World Cup Russia Asian Qualifiers Round 2
AFC Asian Cup UAE 2019 Preliminary Joint Qualification
vs Singapore National Team (National Stadium)
More information

Fri. 13 November
AM
Training
Sat. 14 November
PM
Training
Sun. 15 November
PM
Training
Mon. 16 November
PM
Official Conference
Official Training
Tue. 17 November
19:14
(Local Time)
2018 FIFA World Cup Russia Asian Qualifiers Round 2
AFC Asian Cup UAE 2019 Preliminary Joint Qualification
vs Cambodia National Team (National Olympic Stadium)
More information

2018 FIFA World Cup Russia Asian Qualifiers Round 2 AFC Asian Cup UAE 2019 Preliminary Joint Qualification
11-17 (Tue.) - kick off at 21:14<Japan Time> (subject to change)
Cambodia/National Olympic Stadium
Cambodia National Team vs SAMURAI BLUE (Japan National Team)
More information